deleted
12-18-2015, 02:42 PM
Banned
Join Date: Dec 2008
Location: Boncarbo,Colorado
Posts: 9,186
Frontier's - Patch Lube Blends
---
Dealer Discounts Available when order 10 or more jars/bottles of lube!
Contact me VIA Personal Message or at
[email protected]
with your order details,comments or questions.
Shipping Costs
$5 for ONE Jar
$6 for TWO Jars
$8 for THREE Jars
Bulk orders of 10 or more (Depending on which lube you buy) starts at $12 which includes Insurance in case of damage or loss.
----------------------------------------------------------------------------------
Lube Prices
$10 per 4oz jar
Frontier's Anti-Rust & Patch Lube
( Hunters Best friend!)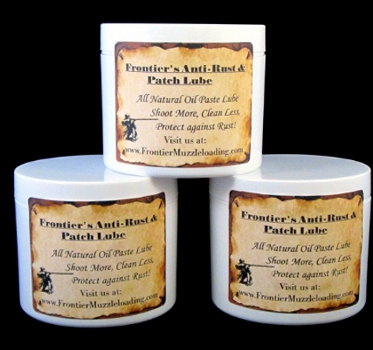 This patch lube does not contain, Soap, Wax , Mineral Spirits, Alcohol,Chap stick, Crisco,vegetable oil, olive oil. This is all made from natural paste and oils that are blended together. The paste " Yellow or Ivory Color" is what holds the oil and provides patch protection.
This lube was designed for shooting patches for Traditional Round Ball Shooters, but it
is safe to be used in ALL firearms,
Inside and Out for Lubrication & Rust Protection.
This product does not burn or smoke off while applied to CHERRY RED hot steel!
NO Petroleum products
The oils mixed in are strictly for Rust protection. All natural anti rust oils mind you.
Cleans up
with Hot soapy water and does
NOT
build up in the bore over time.
Can be used inside and out of firearms. We use it in our AK's and AR15.
Black Powder Revolver shooters will love it as it keeps that hard crusty fouling from forming at the throat of the cylinders.
Cleans up easy with hot soapy water, no special cleaners needed, doesn't build up over time.
Do not get this lubed confused with the other current "Yellow" color lubes! This is a high quality product, not that Crisco/Chapstick based junk we are used to seeing on the store shelf.


How Many Shots can I shoot before I have to clean my barrel?
I'm not going to make silly claims about shooting 50-1000 shots without cleaning, because that is just not possible with any Patch Lube. It all depends on the rifle, powder type, ball/patch tightness in the bore, etc, to find the right ball/patch/grease combination to work for you and your rifle.
NO ONE on the market uses the ingredients that I use, simply due to the cost of the materials used in my product.
Our lube is now made inside of a double boiler to lightly heat the oils and bring them together rather than mix while they are cold. Once all ingredients are mixed together, its then poured into the jars and allowed to cool over night before each jar is hand mixed for the final process.
4 shot 100 yard group with our lube with a .58cal CVA Hawken.
This is the blued barrel rust test that has now been outside on the ground for over a month. Its been snowed on 6 times now, rained on 10 times ( We've been getting rain every other day for a while now) on the dirt for few days before I noticed it had fallen off the log I originally put it on. You can still see the lube on the barrel from the day I gently wiped a thin coating onto it.
$8 per 8oz bottle
Frontier's - Buckskinner's Blend Patch Lube
(Patched Round Ball Target Shooters Only)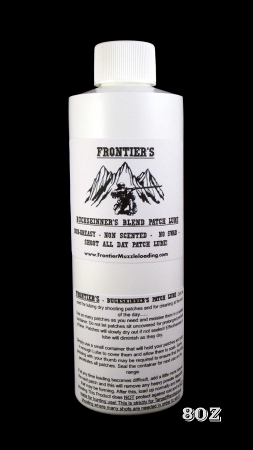 Buckskinner's is a non greasy, non scented, No swab - Shoot all day long, Patch Lube! Available in standard size 8oz bottle with screw on top.
Simply use a small air tight container or a plastic bag, put a number of patches in and pour in enough lube to saturate the patches. Squeeze the patches to ensure they soak up the lube properly.
You may pre-lube as many patches as you want as long as they are in a sealed bag or container.
This patch lube is strictly made for target shooting
such as at Rendezvous or when you want to go out and shoot shot after shot on the range to let some steam off without having to stop and swab between shots.
This product does NOT protect against rust and once more, is NOT made for hunting use!
Instructions are also printed on the bottles label!
Uses for this lube also include fully cleaning of your black powder rifle/pistol bore and a lubricant for your shotgun wads.
Its as simple as Shake bottle of lube for 10-15 seconds, pour lube into container containing patches, squeeze to ensure proper lube coverage into all patches, seal and take them to your next range session.
This is a
36 shot
group was taken from 75 yards on of my shooting sticks with a CVA Hawken .58cal using hand cast .570" round balls and TIGHT fitting .020" patches and 70 grains American Pioneer Super Powder. Never once did I have a hard time reloading even after letting the rifle sit to cool down while I went to reload more powder tubes.
---
Last edited by MountainDevil54; 09-23-2018 at

11:47 PM

.
02-08-2016, 09:13 PM
Banned
Join Date: Dec 2008
Location: Boncarbo,Colorado
Posts: 9,186
---
Frontier's - SHOOT OUT! Patch Lube & Bore Enhancer



$9 per 8oz bottle
Shoot Out!
Is a special patch lubricant. It is a patch lube AND a bore polish, all in one bottle. No more having to sit and polish a new,rough or pitted bore by hand! No more having to use lead conicals and having to swab between shots or shooting low pressure loads.
Shoot Out!
allows the shooter to use their regular hunting/target loads that they are used to shooting. It is recommended however, that the shooter use as little as 20 grains of black powder/sub to get down into the breech as far as possible to help polish the bore where the powder sits, making for easier cleaning.
The shooter may also use a VERY TIGHT fitting patch on their cleaning rod, saturated with SHOOT OUT! to hand polish the breech end of the bore because we can get get every little bit of it, even with a little load like 20 grains of powder. Those that do not shoot patched round balls, can still use this product as described above.

Shoot Out!
is a gentle bore polishing patch lube that was made to smooth out new and old barrels that may have scratches,chatter and light pitting. The actual patch lube mixed with our polishing media, allows the shooter to shoot round after round without ever having to stop to clean the bore out.
This is not a miracle polishing patch lubricant! If your abused barrel looks like a sewer pipe with a couple Thanks Giving meals stuck, You are much better off buying a new barrel or having it re-bored.
This is an excellent lube for lightly pitted barrels, along with scratches, burrs and rifling machine chatter marks. It will also do a great job removing heavy powder deposits the naked eye can not see.
If you use it correctly, you WILL notice the difference the next time you load up with your normal patch lube.
Recommended Stopping Point:
New Barrels -
20-60 shots (Inspect every 20 shots by fully cleaning -drying & oiling barrel)
Well used barrels -
40-125 shots (Refer to above info for best results)
This is our very first shoot test with
Shoot Out!
It is a
brand new
CVA Hawken .54cal and in the end, was shot 12 times without stopping to clean the bore out! 80 grains 2fg Goex was used along with a .530" round ball and .020" Patch lubed with
Shoot Out!
We can see scratches/smears and even chatter marks during the rifling process.
Final 3 shots at 50 yards in that new .54cal Hawken!
For an abused barrel test, I used my personal CVA Hawken .58cal which had tested many products over the past 3 years and shows it. I shot 18 shots with loads varying from 20 to 80 grains Goex 2fg, .562" round balls and .020" patches lubed with
Shoot Out!
Directions
---
Last edited by MountainDevil54; 02-06-2017 at

01:27 PM

.
12-03-2016, 03:16 PM
---
I've used the Shoot Out and the Anti-rust and Patch Lube and find them exactly as advertised. The Shoot Out cleaned up the barrel on a used Pedersoli Frontier rifle after only 30 shots using a .495" ball and .018" patch and 30 gr of FFg. This was a very tight combo for that rifle but now it shoots .490 balls with great accuracy and the patches look great after firing.
The Anti-rust Patch Lube is also good. Last time out on the range I shot 15 rounds from my custom .54 flintlock and the last shot loaded as easy as the first with never having to swab once. I could have shot more but some rainy weather stopped the session.
Posting Rules
You may not post new threads
You may not post replies
You may not post attachments
You may not edit your posts
---
HTML code is Off
---