new land has potential, need imput
08-31-2014, 03:16 PM
new land has potential, need imput
---
started recently hunting some land in southern il, well in the areas my cameras have picked up activity there is no trails anywhere.how would be the best way to address this? the ground is covered with 3 ft weeds under all the trees. im only a 3 yr hunter and havent shot a deer with a bow yet, so any imput would be greatly appreciated
09-01-2014, 08:01 AM
---
right behind this camera is a natural spring waterhole, im thinking they are bedding down in this grass, theres an old box stand to the right of this camera as well, might use it this shotgun. when this seasons over i plan on doing some serious land management because there is about 300 acres that isnt even being used because its all grown up 1200 acres total
09-02-2014, 03:30 PM
---
It's been a great year for crops as well as weeds. We have some areas that look like that in the summer, but once the first freeze hits, or even a good cool front in October, it will lay down a lot. I wouldn't touch it at all. Learn from this fall and see what it looks like here in November. I bet you will be amazed on how much it is going to lay down. The only thing I would do it find the best entrance and exits so you aren't making noise or leaving scent as you enter and exit.
Here are a few photos. I pulled one from last week to see how tall the weeds are in the summer. Where that front deer is in the bottom picture, you wouldn't even be able to see that deer now, but in two months it will be wide open. Leave the weeds, they will all die and lay down and you won't have to worry about t a thing. All date stamps are correct too.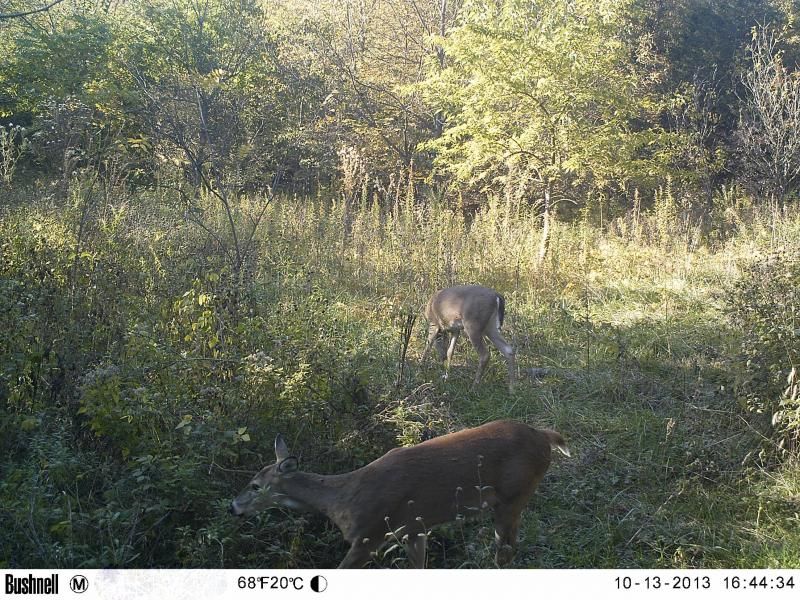 09-03-2014, 11:43 AM
---
Our property was also way grown over with the cool summer and all the rain. We went in over the weekend and cut some major trails connecting all of our stands. The next day we checked our stands and the deer where already using the new trails. It should help help inr the long run with seeing more deer.
09-06-2014, 07:12 AM
---
If you try to put in food plots early, those weeds will be tough to keep out. If you wait until summer you could cut down however much you wanted and plant a fall food plot w/o the weeds competing. Or, like fastetti suggested just leave it. The weeds will lay down come Oct and you'll be able to see well enough. Another trick would be to drive an atv through the thick stuff where you want them to go.
09-16-2014, 02:10 AM
Spike
Join Date: Jun 2010
Location: south central,ks
Posts: 50
what to do !!!
---
If you brush hog a trail system the deer will use it! this will help you get to & from the stand easier, plus cut down on chance of poison ivy!!!plus the deer will eat the young regrowth planting triticale, oats, turnips brachia's & rye grass, with a no till drill with fertilize box will give your seed the boost you need also use a seed covering like delta, yellow jacket but don't but your food plot on your to & from stand trail!!! four wheeler trail works also!!!
Posting Rules
You may not post new threads
You may not post replies
You may not post attachments
You may not edit your posts
---
HTML code is Off
---