No cougars in michigan
10-23-2009, 10:50 AM
No cougars in michigan
---
Someone finally caught one on camera, And now what can the DNR say, there's still no cougars in michigan....picture was taken on the east end of the u.p. There's been sightings here also, i seen one many years ago myself. Makes me really wanna watch my back out there hunting, knowing there out there.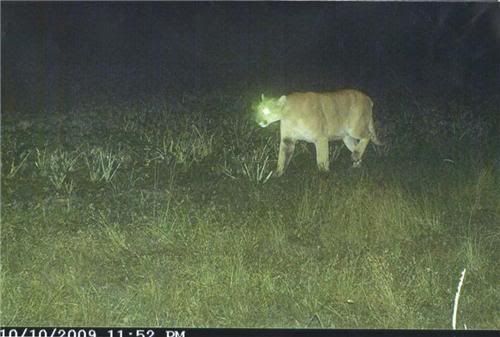 10-23-2009, 04:54 PM
Nontypical Buck
Join Date: Jan 2008
Location:
Posts: 1,408
---
Da keewenaw, eh? Go Huskies!

What's a lot more amazing is that I had a juvenile one in my backyard in semi-suburban Detroit in 2004. I was pretty frustrated that I did not know where my wife had put the camera.

They are all over. There are just not a lot of them and they are incredibly secretive. Even out West where they are numerous my friends out there tell me they never see them unless they tree them with dogs.
10-27-2009, 11:41 AM
---
I believe it...I saw a cougar over 10 years ago between Saginaw and Flint. We got permission from the land owner and went back and found the large cat tracks. Crazy...and my dad reported it to the cops and they didn't even care to listen to him. We had neighbors that saw it 4-5 times too!
11-16-2009, 01:40 PM
---
there around kalamazoo, plainwell, and three rivers/schoolcraft.

they can say what they want (dnr i mean)
there here and reproducing. It's just a matter of time to where more and more michigan guys that start using more trail cameras will get pics.

I have customers locally that have seen them during deer season chasing does around. & one that hit one in Schoolcraft, he called the police which in turn shut down the entire road along with the michigan DNR. The DNR came rushing in and put the cat on a thick blanket and threw it into a jeep cherokee (it was still alive) and rushed out of there. Well my customer got the name of one of the DNR officers and called the next day to see if the cat lived and the officer denied that he was involved in any such incident and had no knowledge of any cougar getting hit from a vehicle. Although his Accident report from the state police says otherwise Cover up!
Rumor is the DNR released a few years ago in the three rivers /schoolcraft area. I heard as many as 10 were released.

Isn't it amazing that coyotes are hugely populating in Michigan also. Hmmmm. I wonder how that happened
Not looking for a debate on here, i just know what i know.
Don't trust Gov't!
11-16-2009, 03:33 PM
---
What can the DNR say now?

"Uh it's a nice picture and all. A nice cat, too. But we have no way of verifying exactly where that picure was taken........"

They are a government bureacrazy - expect nothing less!
Posting Rules
You may not post new threads
You may not post replies
You may not post attachments
You may not edit your posts
---
HTML code is Off
---