What's Your Favorite Hog Gun?
09-11-2013, 12:16 AM
Spike
Join Date: May 2013
Location: San Francisco, CA
Posts: 2
---
Getting used to shooting again & am just about ready to set out pig hunting. Got a Weatherby Vanguard in 30-06 & a Leopold Rifleman 3x9. Been trying the Barnes in 150 & 180 grain to see which shoots best. My groups are still 4-5 inches at 200 yards, so while that's good enough to hit the vitals I still want to do better and get to where I am very comfortable out in the field at 200 yards.
11-19-2013, 11:33 PM
Spike
Join Date: Mar 2012
Location: tampa, Fl
Posts: 52
45/70
---
In the wild you cannot always depend on getting that perfect shot. In addition, hogs are extremely tough animals that can be very hard to put down & keep down. They are not too fond of then idea of being shot. I have been charged many times. These monsters have very sharp teeth and know how to use them. I used a BAR 7 mm Mag. for years. I finally decided I wanted a gun that would put them on the ground & keep them there. The 1895 Marlin stainless 'guide gun' in the very powerful 45/70 does just that. I am charged NO more! Would like to try that 450. You caught my interest!
---
Last edited by bob harbison; 11-19-2013 at

11:36 PM

.
11-21-2013, 06:43 PM
Spike
Join Date: Mar 2012
Location: tampa, Fl
Posts: 52
---
.338 is one heck of a choice. Some will say it's an overkill. It should be remembered that the 'perfect' shot is not always a reality. Hogs are very hard to bring & keep down. After being chaised a couple of times most will have a different opinion about 'overkill!'
the .338
---
Last edited by bob harbison; 11-21-2013 at

07:06 PM

.
11-22-2013, 04:12 AM
Spike
Join Date: Nov 2007
Location: Florida
Posts: 79
---
Bob, I'm well aware that many people would say my choice is overkill, but they're not the ones in the palmettos after a wounded hog. I don't hunt with dogs. I do hunt at night and at pretty close range. Anything less than DRT and they haul for thick palmetto jungle. The last one that ran I followed into thick cover where visibility forward was about ten feet and zero to the sides. Home field advantage goes to the hog in there. If I were hunting open ranches with a little daylight it would be another story.
11-22-2013, 11:08 PM
---
I use the same rifle for everything, from hogs, to deer, to prairie dogs. 300WM, sure it packs a little more punch than is necessary, but I believe in picking something that you are comfortable shooting then using it. Reason being is I know where my bullets are going when I pull the trigger. I've brought down hogs with everything from my .300WM to a .22LR, doesn't matter what you're shooting, all that matters is where you place your shot.
11-24-2013, 02:57 PM
Typical Buck
Join Date: May 2003
Location:
Posts: 920
---
It doesn't take a cannon to take down hogs. I am patient and will make precision shot or I don't shoot. I have taken 10 pigs with the diminutive 300 AAC Blackout since Sept. And these are subsonic loads at about 1000 fps muzzle velocity.
Here's a 180lb boar from the other day. A little over 100 yards at nite facing me with his down, shot was placed right between the ears. Pffft thud.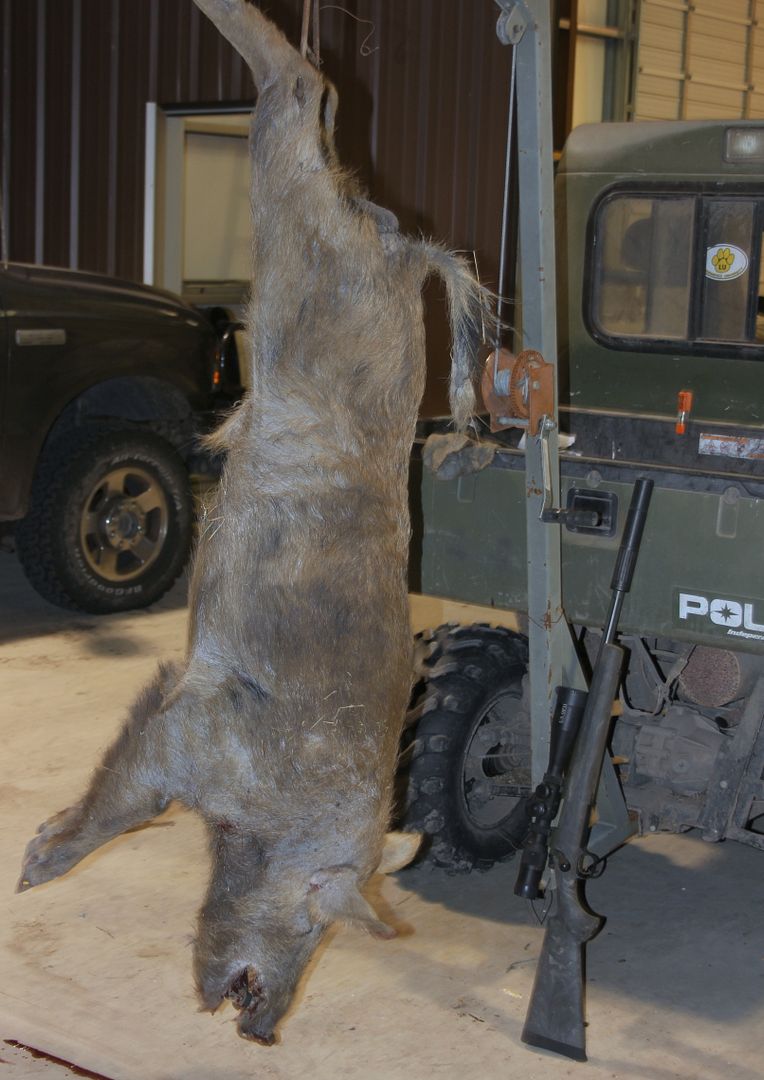 .The Blackout next to a 223 Rem