Fun hunt with the dogs
05-06-2010, 08:39 PM
Spike
Join Date: May 2007
Posts: 53
Fun hunt with the dogs
---
I got an invite to go hunting down south this week, so I loaded up Blue and Cleatus and headed down hwy 183 to the weimar area. I stayed over night with the friends I would be hunting with and we left out early the next morning. We dropped dogs and started roading them down a wooded trail and the dogs struck this nice sow and got her stopped quick. They held bayed until we made the short walk in with the catch dogs. We sent in one of the catch dogs and she caught the sow in a thick patch of dewberry vines. The vines were so thick that we couldn't even see really what was going on, you could just see bits and pieces of hog and dogs caught under a mat of woven vines. We got it all sorted out, stuck the hog, and dragged her out into the open for pictures.
Me and Cleatus on the left, a friend and his dog Creole on th right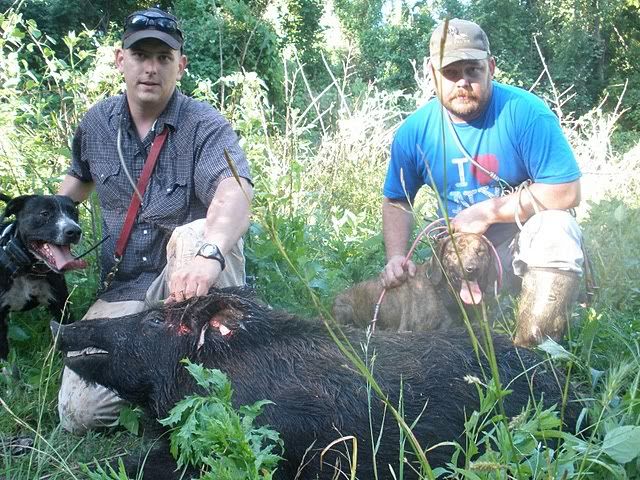 The next one we caught was a little shoat we didn't get pictures of. We hunted for about another hour, and finally struck a hog down in a draw that had several wallows in its bottom. The bay was pretty close, so we walked in from there, hoping that since it was so open down in the draw that we would be able to watch the dogs bay for a little bit, but no dice. When we got close enough to see where they were, all we saw was a barking patch of dewberry vines. we sent both catchdogs, and spooked another hog out of the vines as we went in to leg the one we'd just caught. It turned out to be a nice boar, with decent teeth. Not a monster by any means, but a good hog, and a scrapper. We had a couple cut dogs from the boar, so we decided to call it a day. Here is a picture from when we were checking the hog out, we were in a hurry because we wanted to get the dogs checked out. Here is me, the hog, and a hot and banged up Cleatus.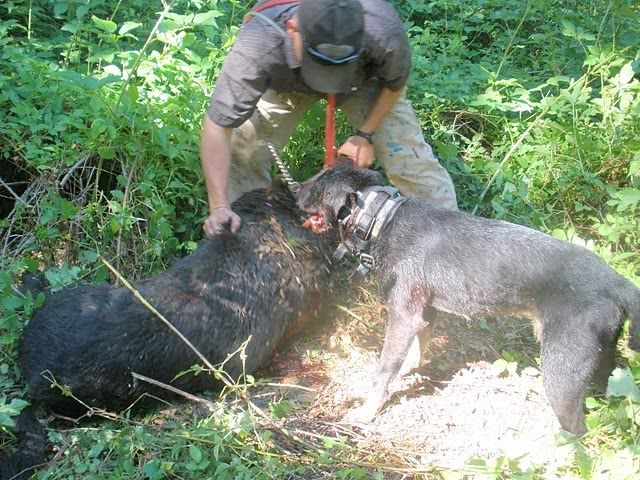 It was a real good morning hunt with friends that I don't get to see as often as I would like, a couple good hogs caught, and no dogs seriously hurt, hopefully we can get down there again some time.
---
Last edited by catch; 05-06-2010 at

09:23 PM

.
Posting Rules
You may not post new threads
You may not post replies
You may not post attachments
You may not edit your posts
---
HTML code is Off
---