Hogs Shot from 400+ Yards
05-17-2007, 07:24 AM
Hogs Shot from 400+ Yards
---
For all the believers and non-believers as well, I wanted to share more long range hog pics. Again, a fantastic time at the Diamond A Ranch, atop a cliff, overlooking feeding hogs at over 400 yards. With my 7mm-08, every hog dropped in its tracks, with the exception of one large boar whomanaged to drag himself 10 yards into the brush. The great thing about shooting hogs long distance is you don't have to worry about being charged!!
Here is my favorite hog of the 4 I took last weekend.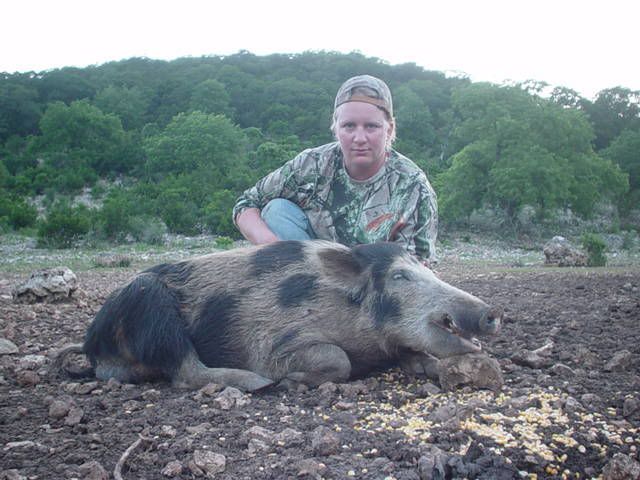 Here also is a link to PhotoBucket if anyone is interested in seeing some more pictures from the hunt.
http://s146.photobucket.com/albums/r269/LongShotChic/
05-17-2007, 12:33 PM
RE: Hogs Shot from 400+ Yards
---
ORIGINAL: Sewer Rat

400 yds!!!!

remind me not to tick you off
Jay, 30yrs ago when my eye sight was alot better,I would take any Hog or Deer off my1200ft(400yds) drive wayany day!
05-17-2007, 01:12 PM
RE: Hogs Shot from 400+ Yards
---
ORIGINAL: LSR Huntress
ORIGINAL: ipscshooter

Nice. Where is Diamond A Ranch? Looks like Texas.
Leakey, Texas- over by San Antonio
Beautiful country!
Yes, it is. I hunt near Fredericksburg, and the terrain is quite similar.