Whats your Favorite game
10-01-2005, 02:01 PM
RE: Whats your Favorite game
---
Funny you should post this in the hog hunting forum. Wild Hogs are by far my favorite game animal to hunt. After this year, alligators are coming in a close second. Theres just something about dangerous game that gets my adrenaline flowin.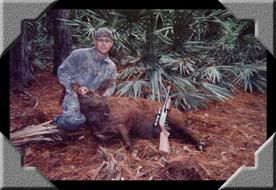 10-08-2005, 12:52 AM
Fork Horn
Join Date: Jan 2005
Location: Amarillo, TX
Posts: 456
RE: Whats your Favorite game
---
hogs!
there is no limit. you can spot light for them. no season. oh what fun. you can have more fun accidentaly hog hunting than you can hunting any other type of animal on purpose.