remington 541T
08-28-2015, 07:15 PM
remington 541T
---
This rifle is by far my favorite squirrel hunting rifle. I dont know what,but something got on the barrel and ate a good size spot of the blueing clean off and I am just sick about it!! Is there anyway this can be repaired or am I just SOL? And if so is it an expensive process? Thanks in advance for any help!
08-29-2015, 04:01 AM
---
There are cold bluing products available from Brownells and Birchwood Casey that you can use to treat spots. It you take your time you can do a good good match job. Your other option is the have the gun re-blued by a gunsmith who has hot bluing tanks. I did an entire rifle with Birchwood Casey cold blue after taking it down to bare metal. I then boiled the barreled action in a trough of water so it would flash dry when I removed it and put on a coat of bluing with a cotton ball, then repeated the process over and over again rubbing lightly with 000 steel wool between coats. It come out black and shiny and it still looks good 40 years later. Pics below were taken a little over a year ago, I did the rifle in 1971. You might be able to use a heat gun or hair drier to heat the spot to be treated.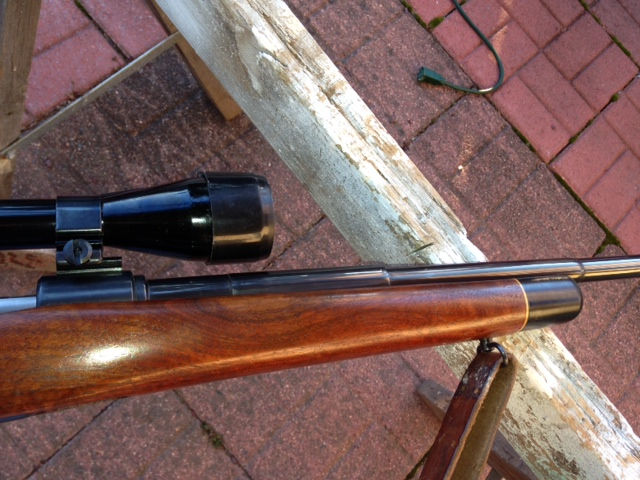 ---
Last edited by Oldtimr; 08-29-2015 at

04:05 AM

.
08-29-2015, 01:20 PM
---
Thanks for the responses and I am going to do something, just not sure what yet. I cant even discuss it with my wife yet. I dont want to talk about it! (Typing on here is ok though). What does tugged up mean?
Posting Rules
You may not post new threads
You may not post replies
You may not post attachments
You may not edit your posts
---
HTML code is Off
---