7600 Owners
08-30-2015, 08:30 AM
Typical Buck
Join Date: Aug 2007
Posts: 749
---
Only have the rem 760 gamemaster's but one has oleander sights whit drilled and tapped and steal buttplate in 270. The other two are 30/06 one steal buttplate and 2-7 leupold other 3-9 bushnell rubber redline rubber pad and merccury recoil tube.
08-30-2015, 04:44 PM
---
Mine is the carbine in 3006 and has Williams peep sights. The stock comes through with a raised cheek weld for scope mounting but I wanted an open sight type gun suitable for the thick woods of northern New England. I called Remington and ordered a shotgun stock with the same finish. It now is similar to the old version 760 which had a stock better suited for a peep. It is a great gun for a still hunter/ tracker in thick woods. The front sight is a red fire dot and I painted the peep ring red. Looking through it there is a red dot centered in a red ring on a brown target. Without a scope the gun is a pleasure to carry.
---
Last edited by Champlain Islander; 08-30-2015 at

04:48 PM

.
09-01-2015, 07:08 AM
---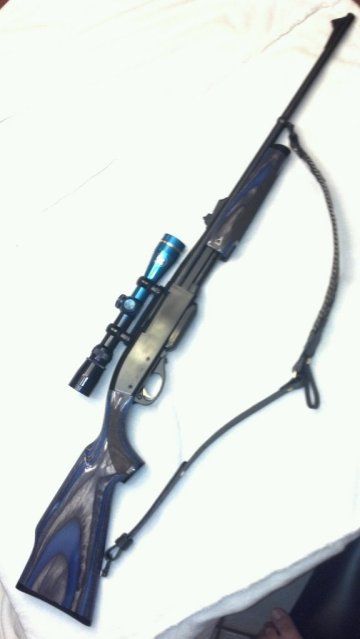 My sons rifle (I put it together for myself but he laid claim to it for his 12th birthday
) It's a 7600 7mm-08 "Kool Blue" edition from Grices in PA. (1 of 250). The scope is a Leupold Vx3 2.5x8x36 from the Leupold Custom shop with Univ. of Memphis basketball logos lasered on it plus the anodized blue fade finish. (Burris rings prevent scratches) All finished off with a blue horsehair sling from a maker in Denver. It's quite a conversation piece, shoots like a house afire & is truly one of a kind. When hunting the scope wears a neoprene sleeve for camo & protection & likewise the stocks are protected under NOS Kane's Gun Chaps I found online. The scope is THE perfect size & performance for the pump gun. No recoil pad but the 7-08 doesn't need it anyway. Not sure how one would fit under the gun chap anyway.
Posting Rules
You may not post new threads
You may not post replies
You may not post attachments
You may not edit your posts
---
HTML code is Off
---