my dads conceal and carry gun?
06-15-2012, 10:00 AM
Spike
Join Date: Dec 2010
Posts: 37
my dads conceal and carry gun?
---
so for a long while now my dads been talking about concealing and carrying. he went through the class and he hadn't shot many handguns before. but ive been with my friends many times and shot about every cartridge. and he would like to get a .45.. so just to ask what everyone else uses. and what is easiest to carry.
06-15-2012, 10:09 AM
---
I carry a Safari Arms Enforcer 45 ACP or a Smith&Wesson 329PD Airweight Scandium frame 44 Mag.
Here is the Smith.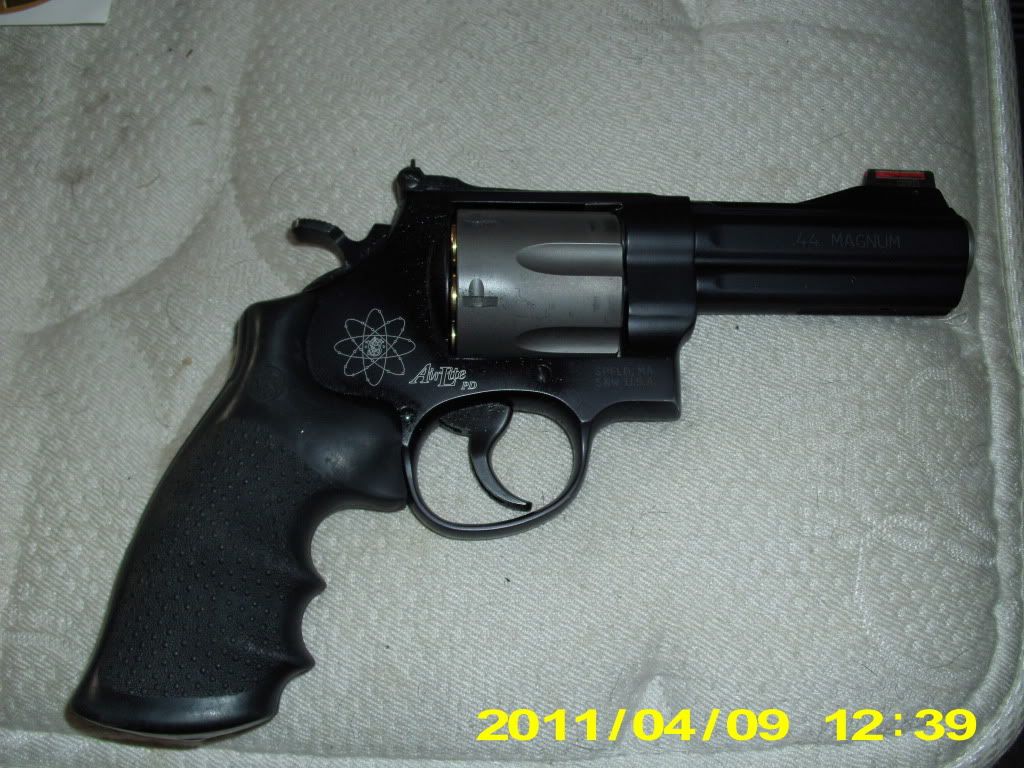 Here is the Safari Arms.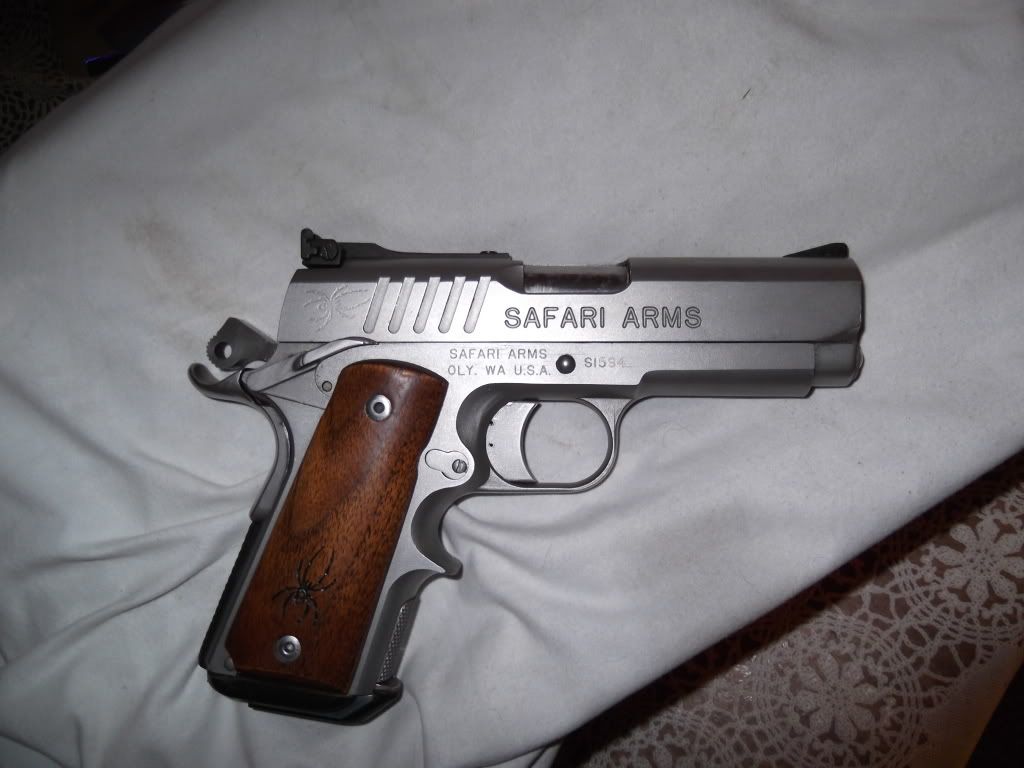 Both carry nice, the Smith is really light, the ammo weighs as much as the gun. I am fond of 1911's so the Safari Arms actualy gets carried more often.
06-15-2012, 04:30 PM
---
I carry a Glock 30 SF (Slim Frame). It has a 10 round magazine. You should take your dad to a gun store and let him hold a lot of different guns to see what fits his hand(s) best and then look at different concealment options to see what combination will work the best for him. Even better, have him shoot a few of the smaller guns he is interested in as the smaller guns typically have a little more kick and are a little harder to hold sometimes. 45 is a great caliber though.
06-15-2012, 06:54 PM
---
I carry a S&W 327 TRR8. It's an 8 shot .357 mag revolver. I'm a revolver kind of guy, and am not as fond of pistols.

As far as what works for your father, go out and let him shoot as many different handguns as you can. You need to find the right one for him. Different manufacturers have different physical designs that fit in the hands of people differently. You need to find a gun that fits your Father, and a round that he can comfortably shoot.

No two people are the same, and no two guns are the same. Similar potentially, but not the same.
06-15-2012, 08:07 PM
---
Where does your father live and how large/small of a man is he? I ask because it will greatly dictate what size firearm you carry. I live in the Panhandle of Florida and there is no way in hell I'm going to be carrying around a big 44 mag revolver and actually conceal it comfortably, even being 6'2" and weighing about 270 pounds.
and he would like to get a .45..
Your father needs to worry far less about the cartridge/caliber and more about getting a comfortable firearm that he will actually carry. It does him absolutely no good to get a 1911, a big ass N frame revolver, or other full size firearm if he's just going to leave it in the safe because it is too cumbersome and uncomfortable to carry every day. What other people carry means absolutely nothing when they aren't going the be the person carrying the firearm.
so just to ask what everyone else uses. and what is easiest to carry.
What's easiest to carry is going to be smaller framed revolvers and slim, single stack automatic pistols. Such as S&W J frame revolvers, S&W shield, Springfield XDS, Glock 36, Kahr PM series, Ruger LC9, Beretta NANO, Para Ordnance LDA,
I personally carry a Smith and Wesson model 442. It's a small alloy framed, 5 shot, 38 special revolver that is extremely light weight, and is very easy to conceal in shorts and a T-shirt.
Bottom line is that if your father, or any of us for that matter, have to use a firearm to defend ourselves it isn't going to be from across the street. It will be up close, 10 - 20 feet, and any cartridge from the little .380acp on up to .45acp and larger.... the dead guy will never know the difference.... assuming you can put the bullet where it is suppose to go. If he can't, well, misses don't amount to much no matter how big the bullet is.
Another thing to keep in mind is that the larger the cartridge the greater the recoil and muzzle rise and the longer it takes to reacquire your target and make a second accurate shot all things being equal.
06-15-2012, 08:41 PM
Spike
Join Date: Dec 2010
Posts: 37
---
He's 175 5'6. I really figured I would hear that a 45 is large to conceal. But I really like one if my friends glocks its a 10mm he liked shooting that one a lot. And then he shot the glock 45 and liked it more.. I'm not really an expert on handguns but revolvers are my thing and that was another one of his thoughts a.38 special.
06-15-2012, 09:08 PM
---
I really figured I would hear that a 45 is large to conceal.
No, It's not the cartridge but the firearm it's chambered in. Most 45's are larger framed than their smaller 9mm's and 40's.
There are slim, very concealable 45's on the market. Like the Springfield XDS and Kahr PM45. Both are high quality firearms and will serve him well. But if he were open to 9mm or 40s&w his options open up tremendously.
And don't let any one tell you that the 9mm is a horrible round for self defense. Ask them if they've ever been shot by one or shot any one with one using proper defense ammunition. It falls right between the 38spl and 357 magnum in terms of "power". As a military NATO round it sucks due to the use of FMJ or ball ammunition. But as a defensive round using modern hollow point ammunition it is highly capable.
06-16-2012, 02:40 PM
---
I have two of my favorite handguns that seem to get carried the most...a Browning Hi-Power in .40 S&W (nicest gun I own!!!)...which seems to get carried the most and a Sig 226 in .40 S&W that is my second fav. I really do like them both as much as any gun I have every handled or owned. When I need a smaller carry gun I steal my wife's Kahr CW40 in .40 S&W...which is quickly becoming a favorite...may have to break down and buy one for myself.

Most important...find a gun that fits his hand well and one that handles well for him. Then shoot it regularly...a lot!