HUNTING RIFLES!!!.....PIC POST!!!
09-08-2008, 12:08 PM
Join Date: Sep 2008
Location: east central,IN
Posts: 42
HUNTING RIFLES!!!.....PIC POST!!!
---
Here is my goat gun
Remington 700 CDL Boone & Crockett limited edition chambered in 270WSM....X-Mark Pro trigger adjusted to 2.5lbs.... 26" fluted barrel.
Leupold VX-L 4.5-14 B&C Reticle w/leupold bases and rings.Shooting a .180(was .480)shot group at 100yds with reloads and glass bedding....torqueing down action screws to 65 in/lbs.
My hunting buddy called me up today and called me out on this post about how i was bloating about shooting a .480 group.SO since i am making it all up i might as well stretch it out even some more so i really look good
I will have to make sure when i load his .270 rounds for our antelope hunt next weekend that i use baby powder instead of re-22[:-]
LETS SEE YOURFAVORITE HUNTINGGUN PICS!!!!!!!!
09-08-2008, 06:16 PM
RE: HUNTING RIFLES!!!.....PIC POST!!!
---
This is my favorite rifle.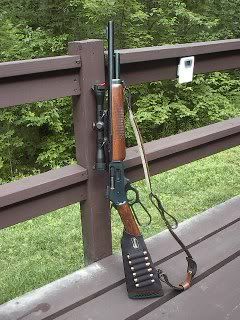 Marlin 1895 Guide gun
45-70
Custom Wild West Trigger
WWG Bearproof ejector
WWG aluminum magazine follower
DRC large loop lever
Beartooth butt cartridge carrier
XS scope mount
XS Ghost ring and front sight
Leupold 2.5 scout scope
Custom sling by Levergun Leather
butler Creek scope lens covers