PA's Trout Opener-new record
03-31-2008, 08:35 AM
PA's Trout Opener-new record
---
I do not know if this was necessarily discussed on this forum but I thought it as appropriate as the Freshwater fishing forum. Some of you guys know I work for a local fishing/hunting shop. The opening day of trout season is the shop's busiest time of the year. We had 27 trophy trout come in over the weekend....25 the first day. The largest of these fish was a potential new PA record Palomino trout.
The fish was caught by Arthur Holmes of Whitehall and was a whopping 12 pounds 8 ounces. The current PA record is 11 pounds 10 ounces. I will include a picture of it along with pics of the 2nd and 3rd largest fish...as well as a complete list of all 27 fish and the folks that caught them. I thought you guys might enjoy it.
ANGLER TOWN Fish LENGTH WEIGHT (lb. oz) STREAM
Arthur Holmes Whitehall Palo 30" 12, 8 Lit Lehigh
Chris Volgel Emmaus Palo 28"11, 2 Jordan
Tyler Palladion Beiblesville Palo 29" 11 Jordan
(Age 9)
Thomas Kram Albrightsville Palo 29" 10, 11 Lit Lehigh
Chris Joseph Coplay Palo 28" 10, 7 Lit Lehigh
Nicholas BalzanoAllentown Palo 27.5 10, 7 Lit Lehigh
Jay Zarada Palo 26" 10, 6 Lit Lehigh
John Harrington Bethlehem Palo 30" 9, 8 Lit Lehigh
Jacob Dabrowski Allentown Palo 27" 9, 7 Lit Lehigh
Richard Snyder Germansville RB 25" 9, 2 Jordan
Bill Thomas Allentown Palo 26" 8, 12 Lit Lehigh
Bob Kozlowski Schnecksville Palo 25" 8, 4 Jordan
Robert Feist Allentown Palo 25" 8 Jordan
Eric Katowksi Zionsville Palo 24" 7, 12 Jordan
Emilio CaraballoAllentown Palo 25" 7, 3 Lit Lehigh
Jason Kistler Palo 26" 6, 7 Lit Lehigh
Mike Kimak RB 22" 5, 7 Jordan
Alex Atiyeh Schnecksville RB 23" 5, 6 Lit Lehigh
Ed Esteves Limeport RB 22.5" 5, 3 Jordan
Terry Butz RB 20.75" 4, 2 Lit Lehigh
Warren Green RB 22" 4 Lit Lehigh
Rick Bitler Allentown Palo 23" 4 Lit Lehigh
Thomas Binder Allentown BT 21" 4 Lit Lehigh
George Passavo Allentown RB 22" 3, 15 Jordan
Alex Rosario Allentown RB 21" 3, 12 Lit Lehigh
Nichole Loy Palo 15" 2, 12 Jordan
Nate Thomas RB 18" 2, 7 Lit Lehigh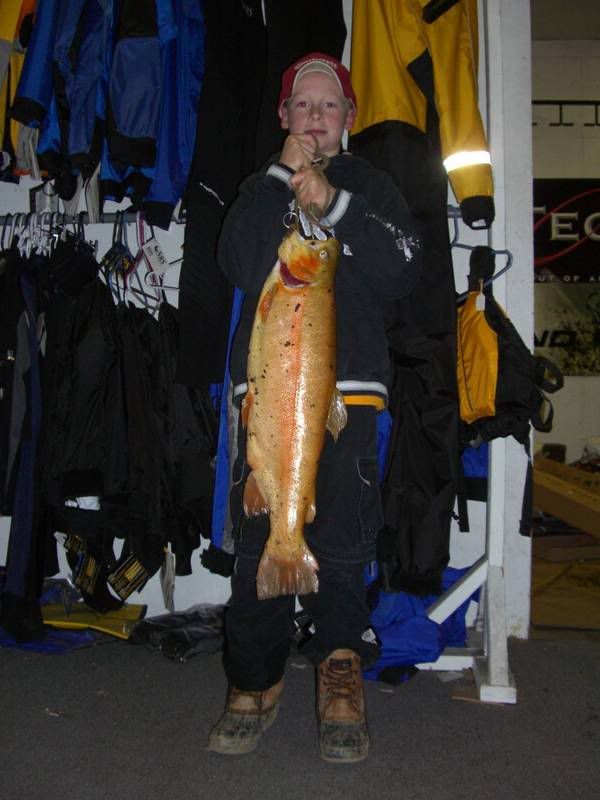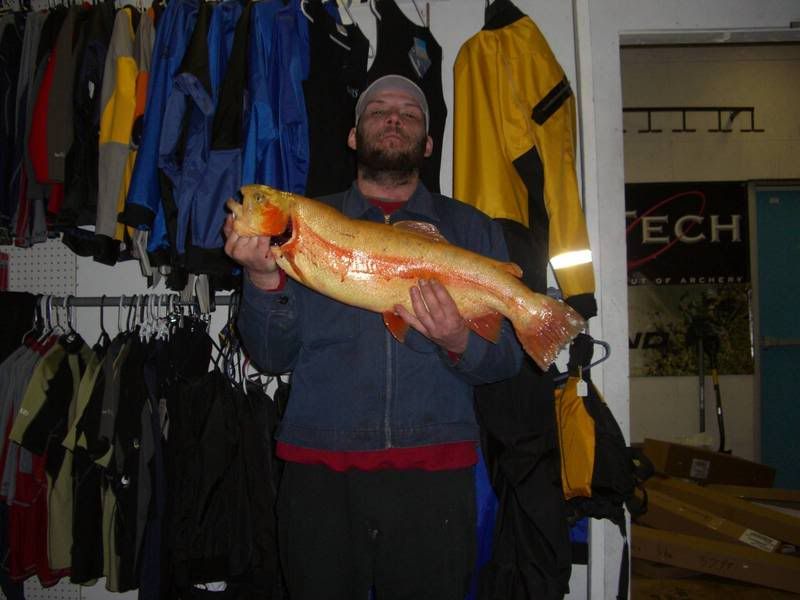 04-01-2008, 06:53 AM
RE: PA's Trout Opener-new record
---
Yes, they are. I had heard that another nice fish came in last night but I did not get the numbers. I work again this evening so I will try to get more info then.
04-01-2008, 03:44 PM
RE: PA's Trout Opener-new record
---
ORIGINAL: MikeVT

Never saw a Palomino Trout. Looks like they might be a close cousin of a rainbow??? Don't have those in my neck of the woods.
You are correct Mike. A palomino is a cross between a normal rainbow and a golden trout.
04-02-2008, 06:22 AM
RE: PA's Trout Opener-new record
---
While working down at the shop yesterday another interesting bit of information surfaced. Reportedly there was a call to another local fishing shop of an even larger Palomino trout being take from either Maiden or Ontelaunee creeks (same creek, different county?) in the last day or two. This fish was reported to be over 13 pounds and was taken to some place called "Sandy's". One customer thought it was somewhere off of Route 61 in Schuylkill county. I have never heard of the place.

Anybody know where it is and/or any other info on this report?

04-02-2008, 10:25 AM
Fork Horn
Join Date: Aug 2007
Location: Greensburg, PA
Posts: 163
RE: PA's Trout Opener-new record
---
I used to belongtoa club that stocked a lot of Palominos, I actually got sick of catchingthem thinsga nd have never really seen them as being a very pretty fish. Would much rather have a nice brownie or Brookie.

They are pretty big fish though, must have been fed well