ruger hawkeye all weather questions
10-09-2010, 04:18 PM
Spike
Join Date: Aug 2010
Posts: 31
ruger hawkeye all weather questions
---
I am wondering about rugers all weather rifle, how does it perform in less than ideal conditions? does the stock feel cheap? does the finish stand up in wet weather? i own a hawkeye standard in 30/06 and am quite pleased with it. feel free to comment on this rifle or suggest one in a similer price range.
10-09-2010, 05:27 PM
Banned
Join Date: Sep 2010
Posts: 220
---
I have not shot one - but I saw one - actually a couple on the rack at the gun shop the other day and they looked nice, but I wouldn't believe everything that a gun writer writes about a gun - because after all that is their job and that is how they are paid.

If you already have a gun that you are comfortable with and does a good job, I wouldn't risk buying a new gun today and risking the chance that it isn't as good as what you already had.

Adjustable trigger might be good for someone that shoots a lot of targets, but real world experiences tells me that sometimes you shoot a deer when you see it and not when you are prepared to shoot a deer. When that happens - it really doesn't matter what kind of trigger is on a rifle.
10-10-2010, 06:54 AM
Nontypical Buck
Join Date: Nov 2008
Location: Adirondacks
Posts: 1,305
---
Here's mine-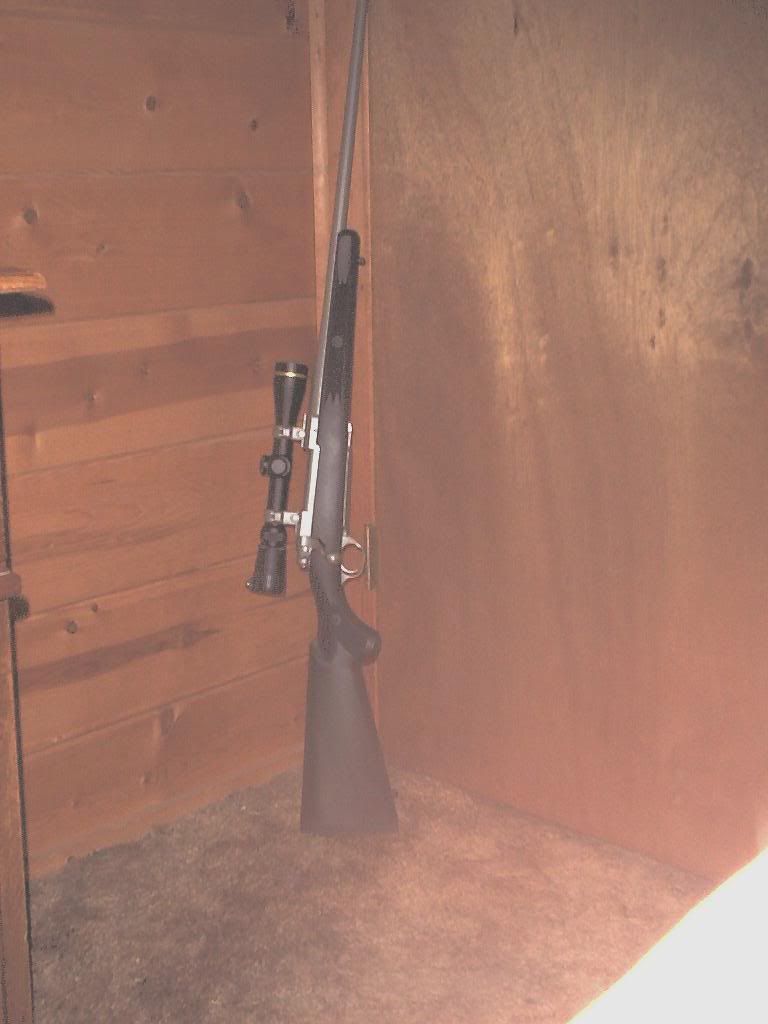 It's a .280 with Leupold 2.5-10.Out of the box it shoots well under 1"@100 yds.I have hunted with it in temps from a high of 50 down to 12 degrees in sun,rain,snow.It performs great under any conditions.The trigger is a little heavy but other than that I love it.
10-10-2010, 07:52 AM
Spike
Join Date: Aug 2010
Posts: 31
---
10-11-2010, 06:16 AM
Nontypical Buck
Join Date: Nov 2008
Location: Adirondacks
Posts: 1,305
---
Between the SS and synthetic stock rain or anything else won't be a problem.Nasty weather is what they're all about.It will take Alaska' weather or Florida' if need be without issue.Not as pretty as wood but otherwise it's great.
10-13-2010, 07:28 AM
Banned
Join Date: Sep 2010
Posts: 220
---
I think that the Ruger is a real nice gun.

But even with my dad's Remington 721 Billy Club, weather was never a problem.

I don't think that a person needs a Tupperware stock and stainless steel barrel and action to make a gun a good all around weather warrior. Most any gun that is cared for properly will shoot in even the most adverse weather conditions.

All it takes is too much oil in the bolt to make the bolt freeze up and stop working.
I had it happen once on the 721 and learned that kerosene is the best gun lubricant - not gun oil.
10-14-2010, 04:54 PM
---
I have several of the Ruger M-77 MKII All Weather's and one Hawkeye with a camo synthetic stock. I really like the All Weather's. I have never taken the Hawkeye out so I can say anything good or bad about it.
I've been hunting year after year with a M77 MKII A.W. in 7 mag.It's been in some nasty weather and except for a few marks looks like the day I bought it.

Ruger's triggers do leave allot to be desired. Someone who knows what they are doing and make them in to a good trigger. My hunting 7 mag breaks at just under 3 pounds.
Posting Rules
You may not post new threads
You may not post replies
You may not post attachments
You may not edit your posts
---
HTML code is Off
---