Remington
10-03-2005, 07:52 AM
RE: Remington
---
Which is it ijimmy a 700 or a 710?
ORIGINAL: ijimmy

I never said anything about a particular model , 700's I believe are assembled in the U S . Maybe their parts are made here allso .

The centerfire my shooting buddy had major problems with was a 710 , And I believe it said made in china on the box , could be wrong , it would not be the first time .

He allso had problems with an auto 22 purchased the same day .

You guys who have older remingtons , own some great guns . My point was that with all the quality guns being made today , you can do better than remington , whos quality IMO has gone down in recent years .
Reddog , The reason is there are so many quality manufactures out there now that sell rifles that are more accurate , out of the box , have better fit and finish , and cost less or the same . My shooting partner bought a 700 a few years ago , along with an auto 22 , and they were junk , the 22 would not group worth a darn , and the centerfire had a bolt issue , it would not close , and the fit and finish on the centerfire was about the worst Ive seen , it was cheesy .

I bought a savage at the same time and its a great gun , not reel pretty but shoots awesome , meanwhile my buddy has gotten rid of both of his remingtons . One he traded for an older model 700 , one manufactured in the 70's and it is a great gun . I believe remingtons quality has gone way down in recent years , their older product was of great quality .

The manufactures Id consider are
Savage
Howa
CZ
Tika
Winchester

10-03-2005, 03:21 PM
RE: Remington
---
I have had to mant Remingtons to count. I have had no problems with any except the old 788 which lost the bolt handle. Accuracy has been beyond question and the main reason that I would continue to buy Remington rifles. I would not buy their newest auto as its had many problems with function. However I would buy a Remington centerfire in a heartbeat. I also would never hesitate to buy a Savage rifle. Ant problems that I have had with Savage rifles were fixed in short order without guestion. I have been buying Remington rifles and shotguns since 1960. The newer ones have performed as well as the older ones.
10-04-2005, 08:23 PM
Typical Buck
Join Date: Feb 2003
Location: Hickory NC USA
Posts: 964
RE: Remington
---
I think I bought this rem classic back in 1985 or what ever year the classic first came out,its had thousands of shots through it and still shoots great,now I cannot get this kind of group every time but do get some once in awhile.And have taken deer with it out to 300 yds.Hope all my future remingtons are junk like this one.
All that has been done to this classic is lightening the trigger.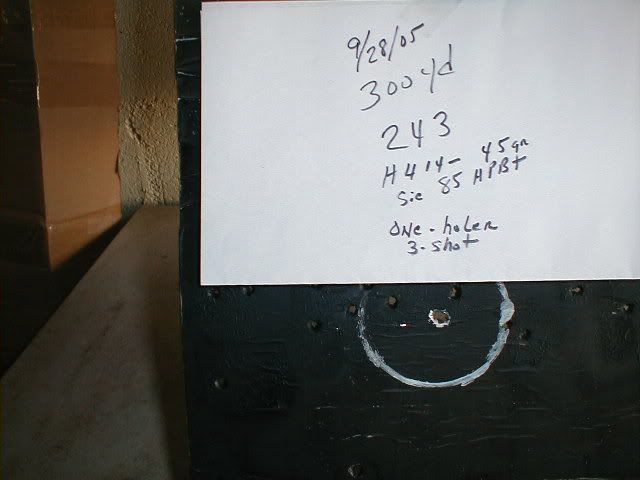 10-18-2005, 09:22 PM
Join Date: Oct 2005
Location: Iowa
Posts: 491
RE: Remington
---
I am a true believer in the Remington 700 i have3 in 22-50, 30-06 and 308 and have 4 other remingtonguns including a 597 which is probably in my opinionone of the best auto's made to date. and asfar asthe 700 being junky i beg to differ. there is probably one out of1000 that isnt great but everyone makes mistakes. igot 2 savages in 1 week one is my .223 that isa heck of a yote gun and a 243 that i traded the next day cuz it was thecrapiest gun i have ever had. I think my bb gun is way more accurate. lol
but i would definetly go for the 700 sps!!!!!
10-23-2005, 04:46 PM
Join Date: Oct 2005
Posts: 11
RE: Remington
---
i have a remington 700 BDL LH in 270. win... and i shoot the remington Accutips in 130 gr. and i can consitantly get it to shoot 3 shots with in a quater at 100 yrds. about the new remingtons i dont know.. but i am sure happy with mine.. i would highly recomend one... a good gun and put a good scope on it and its magic in the field..i shot my first deer with it last season at 311 yrds ( used my range finder) the doe dropped right in her tracks...



10-23-2005, 09:32 PM
Fork Horn
Join Date: Oct 2005
Location: Central Missouri
Posts: 360
RE: Remington
---
I've heard complaints about the first Remington 710's being pieces, but the one I bought two years ago has no problem holding one-inch groups at 100-yards and as far as i'm concerned is as good a rifle as any model 700 or model 7, just in a more basic, utilitarian package, wich suits me just fine.
10-24-2005, 05:52 PM
Join Date: Jan 2005
Location: Reinholds, Pennsylvania
Posts: 163
RE: Remington
---
Almost my whole family have been using Remingtons for as long as i can remember including myself. and i have never had any problems with mine or my family members. They are about as accurate as a gun can get, and the actions were all smooth. Im a little bit more open than my family considering all they buy is remington, i would consider Tikka, Remington, and Winchester. Being as Winchester and Remington have been around for a very long time, and if there products were junk they would not be around today. The Tikkas i have heard very good things about, and are made buy Sako with the same quality for cheaper.

Just my $.02

10-24-2005, 08:48 PM
Typical Buck
Join Date: May 2005
Location: northern colorado
Posts: 749
RE: Remington
---
I have a 700 ADL in 30-06 and it of course works flawlessly. Yeah, ideally you want every product to be perfect but the fact remains that if one in 1000 is malfunctioning, that one bad experience will spread like wildfire overshadowing the masses of satisfied customers. I am a business student (I graduate in feb) and the statistics were one unsatisfied customer will tell 22 people about thier experience while the satisfied customer will tell 1-2 people about thier experience. As a society we have grown used to recieving excellent service and quality and when we recieve good service we are not surprised. On the other hand, bad quality and service is not the norm and hence, is percieved as sensational so we will tell as many people as possible. Maybe this helps with some of the bad experiences being noted here. EJ