Hauling gear
10-07-2013, 08:05 AM
Spike
Join Date: Dec 2011
Location: Missouri Ozarks
Posts: 9
Hauling gear
---
I have COPD and cannot walk all that far without stopping and resting for a while to catch my breath, then trek on as far as I can and repeat the process. I have to take oxygen tanks with me.

What, if anything,do you guy and gals use to get your gear into a hunting area?

I use a blind as I'm not going to climb a tree, just too old and worn out for that.

My wife has a basket with wheels, but that is just too noisy and all the folding parts seem to rattle as is bounces over rocks and uneven terrain.

I'd sure like to get something to use that won't tell the whole world that I'm in the woods and where! I dislike making several trips in and out of the woods, as I get worn out with all the effort.

I'd prefer something free or I can make as I live on a small SS check every month.

Any ideas or help would be much appreciated.

Thank you,
Jerry
10-07-2013, 08:23 AM
---
Hi Sir, If you have a ground blind, And it's on your own land and you know it's safe, I would haul the gear down there. And I would leave my gear down there.

I have congestive heart failure, So I am in the same boat as you, I've decided to take only what I need and use a back pack suggested by a buddy and mentor.

I hope this helps some what.
10-07-2013, 08:25 AM
---
Here is another tip, If you happen to get a deer or whatever you are hunting, Bring a kid's sled and rope. With my congestive heart failure I can load my deer onto the sled and haul it to my truck. Getting it on the truck, Well I do have to have help with that!
10-09-2013, 07:52 AM
Spike
Join Date: Dec 2011
Location: Missouri Ozarks
Posts: 9
---
Thank-you for your replies.

I tried hunting my backyard one year, but the deer did not seem to want to come in and pose for my rifle. LOL!

Like the turkeys crossing my front yard. They move rather rapidly across the yard from one neighbors place to the neighbors land on the other side. I can't seem to stalk them nor the deer.

I usually hunt on the land on either side of my small place. One side is just thick woods with no structures on the land. The other side has is a 40 acre tract of land that the daughter inherited 5 years ago when her dad died. No one live there and she only comes down occasionally to take the boat out on the lake. I know others hunt the land as I hear gun shots occasionally. So, leaving my "stuff" on the land would not be as safe as I would like.

That is a good idea about the sled. I will have to try that.

Best wishes on the congestive heart failure. That is ultimately what ended my father's life. Take care of yourself.

Jerry
10-26-2013, 04:59 PM
---
Sled can help ,Been a couple years but i would tie a small one to back of manual wheel chair to haul goose decoys. Breaks to rest are fine,we have the rest of our lives to get in or out.
Used to use a home made rickshaw made from rear frame of a three wheeled bike. Plywood back and bottom.
10-27-2013, 03:16 PM
Typical Buck
Join Date: Feb 2003
Location: Northern Illinois
Posts: 612
---
Deer Cart

My father has a artificial leg, and rheumatoid arthritis real bad. He loads his stuff on a deer cart and uses that to take his ground-blind, chair and everything else in. This way he also has the cart to take a deer back out if hes lucky. He uses the Cabela's Mag Hauler cart and it works great.
11-16-2013, 07:48 PM
---
Look for an old golf bag cart. Just start asking friends and you'll probably find one cheap, then paint with flat camo spray paint. Here's 2 pics of mine with my climbing stand on it. I used it last week to bring my ground blind, a folding chair and a backpack back to my hunting spot. A friend of mine mounted a 5 gallon bucket with a seat cushion to his cart. Supplies go in the bucket, when he gets to his spot he just stops and sits on the bucket. He even has an umbrella attached to the handle in case it rains.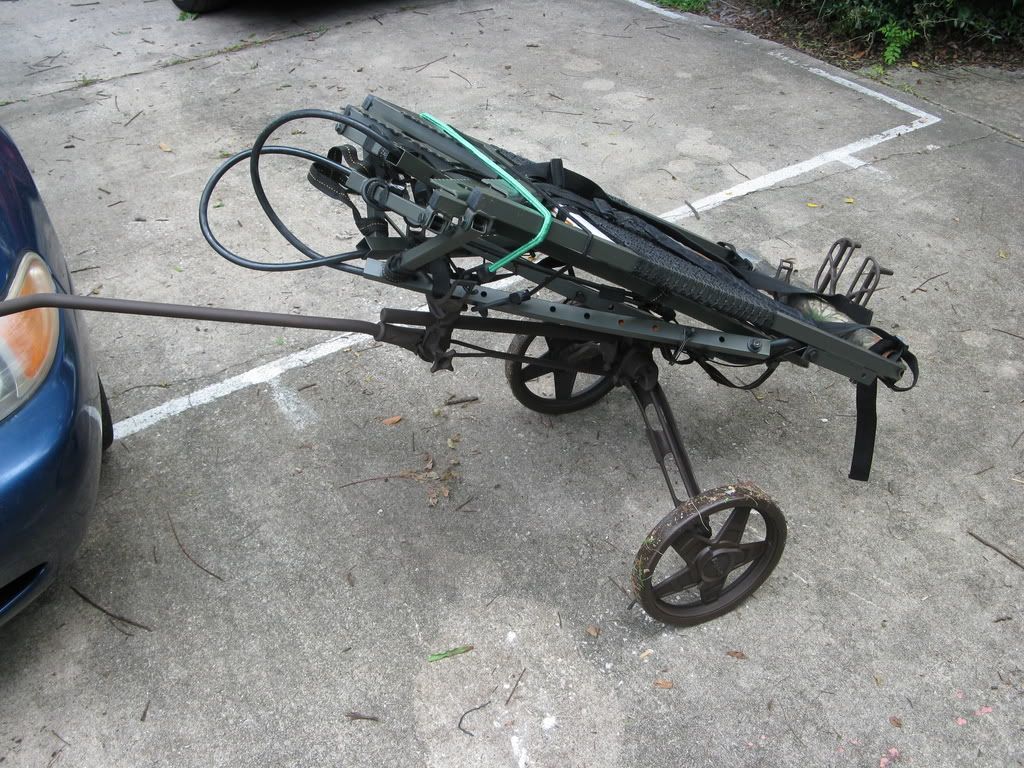 06-21-2018, 10:15 AM
Spike
Join Date: Jun 2018
Location: Butler, PA
Posts: 13
---
Originally Posted by
JerryK
I have COPD and cannot walk all that far without stopping and resting for a while to catch my breath, then trek on as far as I can and repeat the process. I have to take oxygen tanks with me.

What, if anything,do you guy and gals use to get your gear into a hunting area?

I use a blind as I'm not going to climb a tree, just too old and worn out for that.

My wife has a basket with wheels, but that is just too noisy and all the folding parts seem to rattle as is bounces over rocks and uneven terrain.

I'd sure like to get something to use that won't tell the whole world that I'm in the woods and where! I dislike making several trips in and out of the woods, as I get worn out with all the effort.

I'd prefer something free or I can make as I live on a small SS check every month.

Any ideas or help would be much appreciated.

Thank you,
Jerry
I too have trouble hauling my gear in. For that reason, my 14 tear old son hates hunting and does not want to go out with me (age 50)
David
11-23-2019, 08:16 AM
Spike
Join Date: Nov 2019
Posts: 14
---
I have my husband pack anything that I can not. However, this really sucks. He doesn't really like helping and puts me down and makes me feel guilty for needing and asking for help. The biggest bummer is that I like hunting a lot more. I don't think he would even go if I didn't make such a big deal out of it. If I could, I would go by myself, but because of physical limitations, I can't do it alone. No way I can pack out an animal. So I am forced to be dependent. I would really like to hunt with other people, but I can envision getting blamed for infidelity or something like that. Really frustrating.
Posting Rules
You may not post new threads
You may not post replies
You may not post attachments
You may not edit your posts
---
HTML code is Off
---