Got my first buck with stealth ss
10-06-2014, 12:11 AM
Spike
Join Date: Dec 2011
Posts: 10
Got my first buck with stealth ss
---
Got my first buck with stealth ss Saturday after sending scope off for replacement. I had gotten scope back Friday and sighted xbow in just in time for my weekend off and Saturday was first time I got to hunt. Spitfire did not perform like I would like it to. I may have hit bone maybe why no pass through. The shot was under 15 yards but it ran off around 130 yards and stopped. Shot went tad high middle and little back. I figured it would go high little bit since zeroed at 20 yards. 2 blades were forward one closed and other pretty well closed and third was partial back. When I put them they were very tight, hard to open and close so maybe why. I got some swackers I have not tried. I thought of trying something else. Ideas?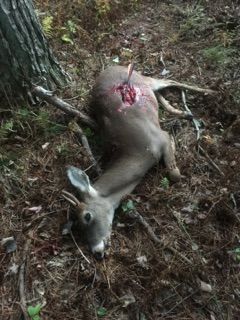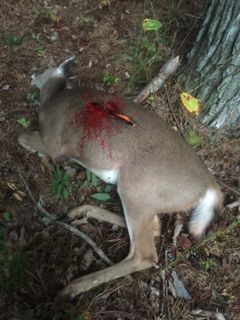 Here is pics. Not sure of age of the deer? Tines has dark brown on the back sides with lots of white pointed spots on the tines.
---
Last edited by bravo2; 10-08-2014 at

09:42 PM

.
10-18-2014, 11:15 AM
---
---
Last edited by grinder67; 10-18-2014 at

11:25 AM

.
10-18-2014, 11:34 AM
10-18-2014, 11:50 AM
---
Really! The shaft cut all that hide and meat? LOL! You are funny! Glad I have alert people like you to educate slow folks like me.