1st Buck w/Parker Terminator
10-31-2008, 07:32 PM
Join Date: Sep 2008
Location:
Posts: 12
1st Buck w/Parker Terminator
---
1st Deer since picking up a Parker Terminator Crossbow.
Finally got a chance to go hunting with my son. He came home on leave for a little dose of heaven before having to return to Iraq for a second tour. Sure wish it had been him that got the shot but, I passed on a 8pt that was with this little fella. Maybe he'll get a shot at him over the next 4 days. That was my plan anyway. Now I have to admit, I am addicted to this crossbow stuff hook line and sinker now. The Parker Terminator did it's job. The 3dot truglo so far has tracked very well and appears to be repeatable to 50 yds. Now all I want to add is some of those glowing nocks.
I had one heck of a tracking job on this little buck. If you notice in the photo, I hit this buck dang near perfect behind the shoulder while he was standing broadside. The bolt went in between the ribs, turned immediately downward and exited the stomach just in front of genitals and hit the opposite side hind quarter. We tracked this buck over 400 yards before recovery. Anyone with any idea why that bolt turned like that by all means chime in. This has been very puzzling to me how a bolt could do that. I was shooting a G5 mechanical broadhead @100grains.
Anxious to hear any comments on this bolt exit thing.
Good luck to all.
Smokepole, I see you are still hanging around. Hope to hear from you again soon.
tnerb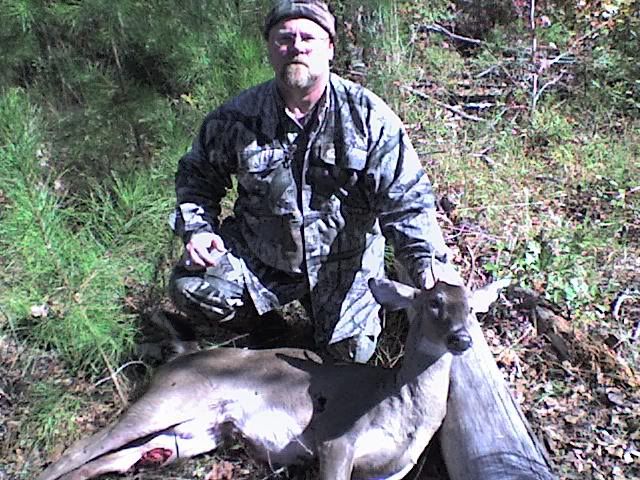 10-31-2008, 09:15 PM
Typical Buck
Join Date: Feb 2003
Location: mt. airy nc USA
Posts: 572
RE: 1st Buck w/Parker Terminator
---
Congrats on the spike, sounds like your arrow moved around in the deer while he was running, I once shot one broadside in the ham and the arrow worked up thru the body and came out behind the shoulder while he was running.

Martin

11-01-2008, 02:29 AM
Join Date: Mar 2008
Location:
Posts: 23
RE: 1st Buck w/Parker Terminator
---
I've got the Parker Buck Buster 150 and this is my first year to hunt with a crossbow. I've taken three deer to date, one that could be a twin to yours. All three of mine were complete pass throughs with the arrow completely through before they reacted. Two were taken using 125 grainTrophy Ridge Rocket Steelhead mechanicals.These doeswent less than 60 yards. Both werehigh double-lung hits and there was no blood trail. The spike was taken with a125 Phathead four-blade, again a high double-lung hit but with someblood trailin the 40 yards he traveled. I'm not too impressed with the blood trail I'm getting, so my next broadhead will be theSlickTrick 125 grain which I've heardvery good things about on this website, especially the blood trail they leave.

Your odd angle may well have been the result of a big bone that turned thearrow in that strange direction. I'm sure there is a lot of physicsbeing applied to thebroadhead and shaft as it makes its way through the cavity of a deer, hitting both soft and very hard tissue. That may be a shot and results that you'll never see again. The important thing is that you got the deer by hanging in there and not giving up. Tom

11-01-2008, 04:37 AM
RE: 1st Buck w/Parker Terminator
---
tnerb congrats my friend on that fine Buck you harvested. without being to be in on the dressing of deer. my guess is it may have hit the leg or shoulder bone and turned. which arrows were you using alum. or carbon ? the BH is it the Tekan II ?
11-01-2008, 04:41 AM
RE: 1st Buck w/Parker Terminator
---
Trg3 steelheads or any other BH thats hits high lung area will show very little blood to trail with. sometimes its impossible to hit the lower heart area for a good blood trail. the best shot hit placement is low to top of heart. this will give a lower third of chest hit and blood will pour out of the body
11-01-2008, 11:32 AM
Join Date: Sep 2008
Location:
Posts: 12
RE: 1st Buck w/Parker Terminator
---
Thanks for the comments guys.
Smoke, it was the Tekken II and I was using Easton Carbon bolts w/moon nocks.
You had any experience with this combo???

I realize that one poor penetration is not enough statistical evidence towrite off a particular combo but, I sure wasn't happy with the results. I bought a dozen of them and practiced with 3 of the blades and left 9 untouched for hunting season. They flew just like my field tips which left me thinking they flew very well. They certainly grouped well. As the season progresses I may try some of the slick tricks or, the new ones out that swing on a ball bearing like a pendulum...Can't even remember the name of them. Any of you had any experience with them? I think I saw them advertised on this site or maybe one of the others. Add states that the blade moved in the opposite direction of bone when hit.
Sounds good in theory but need a little proof from some of you that use them.

Didn't get a shot at anything this morning so we came home for lunch. Turnip Greens, Cornbread, Potato Salad and Fried Pork Chops. Gonna strap on the feed bag and probably get an hour nap to recover then hit the stand for the evening hunt.
A lunch like this makes it hard for a fat boy like me climbing into trees...Hopefully that boy of mine will get a chance at the 8pt. I let slip away.

Will check back with ya'll this evening. Hope to post a photo of something a little bigger...
tnerb

11-01-2008, 11:58 AM
RE: 1st Buck w/Parker Terminator
---
another thing that could have happened because deer can move faster than we can see it. you shot he was broadside but heard the noise and wheeled and instead of being broadside he has given a qtr'ing to shot and it went in and out on back left leg! [:-]
11-01-2008, 12:21 PM
Nontypical Buck
Join Date: Nov 2005
Location: Mn.
Posts: 3,399
RE: 1st Buck w/Parker Terminator
---
!st of all Congrats,could you tell if all the blades opend up because all I can think of is that the BHwas deflected once it enterd the deer as in one of the blades didnt open and thus causing it to deflect off off a bone or he bucked when hit but the main point is you killed a deer and harvested it good job.....Nothing like a guy/gal 1st cb deer,got my 1st Oct 11th.......
11-01-2008, 12:23 PM
RE: 1st Buck w/Parker Terminator
---
tnerb i think your combo is a good one and as you said its accurate. thats counts as ++. Hotburn76 uses tekan II's and favors them also. i figure the carbons are as good as any out there.