New Xbow Hunter needs help
08-11-2008, 07:04 AM
New Xbow Hunter needs help
---
I am just getting intohunting with a xbow. I researched the subject and ended up buying a Ten Point GT-Curve. I guess the help I need is in the bolts and broadheads. Is there a place or info that wouldhelp me in getting ready for the field by selecting the right bolt and broadhead. Somethingon the pros and cons on aluminum vs. carbon bolts.

Also somethingon the art of shooting the xbow. Any good books, magazines or articles on line would help.

Thanks and I am havingfun reviewing the threads on this site. Sure is a lot of good info to go through.

08-11-2008, 08:09 AM
Fork Horn
Join Date: Mar 2006
Location:
Posts: 385
RE: New Xbow Hunter needs help
---
You can use carbons or aluminums out of that bow. I am still a fan of the 2219 and the 100 grain spitfires. They are a good combo and the Spits make a nasty hole. You could go with a 2216 from that bow if you wanted to as well, but you will have less KE.

I would check out Horizontal Bowhunter magazine. That is the official magazine of the American Crossbow Federation.

Randy

08-11-2008, 12:48 PM
RE: New Xbow Hunter needs help
---
Randy should I worry about the difference between the 100gr. and the 125gr. weights? The practise tips that came with the GT-Curve are 125gr. weights. I would like to just go with the 125gr. broadheads. What do you think?
08-11-2008, 02:34 PM
RE: New Xbow Hunter needs help
---
I prefer carbon shafts - I've had an issue with aluminum shafts bendingon me. With a carbon, it's either straight or it's broken. But either one will work fine. Just make sure you pull the aluminum bolts out of a target STRAIGHT - don't twist it to one side or it may slightly bend it. I'd use the 125 grain heads - I think that's what TenPoint recommends. There are a lot of good mechanical heads out there, or you can try a Slick Trick - they fly just like field tips for me.
08-12-2008, 07:13 PM
RE: New Xbow Hunter needs help
---
Nothing wrong with either. Aluminum shafts as a general rule will be heavier than carbons. Carbons are less susepetable to damage from miss-use, carbons are generally more quiet. Aluninums are much more straight than carbons. If an arrow were to "blow up" it's more likely going to be a carbon and unlikely an aluminum. I can't think of more differences between the two. I use them both.
As far as broadheads go some where between 100 to 150 grains is good. The lighter will give flatter trajectories and the heavier are better for momentum or plowing through your intended target or quarry. Look for a short broadhead. Three is better than four blades but not by much. There are tons of great broadheads but if using one with replaceable blades find the ones that self-support the blades. The issue with Thunderheads is that they are not self supported and they are too long for really fast bows. Here is a starters list of good commonly used broadheads in crossbows. Slicktricks, G5 Montecs and Strikers, Muzzys, Steelheads, Rage, Spitfires etc. Hopefully others will mention some broadhead names. But keep in mind that this is the internet and you have to sift out the rocks. Depending on what insert you use you will want to use the weight of the broadhead to get a desireable FOC(do a search on this subject) which is basicly the balancing of the shaft to make the front heavier.
08-13-2008, 05:40 AM
RE: New Xbow Hunter needs help
---
I ended up gettng themuzzy three blade points in 125 gr. weight. Went to Bass Pro shop yesterday and thought they would have had a better selection of stuff, but was disappointed. I bumped intoa guy that is a hunter safety instructor for the state and he had some good things to say about the broadhead. I like the idea of the practice blades.We will see how they work.
08-16-2008, 05:16 AM
RE: New Xbow Hunter needs help
---
The 3 blade muzzy's shot poorly out of my Xbow but had always been "OK" out of the compound. I know they are not cheap but try a couple and you will find one your Xbow likes.
My excalibur shoots Easton power bolts ($4.99) topped with Rocket Steeelhead 100's and love them. I have even shot the Rocket's bought since Wally world or someone bought them out and they seem just fine.
4 deer with the ExpandibleSteelheads last year. 3 clean as a whistle pass thrus and one arrow struck a scapula or shoulder joint head "slightly" quartering to and I never found tha deer and wonder if a fixxed head would have finished the job...
Lot's of newfolks here although you regularshaven't gone away. Cool...

08-17-2008, 08:20 AM
Join Date: Feb 2003
Location: chiefland Florida USA
Posts: 5,417
RE: New Xbow Hunter needs help
---
I shoot Carbon topped with 100 gr. NAP Spitfire mechanicals.have never had a failure with either.my wife shoots the same.
Since we went to this setup we have taken 26 deer 5 or 6 hogs and 7 gobblers.not lost anything we have shot.
I took on nice 6 pt. that only had one shot at 20 yards. hit that deer dead on the sholder,the spitfire went through both sholders and stuck into the dirt.he went about 20 yards and piled up.
I sware you would have though that deer was shot with an 06.both sholders were broken,no they were shattered.that set the bar for me.I will not change.
they are exspencive , but I have only had 3 or 4 blades that bent.all the rest I hit a few licks with the diamond file and ready to go.I have on arrow and broadhead that has taken 4 bucks and one gobbler.when I shot the gobbler it hit a tree and bent one of the blades.
this is a few we took in the past with the Barnett / NAP spitfire / carbon.
this is a couple my wife took in about 10 min.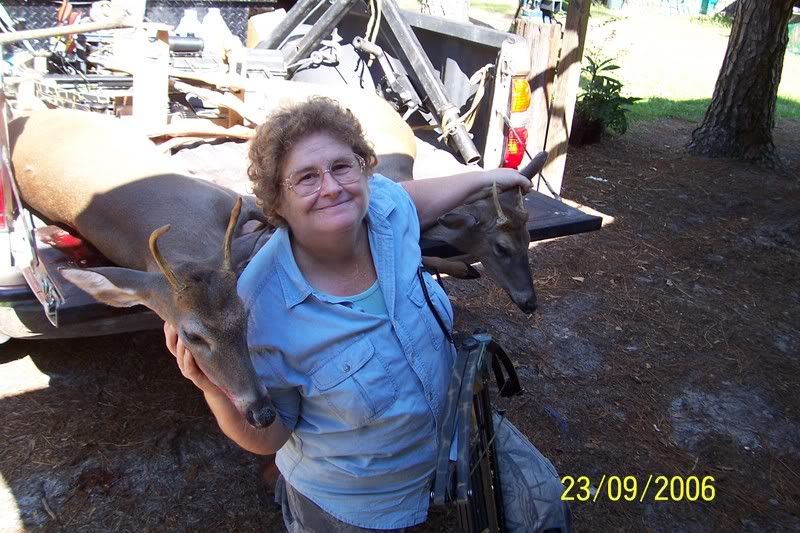 a double we took
08-17-2008, 09:00 AM
RE: New Xbow Hunter needs help
---
Well Tree Climber I would say that with results like those, you can't go wrong.
Also looks like you got a great hunting pardner. Wish I couldget mybetterhalf to go in thewoods with me.
08-17-2008, 11:03 AM
Nontypical Buck
Join Date: Feb 2006
Location: arkansas
Posts: 3,147
RE: New Xbow Hunter needs help
---
Treeclimber: Congrats on the hunts and marriage!! Seems like you've done real well w/ both. Having read your posts for quite a while now, it was a treat to be able to put faces to the names. Thanks!!