Just bought my first crossbow today!
04-01-2008, 09:18 PM
Just bought my first crossbow today!
---
Just bought a Horton Explorer HD150 and damn am I impressed with the accuracy and power from this XB. Took 3 shots to sight it in perfectly at 20 yards. Looking for broad heads to try now, starting with some 100grain Muzzy's to see how they work but i haven't heard to great of things, they were a recommendation from the outfitter... any suggestions on good broadheads for this setup? and I'd love to hear any stories from people who have taken a deer with this bow... pictures are also welcome...
04-02-2008, 04:56 AM
RE: Just bought my first crossbow today!
---
i haven't used muzzy 100's from my CB, i have from recurve and compound before i sold them. you would have to get some and try them, i think they would be ok once you sight them in. your CB isn't so fast that they should become eratic in flight. make sure to use an arrow with enough spine to handle them as they will catch air.
04-02-2008, 08:31 AM
RE: Just bought my first crossbow today!
---
My bows shoot over 300 fps., it case that matters. I'm finding the best accuracy from smallish 4-bladed broadheads like Slick Trick mags. This design seems to fly truest for me, in fact they fly the same as my field points. The 4 blades seem to prevent the arrow from planing. I missed two bucks with a larger 3 bladed broadhead until I found that they were very susceptible to fly in the direction the head was turned in relation to the vanes. And while I could get one arrow to fly true, the next one may or may not.....even with the head turned the same way. BTW, Slicks have given me awesome terminal performance (penetration and hemorrhaging).

04-02-2008, 08:45 AM
RE: Just bought my first crossbow today!
---
Hey bud, conratulations on your first crossbow! I too had a Horton Explorer150 and sold it to buy a Horton Hunter. The Explorer is a great bow, and deadly accurate, I loved that bow. But I also love my new Hunter
.
Here is a pic. of the doe I harvested with my Explorer this past fall.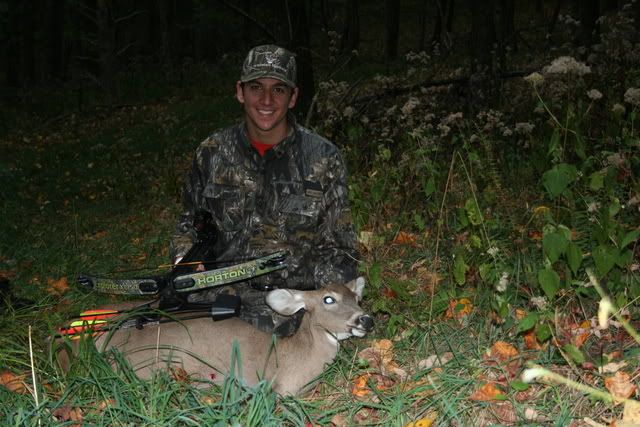 04-02-2008, 06:43 PM
Fork Horn
Join Date: May 2005
Posts: 122
RE: Just bought my first crossbow today!
---
I haven't shot the Muzzys but, Ishot 100 gr. Slicktricks and Wasps out of my 175 lb. Exocet forthe first3 yrs without any problems. Last year I switched from carbon toaluminium shafts, so I went to 125 gr. Wasps.Both heads are dead on. I shoot the Wasps over the Slicktricks because their half the price, and shooting at Turkeys gets $$$. Muzzys are good heads and I bet you'll do just fine with them. Best of luck and enjoy your newHorton
04-02-2008, 07:12 PM
Join Date: Jul 2007
Location: Pennsylvania
Posts: 15
RE: Just bought my first crossbow today!
---
Congradulations and welcome to the sport . i have a horton steelforce with carbon bolts and the tips i use are the crimson talon hyper-speeds from spintite.com cant miss the blood trail. but different strokes for different folks what ever tips you decide to shoot good luck
04-03-2008, 12:46 PM
Spike
Join Date: Sep 2007
Location:
Posts: 29
RE: Just bought my first crossbow today!
---
There is a reason they call me hamkiller, I shot a slick trick
b-head through a viginia ham made a believer out of me.
I killed two deer last fall both died in sight of my stand.
Slick em

04-15-2008, 05:30 PM
RE: Just bought my first crossbow today!
---
Welcome to the site I have shot a lot of different broadheads out of my horton crossbow ,if you want a blood trail you won't believe try the Rage 2 blade you will see what im saying when you hit a deer or turkey with it.

Posting Rules
You may not post new threads
You may not post replies
You may not post attachments
You may not edit your posts
---
HTML code is Off
---