pork in a pit
05-19-2010, 09:39 AM
Fork Horn
Join Date: Jul 2008
Location: Ontario
Posts: 108
pork in a pit
---
Hey guys...
I've heard of ppl down south making a huge fire in a pit lined with stones... stuffing and wrapping a medium sized pig in aluminum foil, and putting it right in the middle of the fire and then pile the hot stones around it. I guess then they cover everything up with dirt so the heat stays in and then come back in a few hours for supper. I've thought of trying this, or even using something smaller like a marinated chicken in a roasting pan and sealing it w/aluminum foil.
Anybody else heard of this or know how to do it?
Sounds like a neat way to cook something up, and I've thought of trying it for a camp-out this summer...
Suggestions? Comments? or is this a bad idea!
thanks and take care,
Gerard
05-19-2010, 02:34 PM
---
I'd try it out once before the cookout in case things don't go as planned. Don't want to leave a bunch of people waiting in a cookout line for food (speaking from experience here)

It sounds good!

A friend of mine just started locally marketing his home brew bbq sauce and it would be great on your piggie. Now I'm getting hungry...

rw
05-21-2010, 07:18 AM
---
Here's one way to do it. BTW this is not my idea got this from another site.
I'm not sure if this has been posted in the past, please feel free to delete it if it has.
The
cinderblock
pit method to cook large amounts of meat/food has been around for years. It's an easy way to cook for a crowd.
This method works well for anything from pigs to turkeys, briskets, venison hind quarters, pots of beans, corn in the husk and baked bread. Just about anything you want to throw on there. It's like a large oven.
You need to find a spot with no grass to set up your blocks. I have 30 blocks.....You can make it any size you like.
Set up your first two rows of blocks.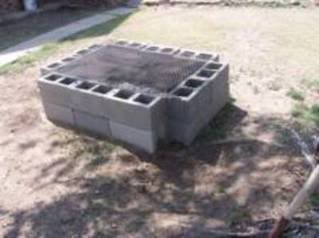 I line the bottom with foil to channel any drippings away from the hot coals. The drip pans can be filled with water/beer/applejuice what ever you like.
I like to use
beer
and dry rub.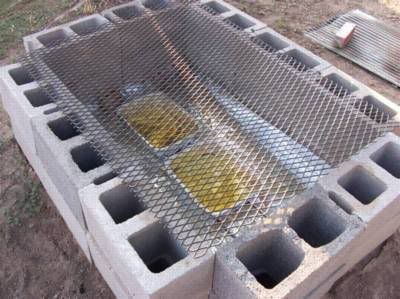 Add about 2 1/2 lbs of coals to each end of the cooker...right on top of the foil. Light the coals and add a grate.
I like to marinade the pig overnight, but you do not have to. You can season it any way you like.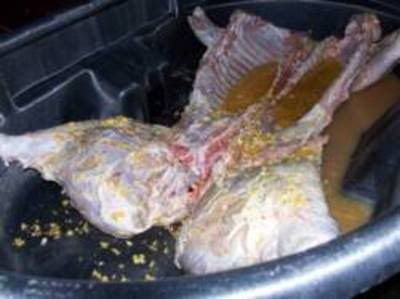 ---
Last edited by BlackLab; 05-21-2010 at

07:27 AM

.
05-21-2010, 07:23 AM
---
I start the pig on it's back....add another row of blocks and cover with tin.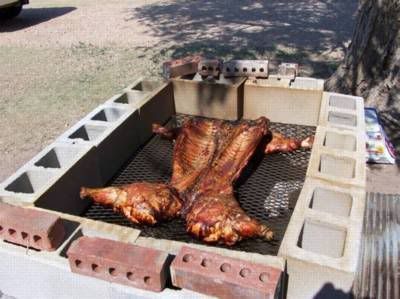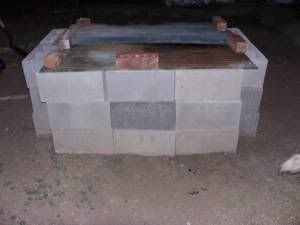 Hot coals are added at each end about every hour.
You do not need to add very many coals, the idea is to cook it low and slow. 10 to 15 coals on each end are plenty.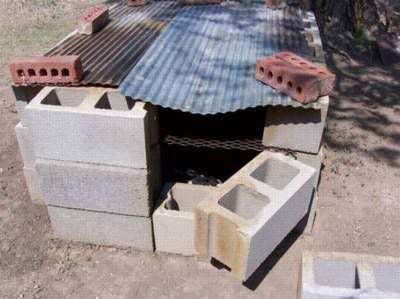 Originally Posted by
BlackLab
The pig is turned only once..half way through. During the last 2 hours of cooking, I like to add wood chips for smoke. Sometimes mesquite, hickory, apple....what ever sounds good at the time.
A 125lb pig takes about 8 to 9 hours and about 35lbs of charcoal. (you can use your own hot wood coals)
You need to use a thermometer to check the temperature. Cooking time varies depending on the outside weather.
Here is the finished pig...
05-21-2010, 07:53 AM
---
our way is a lil different...need a sandy area..
basically, in hawaii, we dig a hole on the beach, make a bond fire...get the coals good and deep...cover the coal with wet burlap sacks, put the pig in, cover pig with wet burlap sacks, no foil...throw in anything else ya want too...in with the pig between the burlap....totally fill the hole with sand...
later that night
http://z.about.com/d/gohawaii/1/0/l/...lagoon_008.jpg
can use your hand and get a fistful anywhere on the hog...and is very evenly cooked.
05-21-2010, 12:40 PM
---
agree with half on this method over here in NZ the maori ppl have whats called a hangi where the rocks are heated only and thrown into a hole then the meat and veges are placed inside the hole in mesh cages,then wet sacks are placed over the top and then dirt is placed over the sacks to seal off any heat that could escape....very unique flavour
05-26-2010, 06:37 PM
Fork Horn
Join Date: Jan 2008
Location: Central Iowa
Posts: 234
---
Posting Rules
You may not post new threads
You may not post replies
You may not post attachments
You may not edit your posts
---
HTML code is Off
---