Im an idiot
09-29-2015, 04:06 PM
Im an idiot
---
Im an idiot. I put on a string loop and was sighting in. I NEVER shoot at the same dot on my target but I have so darn many dots, I lost track at 30 yards and paid the price.with a slick Trick tipped arrow. :doh: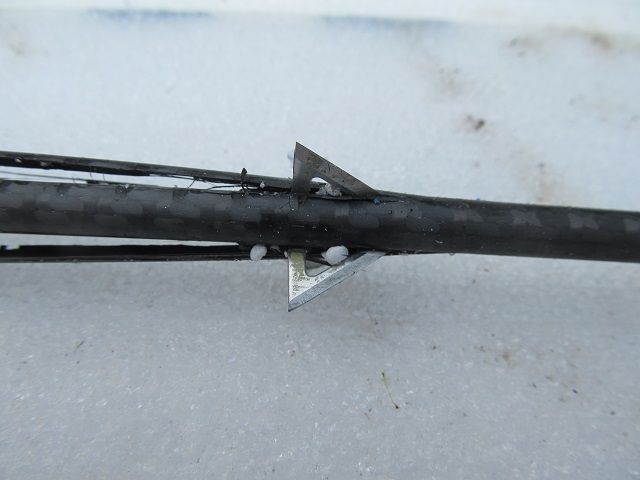 09-29-2015, 04:16 PM
Nontypical Buck
Join Date: Dec 2003
Location: Southampton Pa BUCKS CO
Posts: 2,492
---
Did that 2 weeks ago. That SUCKS. nice shooting but what a waste of a arrow. Oh well.

HJ
09-29-2015, 05:20 PM
---
Dead center Robin Hood! That's one of them "Oh hell" combined with "pat yourself on the back" moments! Least you know your grouping well
09-29-2015, 05:49 PM
Fork Horn
Join Date: Nov 2014
Location: Maine & northern FloRida
Posts: 195
---
That I an expensive show and tell piece but I would have to save it. Nice shooting!
09-29-2015, 07:46 PM
---
Save it, an expensive show piece!
-Jake
09-30-2015, 05:32 AM
---
No saving. Im actually embarrassed for being forgetful of where I was shooting. They have already been separated.
09-30-2015, 08:37 AM
---
Hey DIY, you can look at it this way, now you know even better the lethal cutting ability of those tricks! You know how hard it is to cut cleanly HALFWAY down the shaft of a carbon arrow?!
09-30-2015, 11:46 AM
---
Yeah. Those Slick Tricks fly terrible don't they? You better go buy some mechanical broadheads that have field tip accuracy.
09-30-2015, 11:59 AM
---
Ahh, the Homer moment.....did that myself a couple years ago. I never, ever shoot at the same dot either but was making the last shot of a session and thought why not? Ended the same way.
09-30-2015, 02:03 PM
---