Got the Job Done...
11-11-2013, 06:16 AM
Fork Horn
Join Date: Nov 2009
Posts: 141
Got the Job Done...
---
Well this past Friday I was fortunate enough to put this doe on the ground for my first deer of the season. Since the landowner of the property that I hunt likes to gun hunt, I stay out of there during gun season and knew Friday was my last chance to get it done for a couple of weeks. Well after seeing some young bucks and a decent 3.5 year old walk by, I finally saw this girl coming at about 4:30. She stepped out into the field and the path she was taking led her out farther than I had hoped. However, she gave me a perfect broadside shot at 42 yards and I sent an arrow her way. I felt like I made a good shot, but her reaction left me with a little bit of doubt as she didn't seem that injured as she ran off. After waiting about 30 minutes though, I got down from the stand to check my arrow and knew right away I had a dead deer. The 100 grain Ramcats made a clean pass through and was stuck about 4 inches into the dirt on the other side, and I had a very steady blood trail all the way to the tree line where she ran in. My wife and I had plans that evening, so I stuck the arrow in the ground where she entered the tree line and came back with a buddy later on to finish the tracking, plus I felt that it may be a good idea to give her a little more time since I wasn't exactly sure where she was hit. I found some white hair at the spot where she was standing when I shot her, so I feared that the shot was low, but with the blood I had I was pretty certain she wouldn't go far. Sure enough, we came back later and she was just about 30 yards into the tree line. All in all, about a 100 yard tracking job. I'm very proud of this one, as it was a nice mature doe and my farthest kill with a bow to date.
I still haven't really figured out how the arrow took the path that it did through her. The shot was low as I expected, but it actually exited higher than it went in. I was only up 12' in my stand, and she was at 42 yards so it wasn't a steep angle at all. With the way she dropped and started to spin the broadhead managed enter low and exit perfect, taking out the liver and getting at least one lung. I'm not extremely proud of the shot, though it wasn't bad. I always try to aim low and let the deer drop into it, because from my experiences hitting a deer low is always a more lethal shot than high and also results in a better blood trail. This one was a little lower than i like but still, it held true to my past experiences because I had a great blood trail and a quick death. She was already stiff by the time we found her just a few hours after the shot.
Very pleased with the Ramcat broadheads so far. Their flight for a "fixed" blade is excellent IMO, and the holes are impressive.
Entrance: (Front shoulder in far right of picture)
Exit: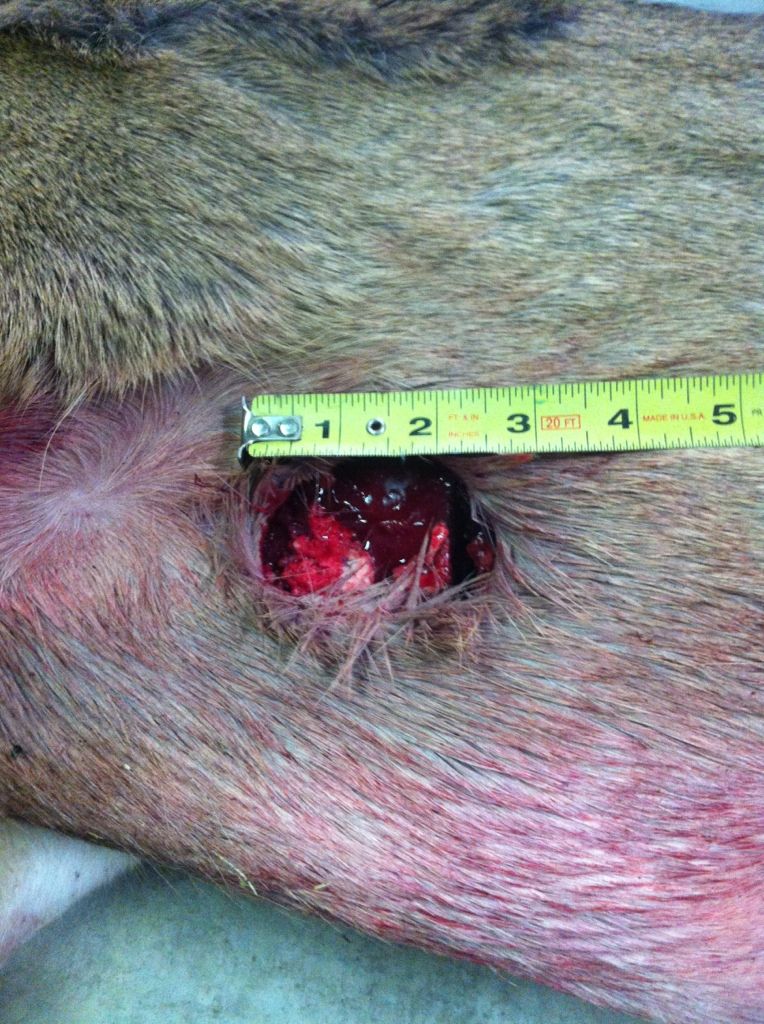 Posting Rules
You may not post new threads
You may not post replies
You may not post attachments
You may not edit your posts
---
HTML code is Off
---