Canadian 4x4
11-15-2012, 01:53 PM
Canadian 4x4
---
I posted a few pics on the trail cam section but thought I would tell the story here as well.
It's been a tough year for me to get away hunting, work's been occupying most of my time. I did manage a few days of muzzleloader hunting and after passing on about a 150" buck the first morniing (I know STUPID me) thinking that it could only get better, I went home empty handed but very satsified that I'd had that opportunity.
I had thrown my trail cams up at my archery spot a few months ago, checked my cards about 6 weeks ago and was pleasantly surprised to see a nice 6x6 amongst some other great deer. Since life's been so busy I decided to leave the spot until I got the perfect NW wind and hopefully had some snow. I got my wish this past weekend, we had a foot of snow and a blowing NW wind, temps dipped to -10c (14F). I packed on my warm gear and headed to the stand with hopes of shooting the 6x6. I climbed into the stand and was adjusting my seat when I looked up and saw a doe running out of the bush with a buck hot on her trail. they were heading away from me and I made a bleat sound with my mouth, the buck turned around and ran right at me. I grabbed my bow and watched as he got within 20 yards broadside...he wasn't the 6x6 but rather a nice 4x4 that i had drawn on last year and let walk, now he was even bigger, wide and tall. I decided to pass in hopes of seeing my target deer. he slowly walked off and for the next couple of hours i had a steady stream of does and small to meduim bucks around my stand, the weather had created some urgency and the deer were moving. I had the 4x4 come back to within 25 yards mid sit but again said nope, I'll pass. as the evening wore on, it was just starting to get dark when a doe ran out of the scrub and looked behind her, I stood up, grabbed my bow and got ready....it was the 4x4 again....hmmmmm he was starting to look really good....i bleated with my mouth again and he walked in, at 40 yards he turned broadside and dared me to shoot. I drew back and decided yes he was a great buck that I would be very happy with (afterall, I have a buddy that'll let me party hunt on his tag), I set my pin on him and let fly, it was like slow motion, the arrow hit him perfectly and I heard that sound of the pass through, he stumbled and trotted off, I could see he wasn't going far. I gave it 20 minutes and climbed down to see if I could find evidence of a good hit, there was a great blood trail that led me to him, her hadn't gone 40 yards. It was over quick and as I reflect on how it took place it reinforces my thoughts about waiting for that perfect day if possible.
Interestingly I removed my trail cams the following day (anyone who's read my stuff in trail cams forum may remember, have had cameras stolen off my private land several times as soon as there's snow to get in with a snowmobile), and when I check the cards, the 6x6 had made an appearance at 10:13 on Nov 11th, the same day I arrived on stand shortly before 2 and took the 4x4....oh well, I'm thinking if i let this guy walk this season, he'll be a brute next year....thanks for reading my story, best of luck to you all!!
Before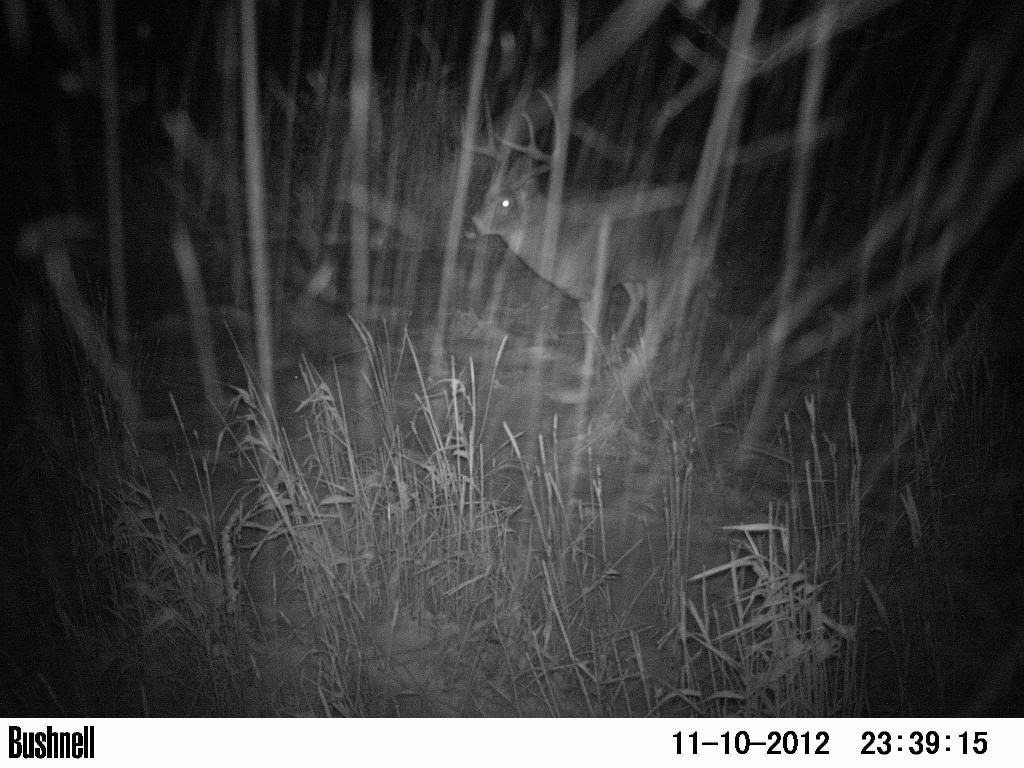 After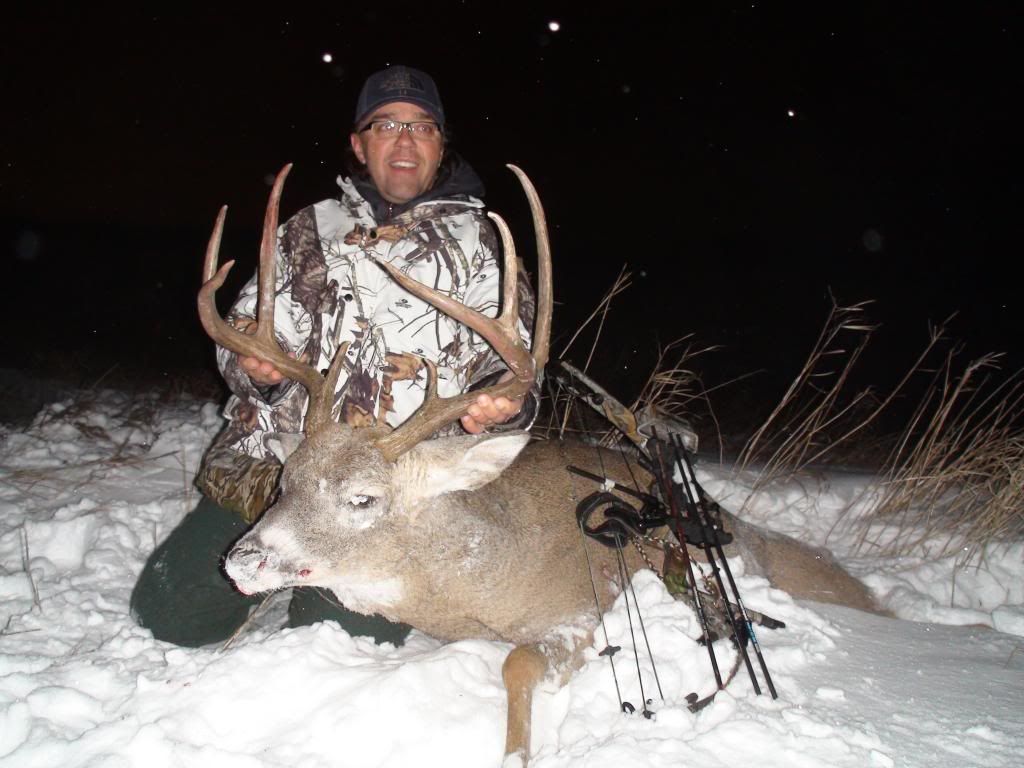 This was the buck I was waiting for, check out time stamp, 3 1/2 hours before I got on stand
11-15-2012, 04:54 PM
---
How do you figure that? The guard tines as you call them, are the G-1s, and are counted.
That is an AWESOME 8 pointer! Great pics too.
---
Last edited by early in; 11-15-2012 at

04:57 PM

.