Illinois buck down! A quest completed. Long read...
11-30-2010, 05:30 AM
Nontypical Buck
Join Date: Aug 2007
Location: SOUTH Carolina--I've moved!
Posts: 2,760
Illinois buck down! A quest completed. Long read...
---
I started deer hunting at the age of 12. Ever since that age I've read the magazines and watched all the tv shows, just like everyone else. There has always been two places that I have wanted to kill a good buck...Texas and Illinois. Well back in December of 2006 I was lucky enough to go to west central Texas for a free 2.5 day hunt thanks to my then employer. I was able to harvest this nice main frame 8 pt with a kicker off of his right G2.
As the years have gone by my desire to hunt the Midwest has done nothing buck grown. Unfortunatly the budget did not allow a hunt in that beautiful area of the country until the Fall of 2009. I spent 7.5 days in Carroll county Illinois hunting hard. Unfortunately I did not get the job done. Not one single arrowed shot the entire week. Needless to say I did not like the taste of that tag soup. The urge to get back to Illinois and chase those monster deer grew inside me. The plan was to go back to the same outfitter for this fall. Well things changed and through some contacts, Andy (SCBigBuckHunter) and I got permission to hunt roughly 300 acres, for free, in Fulton county. Jackpot!
The next 11 months were full of anticipation. We could not wait to get up there this year. We set out on Saturday October 30th for the 895 mile, one way, drive from South Carolina to Fulton county, IL.
The first afternoon we set foot on the property was the first view of it for either one of us. No topos, no areials, nothing. We knew it would be a challenge but we had 9 days to get it done. Deer movement was a bit slow the first couple of days but we could tell the rut was starting to build. Each hunt got a little bit better as we honed in on the hot spots of the property.
After the morning hunt of the 3 day I pulled my climber and we looked for a more permanent spot to hang a lock on. The tree we picked out was at one of the higher points of the property and very exposed to the elements. I knew immediately it was a good spot. I saw 1-2 shooters the first afternoon of sitting over the cut corn. The next afternoon was miserable. It was in the mid 30s with a steady 25 mph wind with gusts well over 30 mph. And to top it off it started raining as well. Funny how it works though because when the weather was the worst, the deer movement was the best. I saw a 160ish, a 150ish, and a solid 125-130 buck working the corn field. I was able to get a shot off at the last buck but unfortunately my arrow missed its mark. After sitting in that weather all day I had blown it. I was depressed. I had my chance and I blew it.
Fast forward a few days to the last morning. The weather again was not cooperating but this time it was due to high temps. Sunday the high was 75 and Monday was supposed to be more of the same thing. Monday was the last morning of the hunt. There I was in my lock on about 70 yards from the other lock on stand. It was about 7:15 am and I was standing there thinking that it was gonna be a loooooong drive home with no deer. About that time a doe crossed the field. Not in range and with nothing following her but it was still nice to see. A couple minutes later I did a series of grunts and estrous "can" calls. I heard something behind me to my right. I sent Andy a text about it but I wasn't sure what it was. I figured it was a red squirrel...since its ALWAYS a tree rat. Not 30 seconds later I see a head with antlers at the fence line. I had no idea how big he was but my only thought was "get your bow." I turned to get my bow off the hanger and by the time I turned back, he had cleard the fence and was heading right at my doe decoy set at 21 yards. My first thought was to look at his body. It was huge. CHECK! Next was look at his rack. Shooter. CHECK! Next I quickly came to draw and settled my pin as he walked towards the decoy. I let out a very quiet "mah" and he stopped on a dime. I hit the thumb trigger on the BossX and I knew immediately it was a good shot. THWACK! Right in the boiler room. I knew he was done but it was only a matter of seconds and he was down. Andy said I sent the text to him at 7:18 and the shot was at 7:19. It was fast! The buck bolted across the corn field right towards Andy. He turned the corner and I lost him but Andy watched him drop...right in from of the stand where I had missed the other 8 a few days earlier. Let the prayers and fist pumps commence!
We got down shortly after and I waited for Andy to get down to walk over to my buck. I wanted to share the experience with my good friend. We were amazed at this buck's body size. It was truly amazing. We just don't have bucks this big in South Carolina. The buck's rack sports 11 points including split brows on the left and a kicker as well. He would have had double split brows but one was broken off. We guessed his weight at around 230-240. I know his score is not high but I could care less. He has great mass and character. I would have shot him on the first day or the last.
Needless to say, I've had a smile on my face ever since then. I am truly blessed and I thank the good Lord for allowing us to go up there and hunt and allowing my arrow to fly true. So here are a couple of pics. Just for reference, I'm 6'5" and 215 lbs.
One of my lifelong dreams is complete and I couldn't be happier!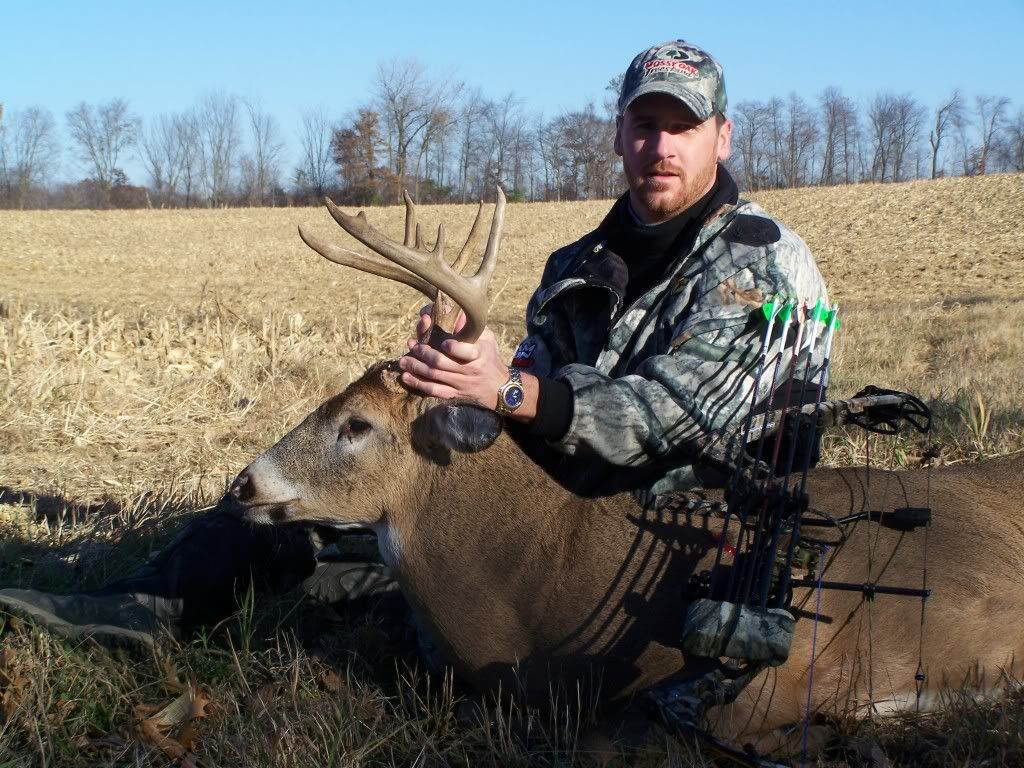 11-30-2010, 09:50 AM
---
Great story....nice buck! Congrats! I snort weezed a monster in to 20 yrds one late afternoon, starting to get dark quick....pulled back and couldnt line peep with pin sight housing, could still see my pin though. Didnt want to take the chance so let down on him...havent seen him since. We do have some big bucks here in Illinois. Congrats again! Thanks for sharing.
11-30-2010, 10:03 AM
---
That's a neat story man. Congrats! what a fulfilling feeling im sure. I know how weather can get you thinking "great now nothing is going to be moving" but...gun season a few years back, the rut was over, it was 65* and sunny over in Buffalo. My dad decided to stay in the stand instead of coming in for the morning and at 12:15 this buck comes out and what do you know, a 160 class Dandy. Great decision on his part to stick it out. Missed B&C by a few inches!
11-30-2010, 07:34 PM
Nontypical Buck
Join Date: Aug 2007
Location: SOUTH Carolina--I've moved!
Posts: 2,760
---