10 yard shot
09-09-2010, 12:54 PM
---
Originally Posted by
Champlain Islander
That was always an old bet for beers trick when we went to the 3D shoots and stayed over night. Get 5' from a target and bet the guy he can't hit the bullseye. Most will use the top pin and shoot way low. The 40 yd was always where my bow would hit the bull at 5'
I have a short range conversion chart I used to use when I used a scope and slider.For my hunting rig now,it says to use a 71 yard pin for 6'.
09-09-2010, 08:03 PM
Fork Horn
Join Date: Oct 2007
Location: Tuscaloosa, Al
Posts: 313
---
Originally Posted by
bigbulls
Loved it. It's buit like a tank, smooth as silk and spot on with the sight in tape method.

If you like the idea of a single pin moveable hunting sight then HHA is your company. Mounting a quiver can be a litle tricky with some of the quivers out there but for a regular ole Kwikee and similar it's no problem.
Yea i heard something about some people having issues with there quivers with those sights but that what i got is a kwikee. Im not in to all them fancy quivers. i just cant see buyin somthin for $130 just hold my arrows. But thanks i should be getting it in tommorrow i cant wait to shoot with it on!!!
09-12-2010, 06:22 PM
Typical Buck
Join Date: Mar 2010
Location: Northern Michigan
Posts: 974
5 yards?
---
---
Last edited by tight360; 09-12-2010 at

06:26 PM

.
09-13-2010, 04:04 AM
---
At 10 yards and closer use your 40 yard pin.

I know it doesn't seem logical. Just do it.
Not if you wanna hit your mark.
What a lot of people don't realize is.....the arrow is launched above the line of sight, at release. At a few yds out from the bow (most times it's around 5-8yds) the lines meet. Then, the arrow flies above the line until it arcs back down to again hit your mark (in an example of a 20yd pin) @ 20yds.
Here's a crude diagram I made up a few years ago, now....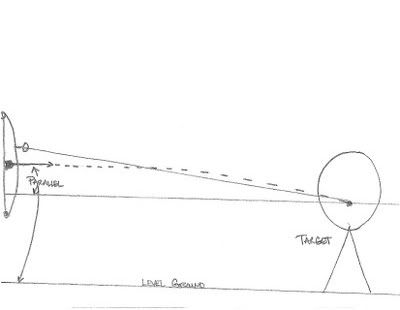 09-13-2010, 02:18 PM
---
NOW,for the twist about parallax and shooting from a stand.

Most of us agree we shoot for the distance from the base of the tree.This is because of gravity but parallax is separate from gravity and you must consider the height you are in the tree for it.Meaning,if you are shooting from 25 feet up this is 8.333 yards,meaning you no longer have a parallax issue if your parallax crosses like most between 5-7 yards.So a shot at 5 yards or less does not really need to use the 40 yard pin if the animal is 3 yards from the base of the tree.


This is why you must practice these scenarios.I know this will come with disagreement and that is why I refrained from posting sooner but it is what it is.
09-13-2010, 02:39 PM
---
To further prove my point.I just shot from atop my outbuilding.Shot was maybe 15' up.The target was 3 yards from under where I stood.I marked it and stepped it off.I also shot from 5 yards which is my crossover point and it was dead center. the pin is set for 23 yards.
Now lets be honest most don't have anymore than a 2-3" low arrow even with parallax at it's worse so this whole deal is being blown way out of proportion but for educational sakes,here it is.
My son snapped this pic before I got settled in and anchored.
shot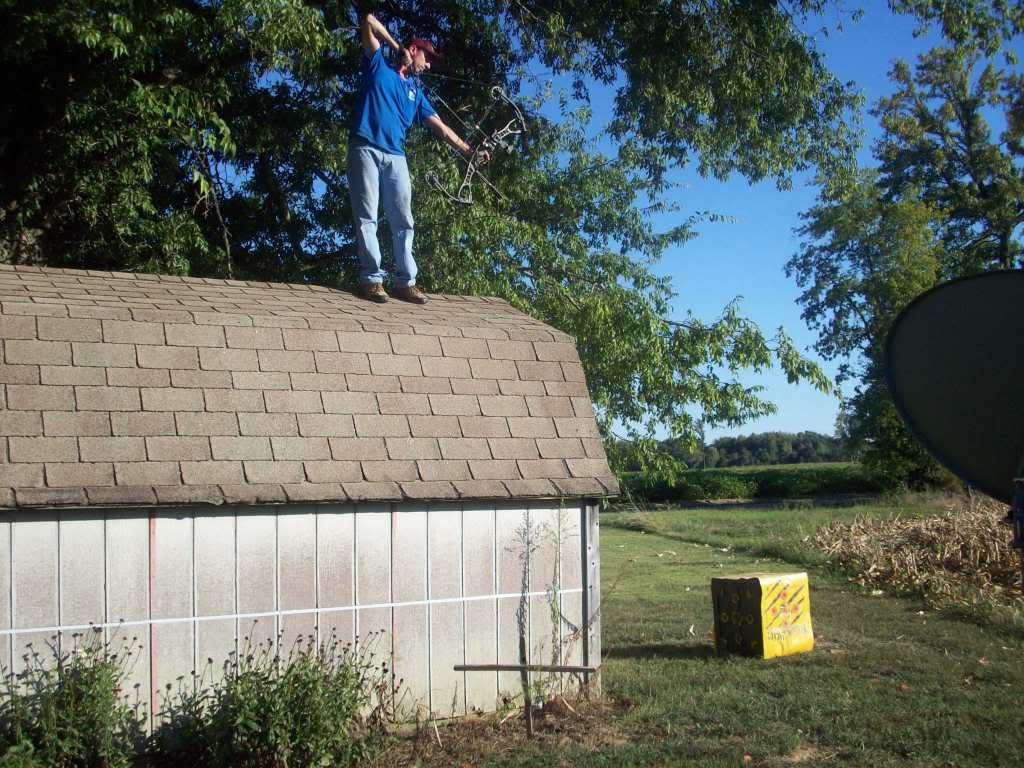 placement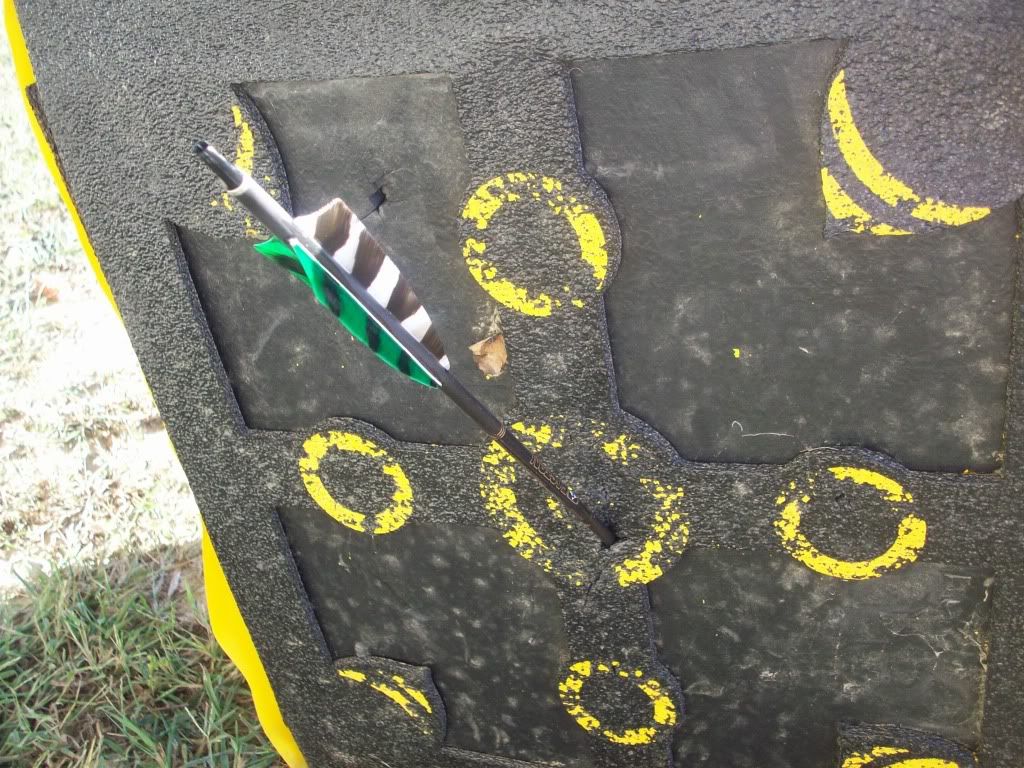 ---
Last edited by TFOX; 09-13-2010 at

02:43 PM

.
09-13-2010, 05:14 PM
---
True,if hunting out of a ground blind,this is a HUGE factor.More than 1 blind out there has a hole in it from those unaware of this phenomenon.