2010-2011 season Success Pictures
10-02-2010, 04:45 PM
---
Here's my Colorado Bull Elk, taken September 23, 2010. I'm sure this guy will be my trophey for a long time!
---
Last edited by KCMO Cityboy; 10-06-2010 at

02:09 PM

.
10-03-2010, 05:18 PM
---
Opening day nanny....
10-04-2010, 06:42 PM
---
Opening weekend buck. Shot him on October 3. He weighed 275 pounds live weight. My biggest bow kill to date
10-06-2010, 09:32 AM
10-07-2010, 01:20 PM
---
nice pictures guys!! ill have something to brag about here soon!! hopefully lol
10-08-2010, 08:09 PM
Spike
Join Date: Nov 2007
Posts: 28
---
yah it was early and i look like a goon LOL
My first bow deer......2nd yr hunting. I started hunting two years ago went out almost every day all season and only saw about 10 deer. it was really discouraging and only had one shot on a doe that ended badly. well i was burnt out of hunting so skipped last yr and went out this year. October 2nd of this year i missed a doe in the morning and her in the evening. next morning i went out with a buddy to film me and i tagged my first deer and got it on camera to boot. I am know officially hooked and can't wait to get another.
10-09-2010, 08:51 AM
---
Got my first bow kill opening weekend here in Oklahoma.
10-09-2010, 01:30 PM
---
Finally, the first deer of the season. Taken this morning at 815 at 10 yards.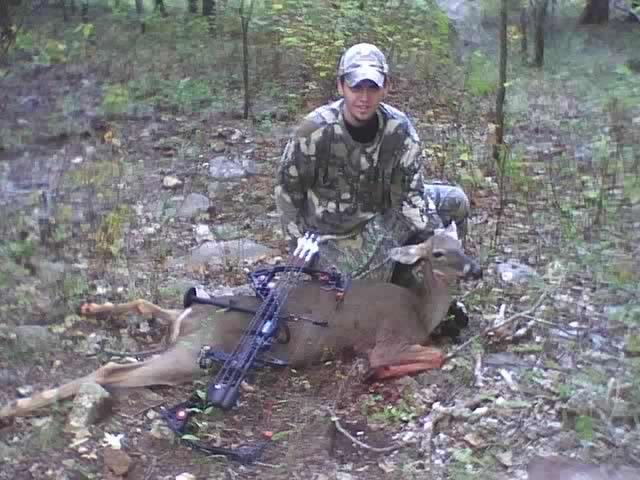 10-10-2010, 06:39 PM
---
Was out for the first time this season and sitting for 3.5 hours when this guy walked out just before dark... I let him have it at 29 yards. 10 pt scored 111 even.