Most Memorable Picture.
03-04-2010, 01:22 PM
Most Memorable Picture.
---
I'd love to see everyones most memorable hunting picture. Storys are always welcome and I look forward to seeing some of these. It doesnt have to be a picture of you behind a big buck or anything like that just your most memorable hunt for whatever reason.

Ryan.
03-04-2010, 04:47 PM
---
Sorry....I have 2.
First, is a buck I chased for 3 seasons. He trotted by me one day during the '05 season, and I didn't get a shot off at him. I shot at and injured him (flesh wound) on 9/12/2006. I saw him again, that year, the day after Thanksgiving. I saw him on 11/2/2007; 11/3/2007 and took him on 11/6/2007 as a 4.5yr old...200#'er.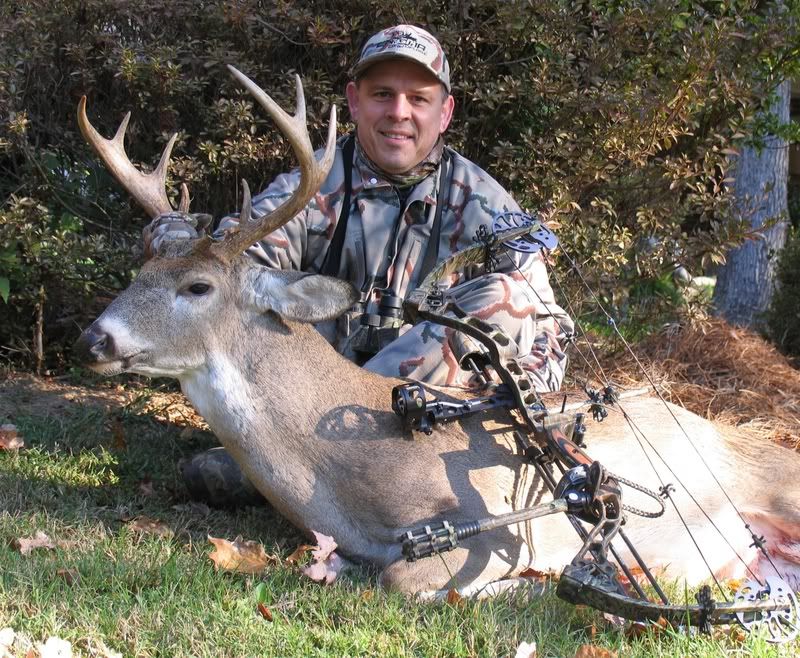 Second is my 1st traditional buck.....taken 11/27/2009.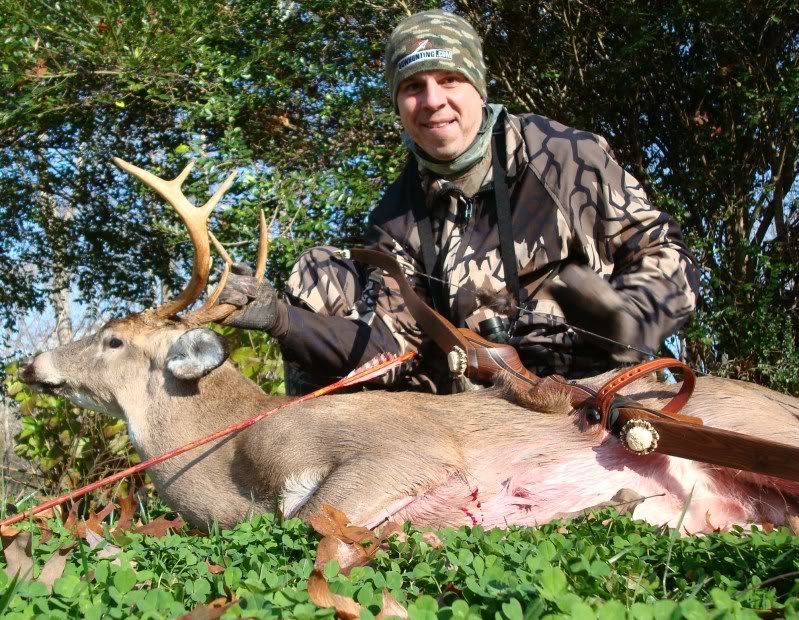 03-04-2010, 05:17 PM
---
it was october 17th. my dad and i were sitting in a set that is about 4 or 5 years old and we havent hunted much, i was just looking to shoot a deer with my bow and that was the perfect set for it. we had just got set up and settled in and my dads phone started to ring. we thought the night was done for. but we stayed and had a light rattling sequence. a little basket rack 4 pointer came in and walked right under the stand. after about 5 minutes of watching him there was a snort weeze. the little buck blew and ran off. all of a sudden i feel my dad grab my shoulder and say "big, big buck" i grabbed my bow stood up he stopped broadside, peerfect, 20 yards chip shot. i draw and release and he ducks my arrow bigger then crap. he runs off and circles back. he gets to about 24 or 25 yards and my dad tells me to draw hes head on. (i shouldve smoked him) and he looks right up at me. i have to hold my draw for about 2 minutes or so and hes staring at me the whole time. he turns and walks off... worst day of my life. will deffonatly never forget that day
03-05-2010, 04:07 AM
---
Parents divorced in 1st grade so my first gun hunting season at age 17 with my father. (1984)
First archery deer 1992
Sons birth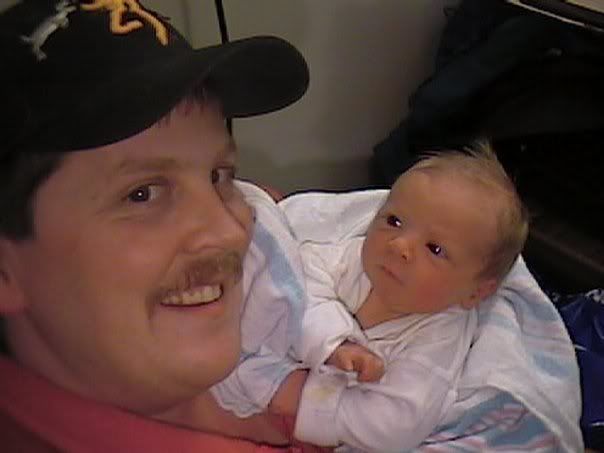 Oldest sons first gun hunt 2009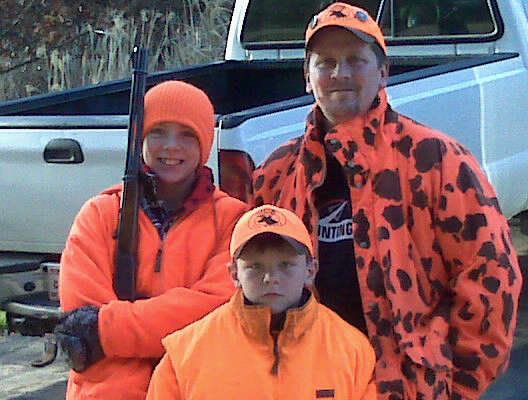 ---
Last edited by peakrut; 03-07-2010 at

02:40 PM

.
03-05-2010, 06:45 AM
---
I don't have just one special hunting memory that I can narrow down to because I have had soo many! My dad started taking me hunting when I was only 3 and he has been my favorite hunting buddy ever since. We both have a passion for bowhunting as well as all other types hunting. And now we have gained three more hunting buddies
My kids all started around age three with my little girl going with us at 2 1/2 this past year. And I already have so many great memories with them and I absolutely can't wait to create more.
[ATTACH]
[/ATTACH]
03-05-2010, 07:55 PM
---
My current favorite...and after I shot this deer, I took my 5 yr old to the spot where I shot it, and showed her the first blood, and let her "track" the deer.... (I already knew where she was because she only ran about 70yds, but it was pretty exciting for a 5yr. old either way!!!)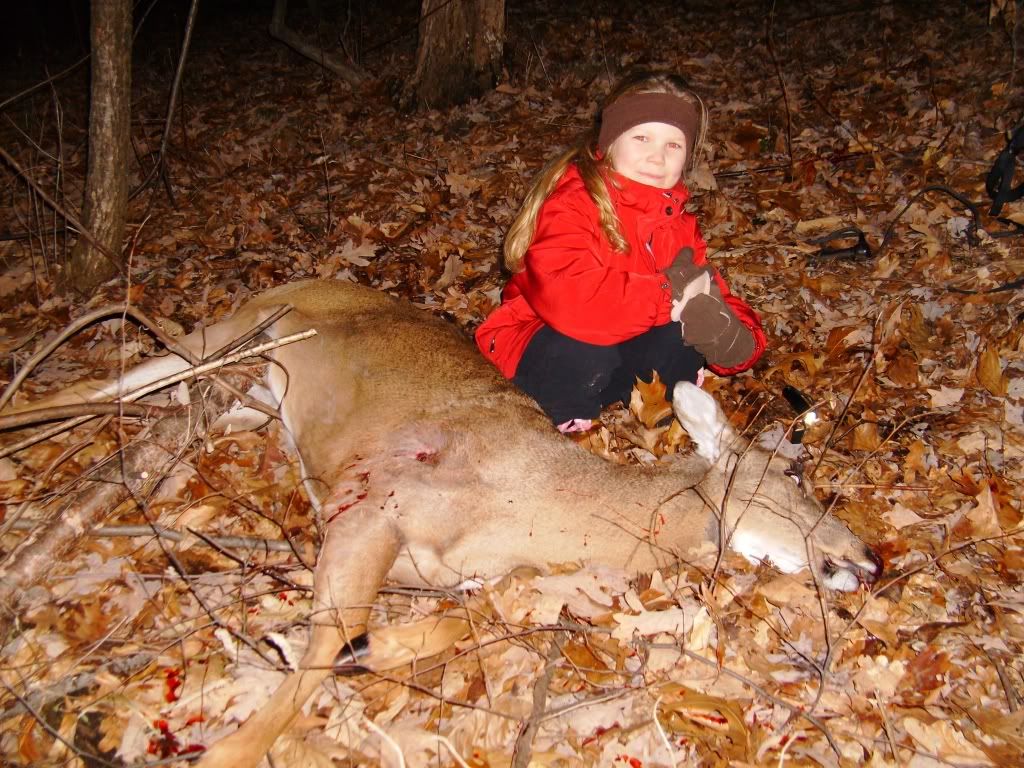 03-06-2010, 07:29 PM
---
first was my buck i shot last year. he was my first archery buck and my first shot was a double lung but my broadhead dint expand. it had freshly snowed and i couldnt see any blood. it was gittin dark and he was heading for the swamp i had to hunt him down. arrows flew and it came down to me taking him with my judo tip!

the second is this past fall i introduced my girlfriend to bowhunting and on her very first day on the stand ever she shot a doe. i had never taught anybody before and to see her be successful was a rush like you wouldnt believe!
03-07-2010, 09:59 AM
---
I have hunted bear in Canada twice, alligators in Florida, completed my Grand Slam and my favorite picture and hunting memory was watching my 6 year old kill this buck that we had watched all summer and had trail pics of.
Posting Rules
You may not post new threads
You may not post replies
You may not post attachments
You may not edit your posts
---
HTML code is Off
---