Late Season Buck
01-07-2010, 07:16 PM
Late Season Buck
---
Some of you guys already saw my email but I thought i'd share. Yesterday evening I was lucky enough to finally get a crack at this buck we named Countdown. Iíve been hunting him for about 2 weeks now, but was limited to waiting for the right wind, and waiting for him to show himself in daylight. I had him come in one trail 7 days over the last 12 in daylight and after checking my trail camera every day, Tuesday I saw he was back on the daylight pattern so I set up yesterday evening to try and get shot at him. After seeing 40 or so deer I heard footsteps coming from where he had been coming from right at dusk, sure enough it took once glance to recognize him and he was headed right for my shooting lane which was 18 yards. If everything worked out right it would be an easy shot. I turned my video camera on, grabbed my bow carefully with lots of deer right under my stand, turned my sight pin lights on and waited for a few more steps. He was slightly quartered away heading away from me now. I anchored, settled my pin, and made the shot, saw him jump and mule kick, and took off but I could tell he was hit good by the way he was running which is all on video. I saw the Firenock hit mid chest and buried in the opposite shoulder quartering away. I knew it was a deadly hit. I saw him and the Firenock run about 40 yards before I saw the Firenock start spinning around and stop. I thought the arrow had broken off. With the cold temps I decided to just get down after about 15 minutes and head in for the night and look for him in the morning. After I got home I watched the video and knew he was done for. As it turns out, where I saw the Firenock stop is where he piled up. He only went 40 yards. He scored 157. Good way to end the season after 72 days in a stand.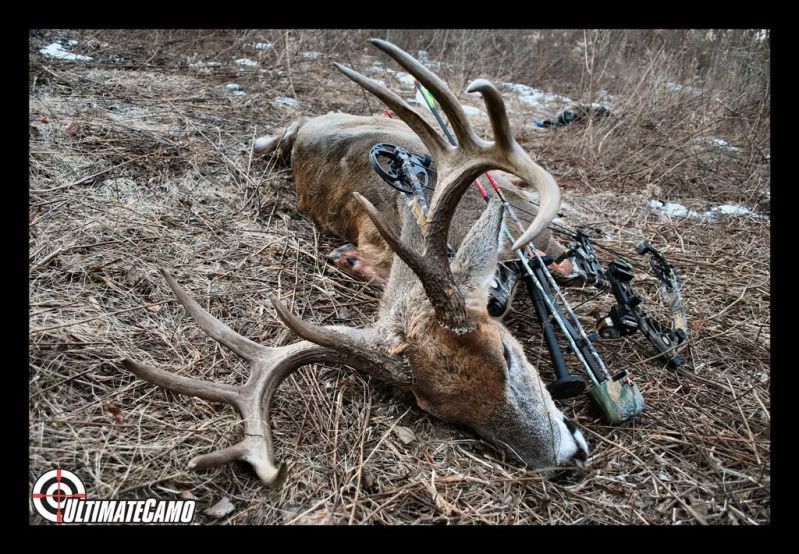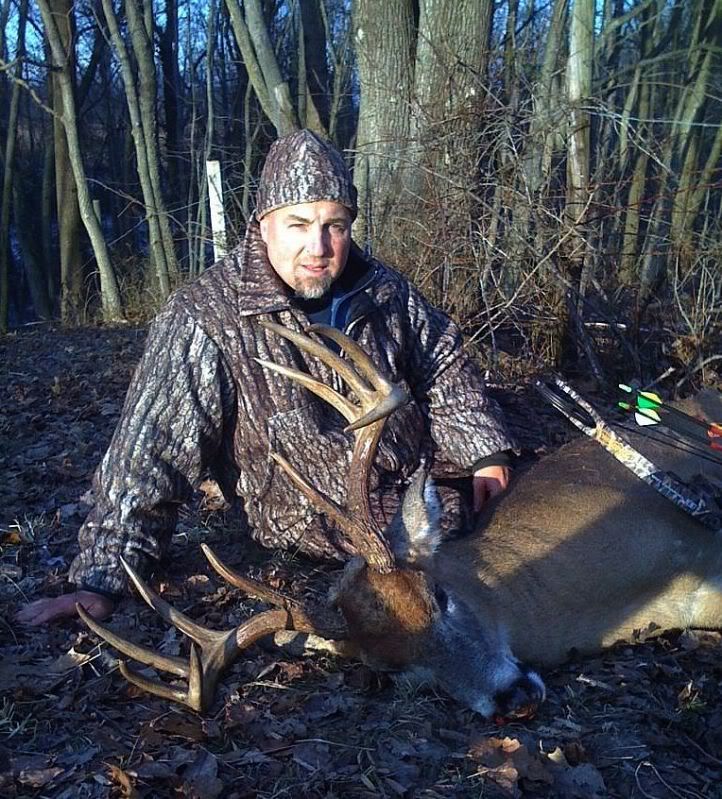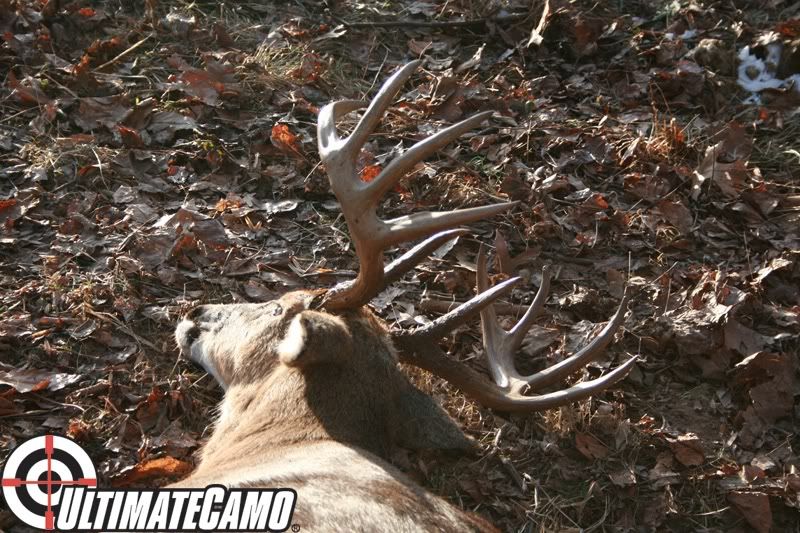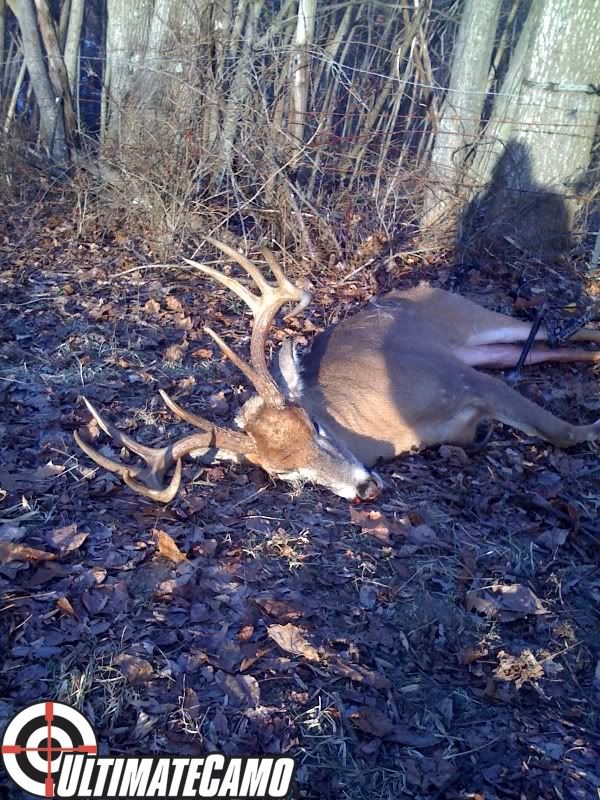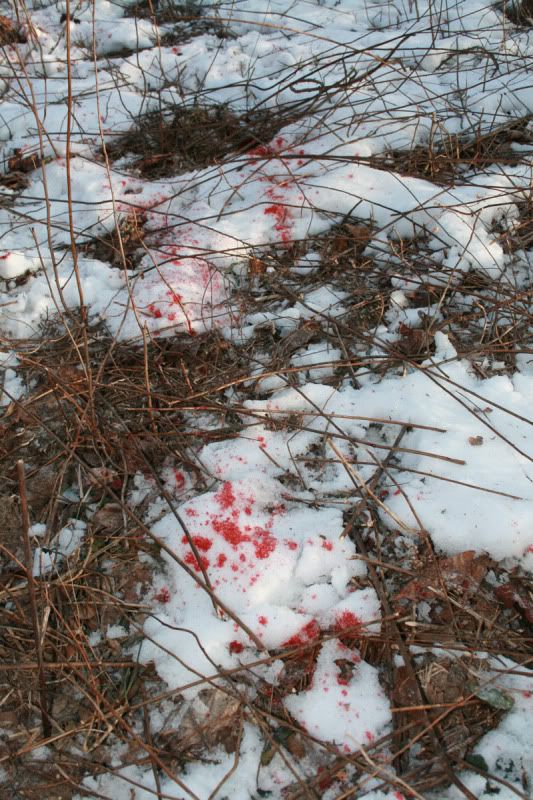 01-07-2010, 07:20 PM
---
Holy Smokes....That is an AWESOME deer, love the dark horns. Are you going to upload the vid??? CONGRATS!!!!
01-07-2010, 07:25 PM
Nontypical Buck
Join Date: Sep 2004
Location: Manassas, VA
Posts: 3,612
---
Great buck Diesel! Heck yeah, and to get him in January that is great.
01-07-2010, 07:28 PM
---
Way to go Diesel, congrats on an amazing buck!
01-07-2010, 07:38 PM
01-07-2010, 07:42 PM
---
Awesome buck! and an awesome job on your part patterning him.-WTG!! Man, he looks like he's really rutted down. No doubt he passed along some genes this fall. lol

Dan
01-07-2010, 07:49 PM
---
nice buck....got to love the late season when there are not as many expert hunters out there
01-07-2010, 08:07 PM
---
Great buck andy!!! Congratulations I'm pumped for you. That's a great way to finish up the season also!!!! Congrats buddy.

Ryan.
01-07-2010, 08:08 PM
---
Wow, its hard to believe he still has the headgear. Lots on the shore already losin em.

Good job.
01-07-2010, 08:28 PM
---
Congrats!! That's a great buck.