Cold weather clothing
01-03-2010, 10:58 AM
Nontypical Buck
Join Date: Aug 2007
Location: York,Pa
Posts: 2,645
Cold weather clothing
---
I get cold easily so I would like to hear what u guys have to keep u warm? I have on order the new scentblocker suit it's 3 layers with wool on the inside! All I have now is all light stuff and I just wear layers but man I got cold yesterday 20 degrees and 30 mph winds
01-03-2010, 11:22 AM
---
well what i wear is some long underwear sweatpants and then my bibs over all that, and then up top i wear long sleave underarmour cold gear style and then regular camo long sleeve shirt and a fleece redhead and then a big scentlock jacket. i jus got some new redhead bootsand they are toasty warm.
01-03-2010, 11:35 AM
Banned
Join Date: Apr 2006
Location: IOWA/25' UP
Posts: 7,145
---
neg 12 yesterday, and toasty warm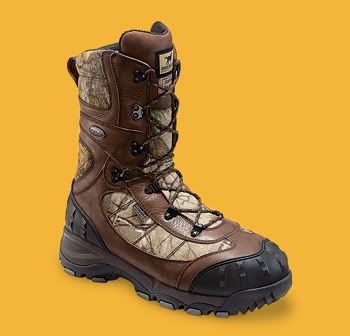 Irish setter 2000 gr snow claw boots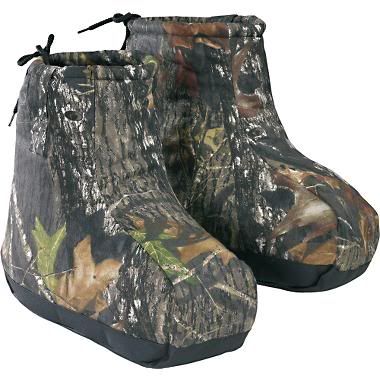 Icebreakers over those
it all back in the woods
This is my prototype. It is a little rough cosmetically, but performs excellent.
Mummy option employed
Normal mode employed
---
Last edited by hardcorehunter; 01-03-2010 at

02:24 PM

.
01-03-2010, 12:01 PM
---
Coldest I've hunted in here is 3deg.

In those (or anything CLOSE to that) I wear:

Muck boots (Woody max)
Wool socks
Patagonia silks on the bottom
UA coldgear on the top
Fleece pullover (top)
Wolfskin pants (unlined)
Predator fleece vest
Wolfskin jacket (unlined)
Fleece stocking cap
UA coldgear facemask
UA coldgear gloves

I also use a HSS hand muff with hot hands inside.

Rarely have issues with my feet, body or legs getting cold. What KILLS me in temps <20deg is my hands....if I have to hold my bow for extended periods of time.
01-03-2010, 12:52 PM
---
Since I work construction outside all year and we might be the only idiots that will be out there when it's 15 below. I bought this under layer called chili pepper, it's made for skiing and outdoor stuff like that. Then i wear jeans over that and then my camo suit pants. For the top I wear a fleece and my hunting suit jacket over the chili pepper top. For socks their called wigwam which I like the best or get a sock that is a marino wool. When it's that cold out I wear my Lacrosse ice king boots which are winter boots. when it's above 0 I'll wear my hunting boots. I will start sweating at work at 15 below but Just sitting for hunting I can stay warm enough to be out there all day.
01-03-2010, 01:16 PM
---
Naturally temps depend on how I dress, but when it's extreme, like below zero I wear the following:
Thermax
UA 3.0 Cold Gear
Merino Wool Underwear
WolfSkin with Comformax wind barrier

I really think wearing a Good Wind Barrier is one of the most important steps in dressing proper for cold weather sets.

Dan
01-03-2010, 09:56 PM
---
i'm 6'3 137 lbs I try to make it simple on myself. I kill my deer on the first half of the season while its still warm. Its bad when im sitting in a tree first week of october and Im shivering hahaha!!! I try to kill my deer ASAP! and if I rifle hunt I don't sit, period.

Ryan.