Missed a Coyote, Found a Rob Buck.
12-07-2009, 04:25 PM
Missed a Coyote, Found a Rob Buck.
---
Very cool (and cold) hunt this morning. I don't know what drew me to my food plot stand other than the obvious funnel that it is. Had I been in that stand opening morning of our rifle season, I would have had a shot on a big (according to my landowner) buck that my landowner missed. The buck came out under my stand, walked across the field and he missed it twice with his 6mm. I saw a small buck that morning as well as doe as I was in a stand inside a bedding area.
Anyway, fast forward to this morning. Although I didn't see anything from the stand, it became very cool, very quick once I got down.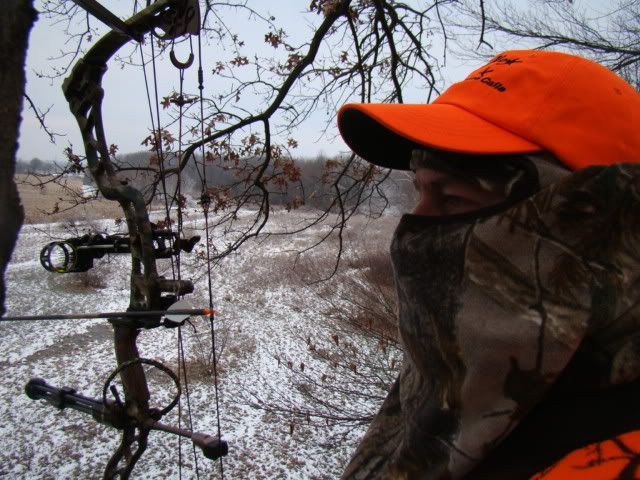 I walked out to the cornfield you see in the background to watch for tracks. There were a couple that cross the plot as well as walked along the corn field. There was a ton of tracks in the corn, of course.
As I walked along the corn field on my way out, I heard all kind of ruckus in the hedge row. I thought hmmmm, it really didn't sound like a deer. But I listened. I decided to walk closer and got behind one of the bushes (term used loosely) to break up my outline. Suddenly I saw a coyote! Cool, so I got semi ready and started sucking on my lips in a squeal like sound and the SOB ran right at me. He stopped abruptly staring at me and started moving to my right (downwind). I had to reposition myself in the crunchy snow but got away with it as I made squealing like sounds. I drew, estimated a little over 30 and loosed an arrow. I barely went over his back. @*$% but it was cool. He didn't bolt, he looked behind him where the arrow hit grass and I knocked another arrow but didn't get drawn. He moved down wind and then bolted back to where he came from.
I was smiling ear to ear while I looked for my still lost arrow. I walked toward the ruckus and that's when I found the Rob buck.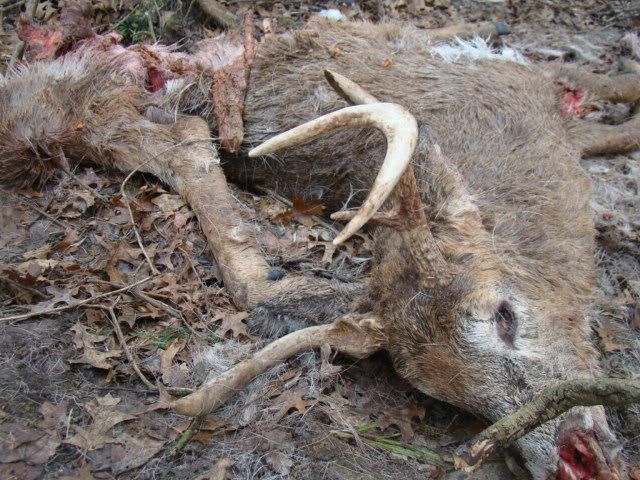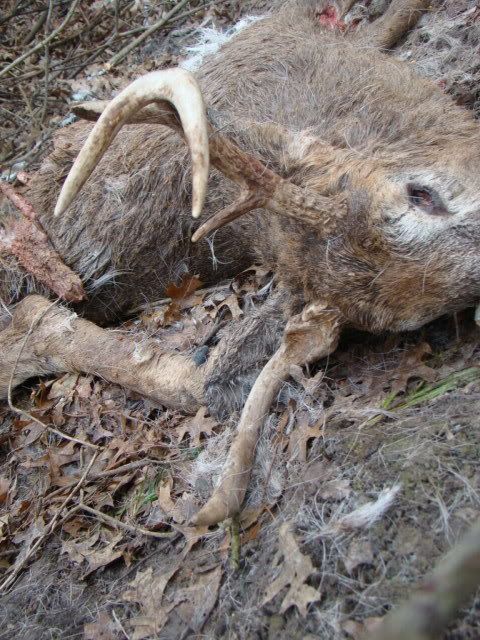 Wasn't sure what happened to him. He's been laying there for quite a while and I hunted close to him on several occasions without any indication that he was there. I text my cousin who hit a buck earlier in archery and never found him. He thinks this is the buck although he thought it was an 8 point. It's a 4 x 1, a true representative of a Rob buck.
---
Last edited by Rob/PA Bowyer; 12-08-2009 at

07:35 AM

.
12-07-2009, 05:08 PM
---
Rob...... You have some of the craziest hunts out of anyone I know.... That's a good problem to have. congrats on the great hunt and you have some crazy memories, sucks you didn't get the coyote.

Ryan.
12-08-2009, 03:56 AM
---
As I wrote in my text, I hate that you found a dead buck on your hunting ground. Are you allowed, legally speaking, to take the rack or skull for a plaque/euro mount?

It is very cool that you mouth squeaked a coyote to you on the ground and got a shot off with your bow. I have killed a few with a bow, but all have been out of a tree stand. It would be quite a rush to shoot one off of the ground with a bow!