1st 100 + inch whitetail
11-16-2009, 03:54 PM
1st 100 + inch whitetail
---
Did not think it would ever happen. Thanks to all my friends who gave me some motivation to stick with it.
Shot him on Friday the 13th. 10:00, 21yds.
After initially setting up in a tree my nephew scored from on wed. the wind picked up a bit much and the crows were going crazy on the gutpile, not far enough away for my liking. Moved to the east 200 yds were I had hunted the evening before. I text some guys and told them I needed to hunt squirrels cause that was all I was seeing. I got some encouragemnet and still considered the season a success. (passed on 3 different bucks) It was not fifteen minutes later I stood to look behind me and she was coming across the crp field. She was doing that sneaky run that lets you know something is on her tail. I grabbed the bow in anticipation of a buck. She entered the woods and worked away into the hollow and no buck! It felt like 10 minutes passed ( I even hung my bow back up) till he appeared in all his glory.lol He cautiously approached the woods and looked like he was going to be entering to far away. I gave him as soft a bleat as I could and he turned my way. Entering about 5 yds from where she did. Headed in the right direction now he entered my lane and I stopped him with another soft bleat and made a double lung passthru. Even with my ears, I heard him crash! I still was not certain that he was down for sure as I could not put my eyes on him. I text my buds again trying to tell them what just happened. I could see the arrow and blood on the forest floor. I could not, however, see my tracer nock, and that upset me. Of course I found out later it was working. I just could not see it thru all the blood. After ten minutes of trying to see him with my binos I slowly, so slowly made my way down the tree. 1 step at a time I moved toward the arrow. 1 step at a time I looked for him. After ten agonizing steps I located him. What a relief! My goal was finally fullfilled for this 09 archery season. Now what will my next goal be? 120? In Pa. where I am located that may be bit much. Guess I better get started on it.
Sorry about the pants. They tore the week before getting out of my stand. To many layers on and oops, rip!!!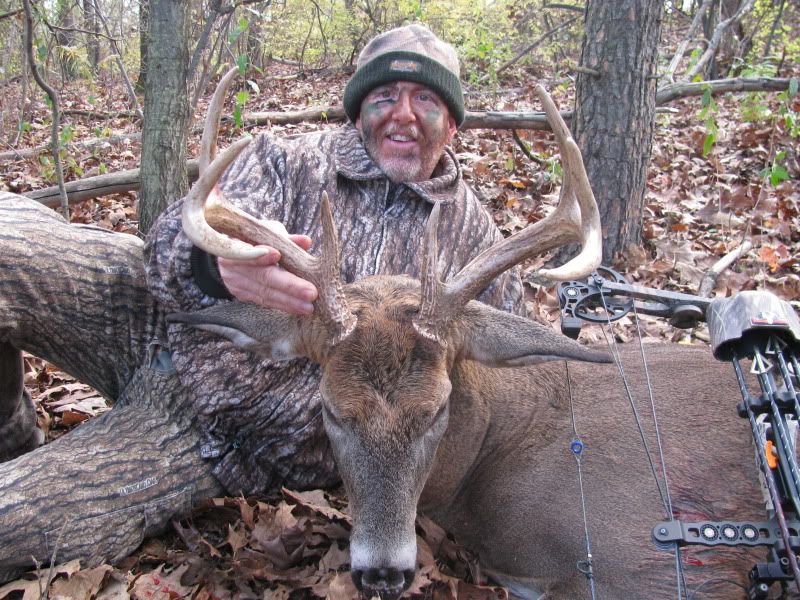 ---
Last edited by tkycaller; 11-16-2009 at

03:58 PM

.