Big 12 Pointer Down in Illinois!!! And it's been a long time coming...(Long Read)
11-03-2009, 10:32 PM
Big 12 Pointer Down in Illinois!!! And it's been a long time coming...(Long Read)
---
For those of you who are picture junkies scroll down the page, cause I'm going to get pretty windy with this story...
4 years ago I started my quest for a mature buck. I was 18 years old and a senior in high school. I was a pretty dumb bowhunter, and made plenty of mistakes. I was able to get a 130 inch 8 pointer within range, and I shot over his back. I also had another close encounter with this buck and a larger 10 pointer one morning.
3 years ago I saw one 3.5 year old buck all year, and I killed him. He wasn't a giant (scored around 120"), but I was extremely happy with him.
2 years ago I used a decoy to get a 140 class 10 pointer within range, only to send an arrow over his back
. I was rattled beyond belief, and have never hit the range so hard in my life those next few days.
Last year, out of the same tree as that 140, I once again used a decoy to get a 130 inch 8 pointer in "chip" shot range. I hit him a bit low, and a 6 day search showed no deer. I was so deflated, I never climbed back into a stand to bowhunt last year, but instead just shot my bow EVERY chance I got.
This year I was SOOOO close to closing the deal a few times in October. I had a 160 class 10 pointer run right by me at 10 yards but wouldn't stop. I had a 130 inch 8 pointer get wind of me, only for me to rattle him in a few days later and not get a shot. And then on Saturday I missed an ancient looking 10 pointer at 30 yards (hit a small tree).
There you go. Over 5 years, I have sent 5 arrows towards a mature buck. I have 1 to show for it (the smallest of the 5 too), and plenty of sleepless nights.
The next part is what makes this story that much sweeter. Back on May 7th my dad suffered a very serious stroke. The stroke alone should of killed him, but he pulled through. A week later he developed blood clots in his lungs and they were spreading rapidly through his body. On the morning of June 2nd the doctors met us and told us his brain was bleeding and they were going to do a procedure that he probably wouldn't survive through. As we sat in the waiting room one of the doctors rushed to us and we all expected the worse. SECONDS before they were to begin, the old rascal made the slightest flinch to a pain test and they called it off. On the 4th of July he was sent to a nursing rehab facility with his future very much in doubt. He was back home the first week of September. He needs a cane to walk, and needs help getting around and doing most anything, but the old man still has his brain and still wity as they come. Oh yeah and he had a heart attack last Friday afternoon to add to the complications, but thankfully he was just minutes from a hospital, and everything has turned out fine.
All of the time spent in the hospital, rehab facilities, and then helping out around the house, meant that September was here and I barely had any stands hung. My dad was also the guy I always hunted with, and brain stormed about potential setups, so I was truly on my own this year. I got going, and by the start of the season I had 6 of my 12 stands hung on our family farm. I hunted here some, but with all of the standing corn, the hunting was tough. My trail cam pics showed all activity in the woods going on at night, and going into today I had not seen a deer on stand from this property all year. After a total of 18 sits this year, and 12 of them coming from this piece, I wasn't really expecting much to happen when I started my vacation today.
I knew a switch was needed, and I left the funnels, pinch points, and bedding areas, and went up towards the corn fields. I already had 2 stands, and a ground blind set up close to fields, but I put up another yesterday. I had one now for every wind possible. This morning I headed towards the ground blind and hunted until 10:00. My only sighting was a doe running as hard as she could right after daylight. I got down, checked a trail camera and found that a very large 10 pointer had traveled through right before daylight. That afternoon I headed to a different stand, and it just so happened this is the SAME stand as I had missed the 10 and wounded the 8 the last 2 years. I had not hunted it yet, as it was RIGHT on standing corn.
The NNW wind was perfect for this setup and I got settled in around 2:30. I decided to rattle at 4:00, and a small 5 pointer came in to investigae. I was able to get some great footage of him with my camera. Then again, at 4:30 I rattled and a fork came in. Both of these deer walked right by UNDER me. Right before 5 I picked up my True Talker and starting making some tending grunts and estrous bleats, and then about a minute later I rattled one of the most aggresive series I've ever done. (I usually just spar them together). Right around 5:15 I looked to my west (deer are supposed to come from the east), and I saw a deer with antlers on the field edge. I couldn't tell much about him, but I got ready in case he headed my way. It took what seemed like forever for this deer to close within 20 yards, and I could tell he was a no doubt shooter, and at first glance was the 10 pointer I got the picture of that morning. He was directly downwind of me, and was very nervous. I just kept praying for my scent-lok suit and dead down wind would work, and that he would keep on coming as he was sharply quartering towards me at about 15 yards while checking the wind. I looked at the video camera, and all I needed to do was push record, but I was to scared to move. I thought "Screw it, I'm not getting paid to get a kill on film". The deer slowly kept coming and I drew when he went behind some cover in my tree. He popped out the otherside at FIVE YARDS. I settled my pin on him and let him have it. I saw my arrow hit high, and I watched as he ran off and then I heard crashing and limbs breaking then nothing. I sat and I tried to collect my thoughts I heard some more thrashing and nothing again. I knew I had made a good hit on him, and my first call was to the old man to tell him I think I just took my first P&Y buck. We sat there and talked about it, and then I climbed down to look for my arrow. I found no arrow, no blood, and no hair. I was confused as hell. I backed out, and when I got back to my truck John (jmbuckhunter) was calling me. We talked it over, and he offered his help to come out. At this point I was going to give this deer at least an hour after the shot, as I was POSITIVE I heard him go down.
My uncle was finishing up cutting beans for the day, and he kept me occupied to keep me from pushing the deer. He said if he had to he was going to tie me up for a few hours to give that buck some time. A friend met me around 6:30 and we went to the shot site. Again we found nothing. We walked into the woods, down trails, and nothing. No tracks, no blood, nothing. Thoughts are swirling through my head. "It happened again", "I'm never going to shoot at another deer in my life", and "I FREAKING SUCK". We came to a trail running behind my stand and I went west and my friend went east. I yelled out that I wasn't finding anything and not 5 seconds later I hear this from across a small dip on the hillside..."I've got a drop of blood, wait man I've got a lot of blood, holy s*** dude he's right here." Then the celebration began.
The buck had not traveled more than 70 yards from where he was hit. The only spot where we found blood was where he started crashing down the hill. My shot was high, but since I was about 23 feet in the air, the angle took out both lungs. The neck on this buck is absolutely MASSIVE. It is definantly the biggest bodied deer I have ever taken, but his neck and chest were very buffed up. He also smelt like what you would expect from a buck that is ready to rut. He is a main frame 10 (nearly an 11), with 2 kickers coming off one of his brows, giving him 12 scorable points. I haven't put the tape to him yet, and I could really care less what he ends up at. He's a giant in my book and I'm happier than hell to have my tag on him.
The highlight of my night was no doubt being able to pull in the driveway and help my dad outside to take a look at the buck. A few congrats were passed around and he wanted to know every little detail to the hunt.
Well now for the hero shots...
This is what I walked up to over the hill after hearing Ryan start yelling...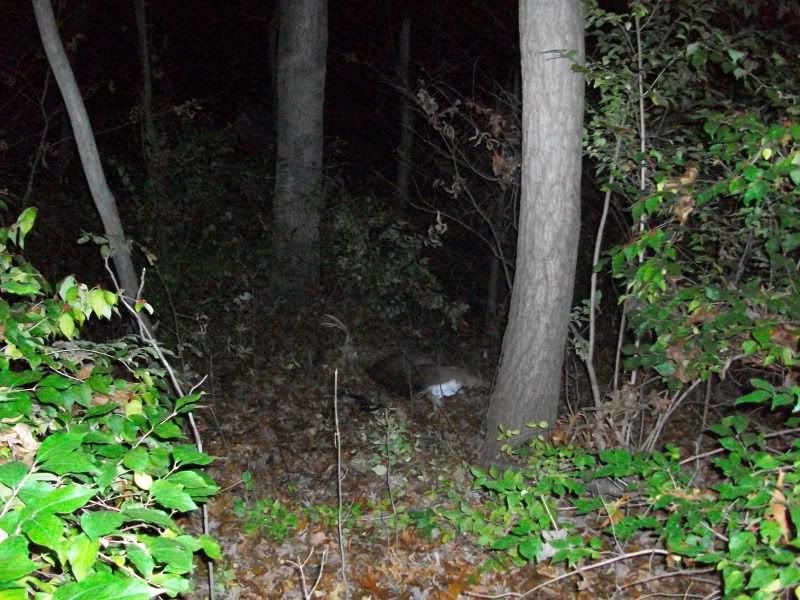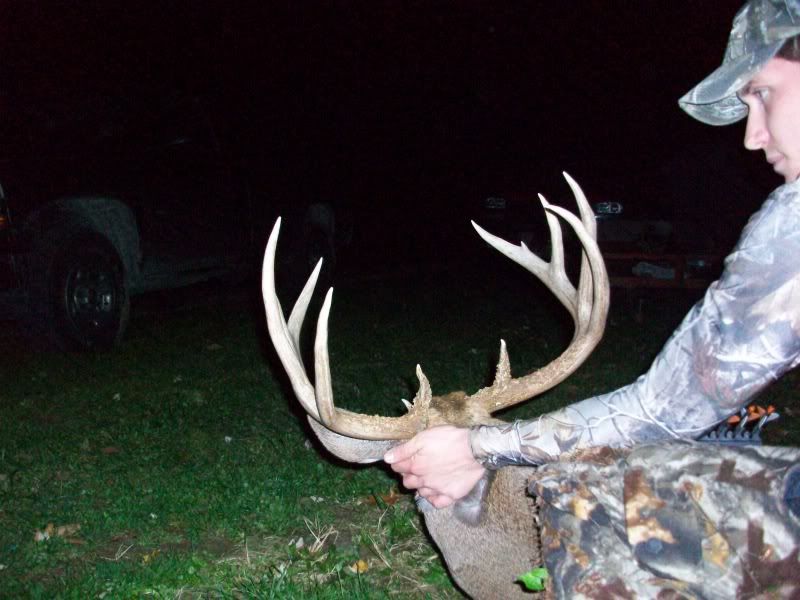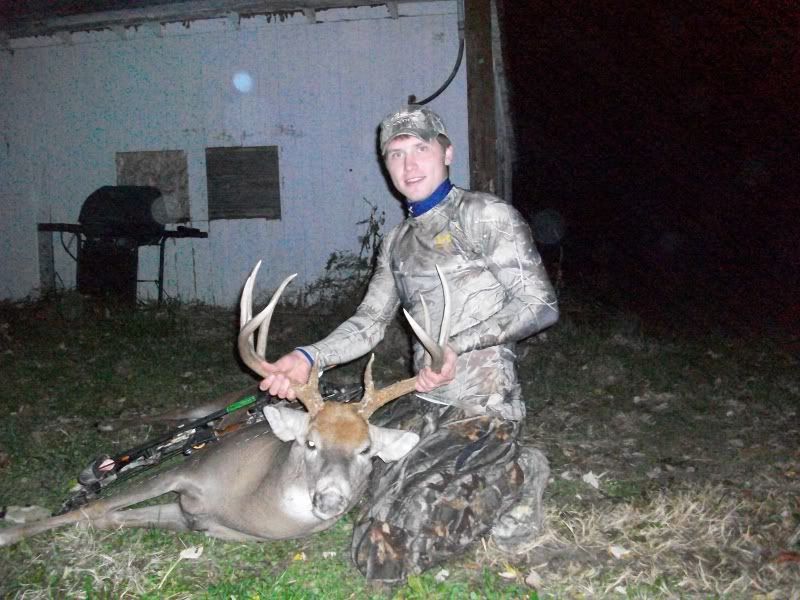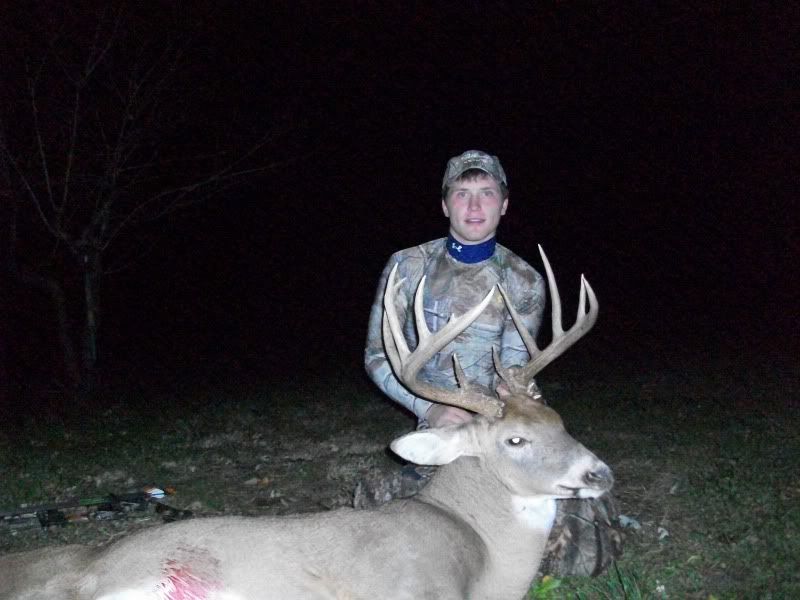 And finally, my 4-wheeler trailer has never looked so good leaving the farm...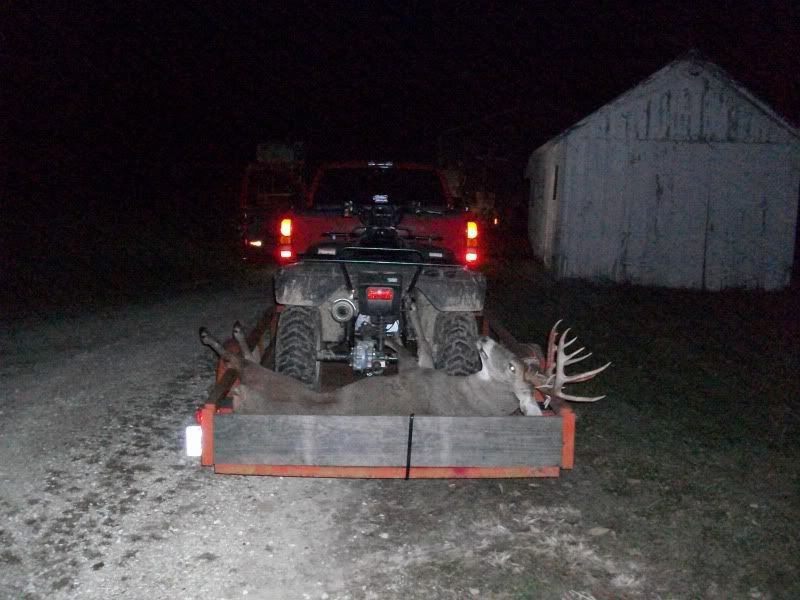 11-04-2009, 02:54 AM
Nontypical Buck
Join Date: Feb 2003
Location: Heaven IA USA
Posts: 2,597
---
What a great story!!!

You are a prime example of the journey being just as important as reaching the destination.

Good things happen to those who persevere and stay positive when everything goes wrong!

Great buck! Congratulations!
11-04-2009, 06:59 AM
---
Thanks for the congrats guys! I'm happier than heck with him. I am planning on skinning him out later today, and will have a score posted when that happens. Regardless of what he goes in at, he's still a big ol buck.

I will probably be hunting the stand where I got the trail cam pic of the big 10 yesterday morning and will pull the card to double check that it is this guy. I'm about 95% sure it is.

Thanks again.