First spot and stalk deer
10-29-2009, 08:47 PM
Spike
Join Date: Jan 2009
Location:
Posts: 23
First spot and stalk deer
---
Gday fellas - I thought id share this story with you all cause I know you love deer hunting as much as me!
A work thing came up requiring me to travel south for the weekend, so I took it. Mostly because I have a good mate in the area who has access to fallow deer and wild goats.
Fallow are probably the most common deer here in Aus, tho they are like all deer - very twitchy and difficult to get the drop on. And feral goats - well some have nice sets of horns for a trophy and the others are great eating.
Anyway after my work was done we caught up and went out to the spot early in the arvo. Its spring here so the bucks have mostly shed their antlers but that wasnt going to stop me taking one if i got the chance - as Ive never got a deer before.
To cut a long story short my mate - who is an experienced deer hunter -walked me in to a few good areas and spotted a few deer including this lone spiker. I slowly stalked him for about 200yards, glassing the whole time and got in to 30yards behind some cover. Just about then he bedded down. I drew the 80lb Bowtech (had been hunting bigger game the week previously and was shooting really nice with it so I hadnt changed the setup)
A doe call stood him up and I dropped the hammer. The hit sounded solid and he was gone in a flash.
Wow - what a rush. Im sure you know what im talking about
My mate came in quietly, we found the arrow - half buried about 10yrds past where the deer had stood. The blood trail started close by and after a 1/2hr wait we started to follow it up. It was a bit tricky in the green grass but we kept on it for about 100yrs and almost stumbled over my deer. It was handshakes all round after that, after so so many attempts to spot and stalk a deer here it finally was.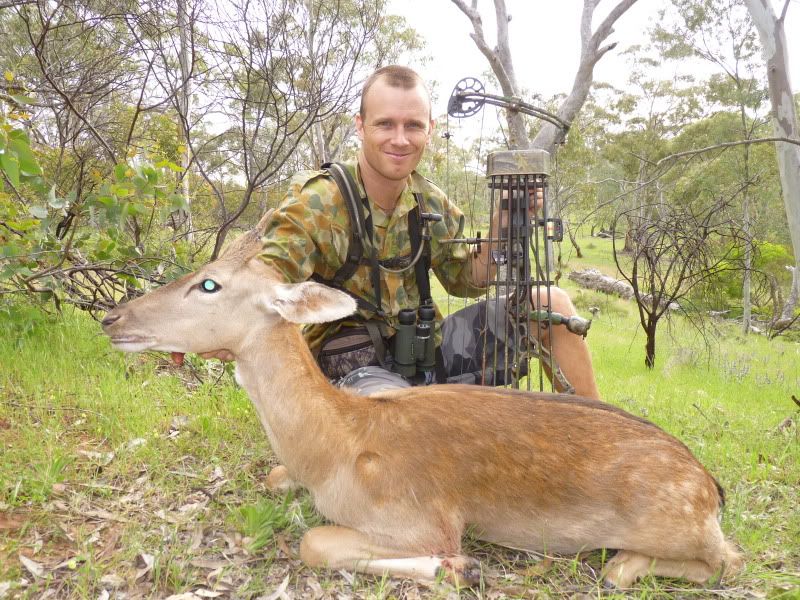 We thats about all there was too it - I did get 2 goats that day as well but they just didnt compare to the deer -still not bad heads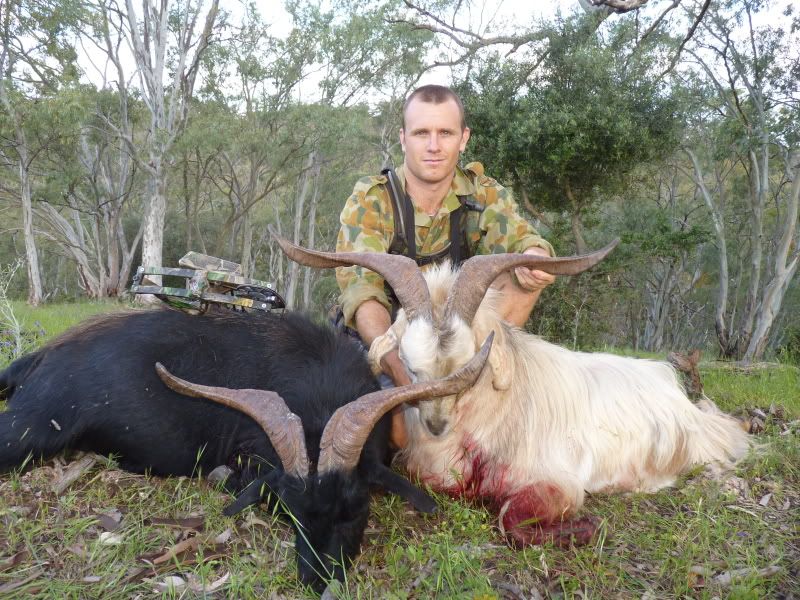 it was probably the best hunt ive ever had - to have it all work out after trying for so long to drop one and to have it all come together perfectly was simply awesome. To have a good mate there to see it all happen was even better.
thanks for reading
cheers
benno
10-30-2009, 02:33 AM
---
Congrats on some fine animals! What a russ that must have been on that stalk. I've tried before but have been unsuccessful thus far. Great job!
Oh, and those goats aren't too bad either. They look awesome! Thanks for sharing your story.
Cheers!
Posting Rules
You may not post new threads
You may not post replies
You may not post attachments
You may not edit your posts
---
HTML code is Off
---