Minnesota 9 point I got last night
10-19-2009, 02:32 PM
Nontypical Buck
Join Date: Feb 2003
Location: Isle, MN
Posts: 1,469
Minnesota 9 point I got last night
---
Up until last night it's been kind of a downer of a year for me. I had shoulder surgery 4 weeks before the season started and I had a huge tree limb fall on me while in the stand during 25/30 mph winds a couple weeks ago. It left a nice scrape and a huge bruise on my arm. Plus, I've seen fewer deer this year than any year in the past 15 years. I did manage to get a doe back on 9/30, but I had only seen 10 deer (no bucks) in 18 hunts and most of the time it was just glimpses of deer.
But, I've had an 8 and a 9 showing up on my trail cameras constantly. Especially the 9 point. A couple nights a week he'd walk by the stand I shot him at about half an hour to an hour after legal shooting. So, there was promise. I have more pics of that 8 and 9 than of any other deer in my 10 years of using trail cameras. But I've hunted hard this year and hadn't seen any antlers. And, over the past month I only have a couple daytime pics of either buck. I was getting REALLY frustrated.
Well, last night a doe came in and started eating clover right in front of me. She was constantly looking to the north (strong south wind blowing her scent to the north – which is where this buck had been coming from). So, in the back of my mind I was thinking that this could be the night.
When he finally came out I knew it was a buck, just by the size of his body. When he got to about 40 yards I knew it was the 8 or the 9. He came right up on her and when he was 5 yards from her he let out a huge guttural bellow. He got his nose right up in her and I thought she was going to bolt and take him with so I released. He was quartering to me (his neck was broadside though, it was turned towards the doe's butt) but it was such a close shot and I was SO READY, I knew I could make the shot (probably 10-12 yards). There was a couple inches of arrow showing before the fletching. I knew it was a dead deer. I hit exactly where I was aiming, I just figured tracking was going to be a nightmare w/ that high of a hit and no exit wound.
After an hour I walked in the woods from the main road (my property line – I didn't want to push him on to the neighbors land if he was still alive) and looked w/ my flashlight and spotted him right away, he was about 10 feet from me! Took me all of about 2 minutes to find him! Turns out I took out both lungs and the arrow was lodged right in the lungs. I back tracked his path a bit and didn't find one spec of blood. I was lucky to find him as easy as I did. I'm also lucky I hit right where I was aiming.
This ended a very long 3 year buck drought (got 9 does in that time though). During that time I only saw 2 shooter bucks. Neither came w/in 60 yards. Bow hunting is so funny that way, your mood can turn around so fast. I was so down for the last 3 years and now I'm on cloud 9. I got the buck I really had my sights on. Couldn't be happier!
wow, this is my longest post ever!!!
Anyway, here's some before and after pics: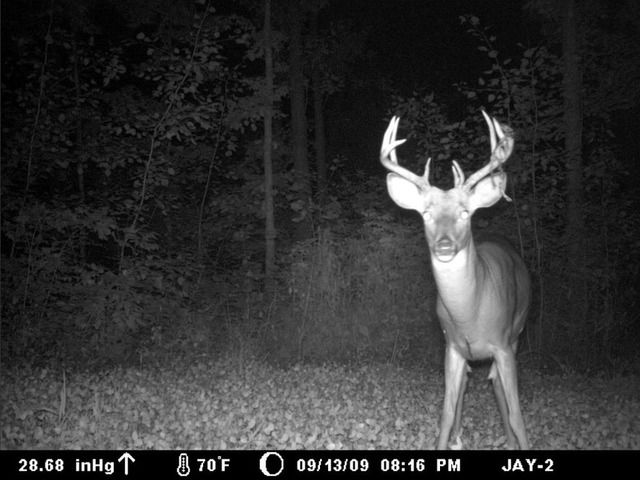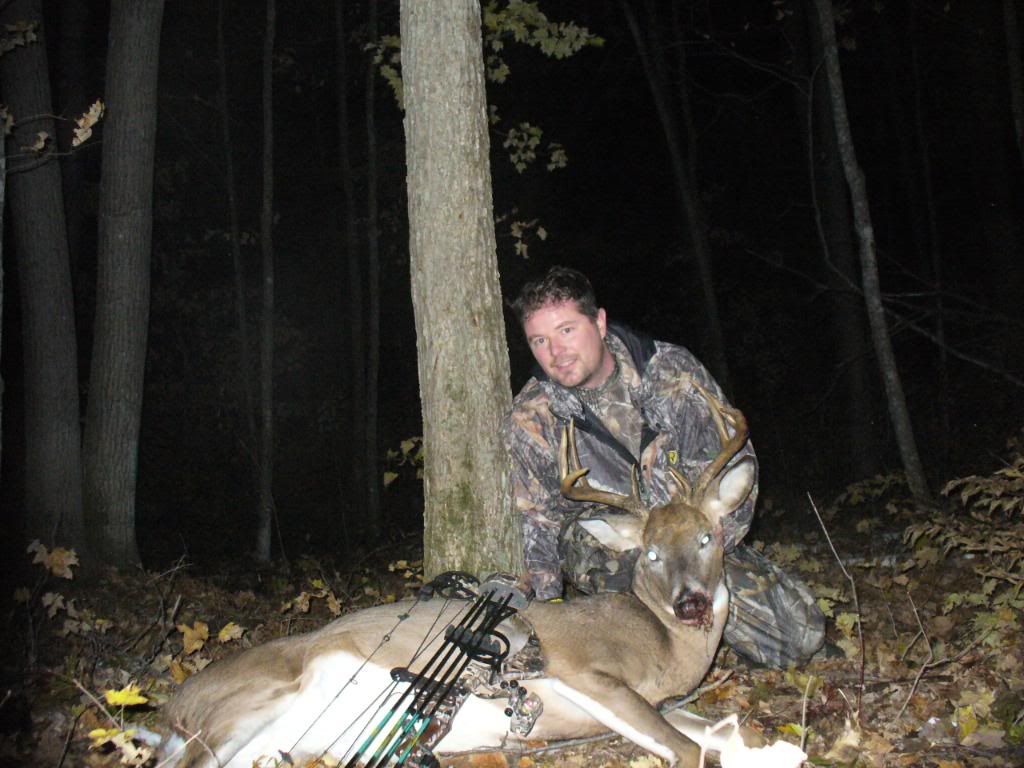 ---
Last edited by RackLuster; 10-19-2009 at

02:47 PM

.
10-19-2009, 06:37 PM
---
Congrats on your buck! Any kill that was quick and clean is something to be proud of.

That being said, I find it funny though that so many seem to hit a panic mode for not tagging a buck by now.... it's only Oct 19, the GOOD part of the season isn't even close yet ?!?

Shooting the first antlers you see.... I hope you're allowed multiple buck tags?