09 Success Photos.
01-26-2010, 03:09 PM
Fork Horn
Join Date: Jan 2010
Location: In the country
Posts: 156
---
Very, very impresive!!! You did a great job.
02-04-2010, 09:26 PM
---
Not the "Norm" by any means, but this is my late season doe killed 2/4/2010, and my 5yr old who tracked the deer to where she lay, all by herself. I was very proud of her!!!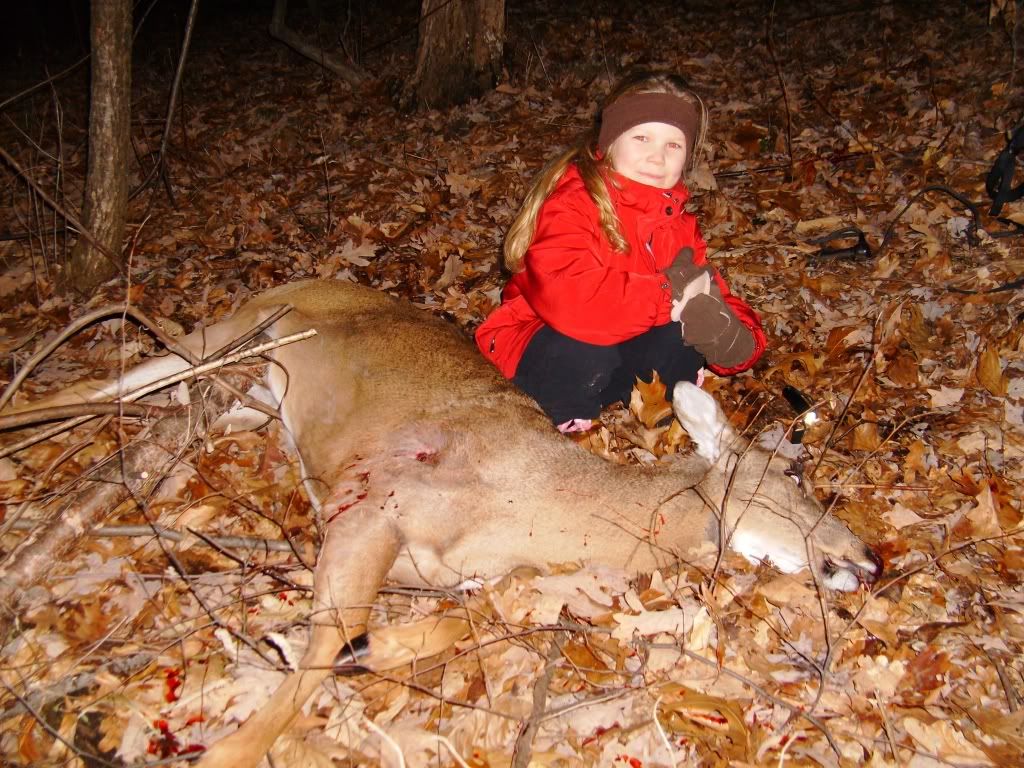 02-11-2010, 04:00 PM
02-27-2010, 03:44 PM
2009 bucks
---
The first buck was an opening morning Wisconsin kill. The second buck was arrowed in Iowa on Nov. 4.
03-10-2010, 03:32 PM
Fork Horn
Join Date: Apr 2009
Location: Wisconsin
Posts: 202
---
Here is my first bow kill. Shot him on Halloween day and he has 17 points. Green scored at 167 3/8. My grandpa thinks he is the biggest buck to be shot in our area.
03-20-2010, 11:40 AM
Bow deer 2009
---
I lost my hunting buddy of fifteen years back in February of 2007 to a heart attack which put me into kind of a funk. Even though I continued to hunt. I quit writing in my journal and visiting this hunting site. Hopefully I can get back on track.
I still consider myself a meat hunter and have bagged at least three deer a season which fills my yearly needs of red meat. I find this site very informative and enjoy most of the posts. I can see that some very nice deer where harvested this year and it sounded like the teams had some very good success . I really enjoy reading the stories behind the hunt and seeing the pictures.

What a week, other than the couple of days I called in sick, I was in the woods everyday. I didnít have any good shots on does, but small bucks were everywhere. I grunted in two one morning while in what I call the cable stand. The first one came from about eighty yards, but he stayed in small trees about 20 yards away and was in my scent zone and ended up exiting the area without offering a shot. The second one came about fifteen minutes before noon, when I had planned on heading home. I saw some movement in the same area where I had seen the earlier buck. I went ahead and gave a series of eight grunts and then eight doe bleats. I waited about ten minutes without seeing any sign of the buck. As I was lowering my bow, I looked to my left and there was a small three-by looking at me from one of my cleared shooting lanes. I just froze until the buck couldnít figure out what I was and turned around and left. Those were the only two deer I saw that day.
On another busy morning, in what I call the woods stand, I had four does go into the woods about forty yards upwind. I knew eventually they would draw some attention so I just waited. I didnít have long to wait when I saw a 2-by start chasing a small doe and all the other does started exiting the area. The bigger doe trotted right past my stand and I tried to get her to stop by yelling but she continued on and stopped about 20 yards way with her ass facing me. I was at full draw waiting for her to turn a little. I knew as soon as I let off sheíd move and sure enough when I did she turned and went to my left. By this time she was really jittery, and she kind of looped back around towards the woods. When she hit a cleared shooting lane at about 30 yds, I went ahead and let an arrow fly. At the sound of the string, she bolted forward and was out of the kill zone before the arrow got where she was standing.. Later that morning I heard then saw a nice buck walking thru the woods towards one of my shooting lanes. As I watched the buck move thru the woods from my left to right, he started to move toward his left which was taking him around the backside of my 15 yard shooting lane. Sure enough, he goes just on the other side of some vines that blocked a clear shot. Needless to say before I left that day I extended that shooting lane by about 10 yards.
Saturday morning I hunt what I call the river stand. Iím up in the stand about 20 minutes before shooting time and I had just finished pulling up my bow when I hear a deer walking toward my stand. Itís still too dark even to see the correct color on my arrow fletching to correctly nock an arrow. So I watch what looks like a young 3-by walk within 5 yards of my stand before he hits my scent zone and freezes. He does the typical about face and walks back the way he came from. The morning continued to be a little crazy. I see some does start filtering into the woods upwind of me and walking to my backside. The first deer to come within shooting range is a yearling. She continues to just within 5 yards of my stand, and Iím sure she is going to bust me. Luckily she continues past without picking up my scent. Then a small buck starts chasing the remaining three does and they all scatter. At one point a good size doe starts walking toward my area but before she can get within range the young buck chases her the other way. The deer end up passing thru the woods at about forty yards. About 5 minutes later another young 3-by comes thru one of my shooting lanes but as he gets closer I see heís missing the right side of his small rack, so I let him pass.
Later that morning things had slowed way down so I decided to use my grunt call and doe can about ten times apiece and grabbed my bow to be ready. It was less than five minutes with the sun in his face I see a nice buck charging my way thru the woods to my left. As he gets closer he starts to fade to his left and goes, once again, just on the other side of a cleared shooting lane. I go ahead and come to full draw. When the buck enters what looks like a clear spot thru the branches, I grunt, the buck stops and I let the arrow fly. The arrow never makes it to the buck hitting some unseen branch on its way. The buck whirls and trots off into the woods most probably wondering what the heck was that. Once again when I get down I extend that shooting lane and also see why he faded to his left. There was a hanging blow down that had forced him that way.
Sunday morning I go back to the woods stand for a morning hunt. As I walk thru the woods well before daylight I hear what must be a deer exit the area. As the woods lighten with each passing minute and the woods come to life my head seems to be on a swivel. I finally decide to stand and check out the open areas behind me. As I slowly stand and turn I see a deer standing about 60 yards out in the grass. As I peek around the tree, the deer seems to be staring in my direction. The deer starts to move a little closer and wants to go upwind and back into the woods. As the sun rises the deer melds back into the woods across the old grass filled slough behind me.
That will be the only deer I see until I decide to use my grunt call at nine oíclock with the intention of heading home at ten oíclock and finish painting some of the utility boxes on the back of the house. After grunting and using the doe in heat can call about ten times apiece I sat ready with bow in hand.
After ten minutes I see a buck heading my way thru the woods. As he approaches the trail where I walked in I see him stop where I had used the dominate buck urine to try and cover my scent. I had sprayed a little extra on a log I had to cross and he seemed to linger a little longer at that spot. At this point the deer was just to my left front in the woods at about fifteen yards. I was hoping he would continue across my front to a cleared out shooting lane. But he decided to come straight out of the woods to my left which put him at about eight yards as he exits the last small tree branch before a clear shot. By this time Iím at full draw waiting for that last branch to clear. As I move the shot pin back behind his shoulder and let the arrow fly, the buck backs up a bit and I see the arrow slam into his neck dead center with a loud thud. I expected the buck to drop right there, but he whirls to his right and I see him fling the arrow as he whirls. The deer runs about eighty yards thru the thigh high slough grass until he reaches the woods where he slows to a walk. As I see him meld into the woods I wonder just how hard I had hit him. After waiting about 20 minutes I climbed down and found the arrow with about eight inches broken off. I waited a little longer before taking up the trail thru the grass. As I walked thru the grass I would see an occasional spot of blood. I really expected to find a better blood trail once I reached the trees and leaves of the woods.
I wasnít disappointed. Once in the woods the blood trail was steady and easy to follow. It was a lot of blood but not like a lung hit. I didnít want to take a chance of pushing the deer so I sat down and waited a little longer before continuing.
As I take back up the trail as quietly as I can I stop occasionally to scan the ground before me. On one of these stops I see movement ahead and freeze. As I watch from about twenty yards away I can see an occasional tail flick and a head lift. I backed off a few yards and watched for several minutes as the deer attempted to occasionally raise his head. Believe it or not I had left my bow back at the stand so I did not want to take the chance of the deer having enough left in him to get up and run if I approached.
I also thought I knew where the deer was in relation to an old trail that we have used for several years. So I went back to my stand to retrieve my gear and drive my truck closer to where I thought the deer was lying.
Boy was I wrong. As I walked down the trail with bow in hand, an arrow in place I get to the area where I thought the deer should be but wasnít. I ended up walking back thru the woods to where I could pick up the blood trail. Luckily I was able to find the deer where I had last seen him and by this time he had expired.
Now the work begins. Iíve been hunting all year by myself so I knew this day would come. After field dressing the deer I still wasnít completely sure of where I was in relation to the trails I knew and the location of my truck.
After dragging the deer about 20 yards over logs and thru thick grass, I would stop and go back and get my gear and repeat the process for another 80 yards. I finally broke out of the woods further south than I thought I was, to where I could see my truck, but still had about another 50 yards to where I could drive my truck up in order to load the deer. Luckily, when I backed the truck up, the back end dropped into a small depression which made lifting the deer up into the truck a little easier.
I normally butcher most of my deer, but with the temperature what it was (75 degrees)and the condition of my body. I took the deer to Van Fleets that afternoon and picked up today Tuesday, November 10, 2009. How easy is that.
It was definitely a lot of back breaking work but now two days later it doesnít seem as bad as it did Sunday. Iím still sore as hell, but ready to go again tomorrow.
03-26-2010, 12:18 PM
04-13-2010, 10:30 AM
05-13-2010, 06:49 PM
---
big buck95 he isn't THAT COOL.
great hunter and good friend to have. He brought the bear to my caribou camp right after he got it. VERY PRETTY BEAR. he is amazing, 3 fingers means 3 brown or grizzley bears in three years....all with a bow. HOW AWESOME IS THAT!
05-21-2010, 07:59 PM