First of 2009
10-06-2009, 06:51 PM
First of 2009
---
Okay, go ahead and rip on the "Florida Like Size" of this Illinois GIANT!!!! LOL.
I am going to tell the story anyways...It had rained most of the day here and around 1pm it slowed to a mist. Even with the wind gusting up to 30mph I thought maybe the deer might move since it had been raining most of the day and since stopped.
I get in my tree at 3:30 and was 2nd guessing myself while riding the tree rodeo. The millions of squirrels kept me occupied until I really start scanning for movement, but even that was difficult with the wind we had.
At 5:45 I was looking behind me checking the area, then turned back to look out front, and there she was 50 yards away and coming my way. I had no shot because she was walking in a straight line to my tree, but when she got a mere 5 yards away, she turned to go around my tree. I did the old Doe bleat with my mouth and stopped her, I put my pin up high because of the extreme angle....WACK!!!!
I got down after 20 mins because I was loosing daylight, found my arrow which was covered in both blood and stomach matter...what the heck did I do? I follwed a very light blood trail for about 20 yards then lost it amongst the wet leaves. I grid searched a 50 yard square looking for any trace of blood, and then I saw her....dead. She ran 40 yards is all. I took out 1 lung and went out her stomach and some of her insides had plugged up the exit hole preventing blood to leak out.
That 1st close encounter of the year sure made her LOOK alot bigger than she is, but I found her, and she will be tasty!!!!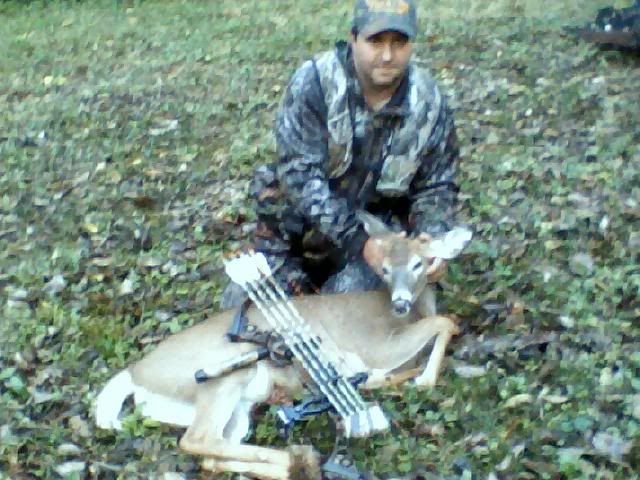 10-06-2009, 07:26 PM
---
It was not as bad as I thought it was going to be. But man oh man was she full of blood and clots....looked liked 3 cans of canned cranberries floating around in there. Those Muzzy's are wicked.
10-07-2009, 10:17 AM
10-07-2009, 10:19 AM
Giant Nontypical
Join Date: Dec 2006
Location: Heaven is my home, temporarily residing in WNY :)
Posts: 6,679