Rate My Rack
05-06-2009, 04:34 PM
Rate My Rack
---
I am sure that you were hoping I was a female and the following pics would reveal something else but I recently finished my basement and was able to get my 2007 bow kill mount up in my office.
Story is...
My wife and I had our first child on October 8th of 2007 so hunting was going to be limited for me that season. I have a lease up in Kirksville, MO with a group of friends but wasn't going to be able to make the normal trip. In years past, I would take off the entire week before gun season and bow hunt and then gun hunt for opening weekend. This year was different as I wanted to spend as much time with my family. So a friend and I decided to go up to some public land where I have hunted in the past and give my old spot a go on the opening day of gun season. The great part of this was it is archery only and there would be limited hunters out there since it was the opening day for gun season.
My friend and I got a late start in the morning and we got to the parking lot around 6:00. We tracked in to the spot that has produced some good sign and some bow kills in the past. It is almost a 3 mile walk back to where I used to go so I finally got my stand set up around 7:30. My confidence was low since I didn't have the ability to scout and was relying solely on two year old knowledge. I felt that I was in a good spot though because I saw some a couple of stands in the area as I glassed for movement.
The morning was quiet so as 11:00 approached I radioed my buddy and asked if he wanted to meet to eat our packed in lunch. Around 11:45 I told him I was going to head back to my stand since we weren't going to harvest anything talking to one another. I got settled in around 12:10 and was ready to wait it out until dark.
I brought an iPod that had some pics of my lil man downloaded on it. I was looking through the pictures when I heard some movement to my right where there was a ridge and a dry creek. There was a doe running for her life and a small basket rack buck chasing her. They were heading right toward me when I saw a bigger buck appear in the dry creek and he was trying to cut the younger buck off. I got my bow ready and myself in position in case a shot opportunity presented itself. The next couple of minutes were pretty intense as the bucks were jockeying for position and the doe was running these deer in and out of trees, in figure 8's and any other direction to try to get them off her tail. All 3 were from 10 to 50 yards from me as I was perched about 20 feet in my tree. At one point I screamed to get them to stop but nothing was phasing them. This went on for what seemed like 10 minutes. The small buck gave up and bedded down about 25 yards from me. The doe took off to my left and the bigger buck followed. The buck stopped about 40 yards from me and stopped for a moment in time probably to get some rest. The great thing was he was right next to a tree I ranged earlier to get my 20, 30, & 40 yard perimeters down.
At this point, my heart rate was back to a normal rate so I decided to take a shot. I settled my 40 yard pin on his vitals and let the arrow fly. I watched him kick and take off in a hurry. He went about 15 yards away from me and stopped. I could see the blood pumping from where my arrow passed through. I knew he was mine. He expired within seconds. I radioed my buddy and told him to head my way. He said that I was full of it and I told him that I was serious so to start heading my way. I was deeper in the woods so I started heading his way to meet him 1/2 way. We were only about 400 yards away.
I was so pumped! I field dressed him and began thinking of our next steps. The bad thing was I left the deer cart at the truck and I went through some thick area to get to where I was. We decided to take down our stands, pack our equipment, and head back to the truck. Remember, we were about 3 miles away. The whole way back we talked about how stupid we were by not bringing out the cart but my expectations weren't high as I was just happy to be in the woods. We finally got back to the truck around 6:30 that evening after we got navigated the cart through thick cover, over laid over logs, etc... The next day I was sooooo sore.
I learned a valuable lesson that you should always be prepared and expect the best. I have attached some pics below of my deer. He grossed over 147 and netted around 142. Let me know what you think of the mount.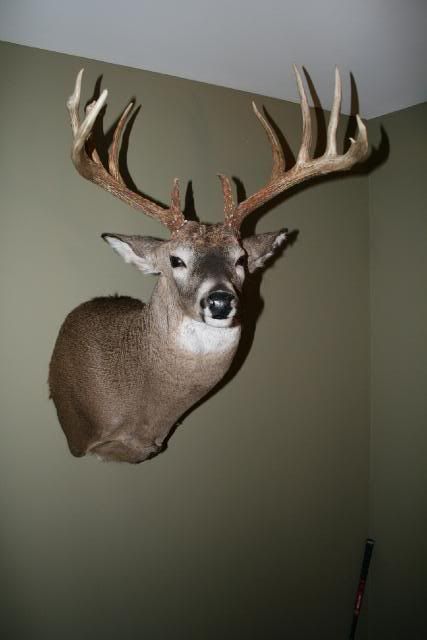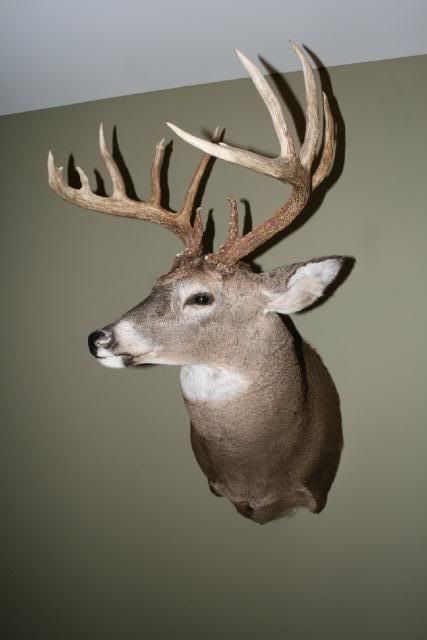 05-08-2009, 09:29 AM
Fork Horn
Join Date: Mar 2008
Location: pa soon to be greenup county ky
Posts: 315
RE: Rate My Rack
---
i agree does look bigger then 142. even tho the tine lenght is not really really long there is alot more tines to make up for it. i dunno im to expert but it does look like it otta be more then 142. either way that aside i would be very proud to have that on my wall congrats!