I've come a long way
03-06-2009, 06:09 PM
I've come a long way
---
I went from this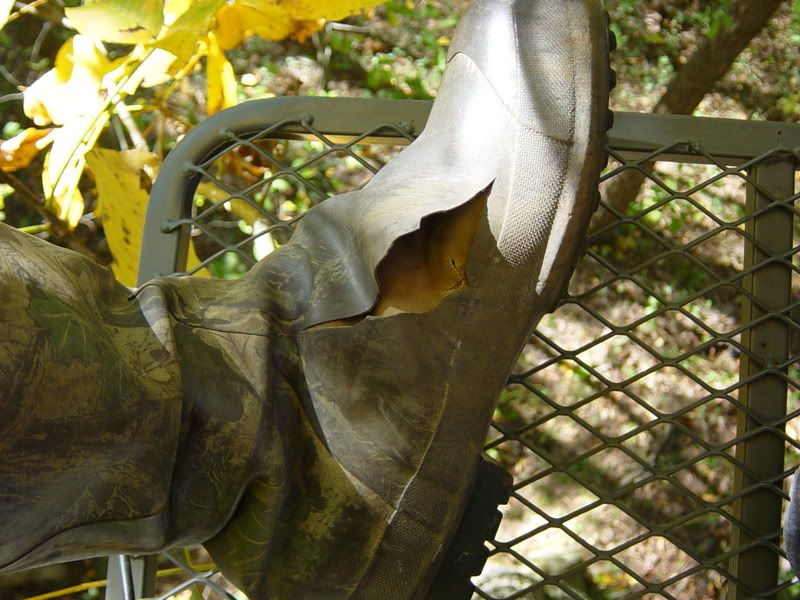 To this for this past season
To this for this up coming season.
I just couldn't stop myself.Gander Mountain had them on sale for 80 bucks and since they have a wool liner in them,I figured for that price,why not.I can wear these longer into the colder months without pulling the arctic shields out of my pack.[8D]
03-06-2009, 08:58 PM
RE: I've come a long way
---
The first pair are fine,seem to be extremely durable.I had no intentions or really any need for new ones but for essentially half price plus being insulated,I couldn't pass them up.
03-14-2009, 11:11 AM
RE: I've come a long way
---
The nearest Gander Mtn. also has these new Dreamseason Pro boots for $79.99 and I was there yesterday. Had them in my size and I walked out without them
. I think I will return Monday and pick up a pair. I wonder why the originals are still $159.99?
03-14-2009, 12:33 PM
RE: I've come a long way
---
I did the same thing but I went back.
They have both here for the same price.I would imagine they are moving the originals in your area but they aren't moving any of them in my area.
03-15-2009, 07:37 PM
RE: I've come a long way
---
TFOX, I hope you're much happier with your boots than I was. Not trying to be a downer at all, but I found out that they are NOT WATERPROOF as advertised. Unfortunately, I found that out when it was 5 degrees outside. Other than that they're a great boot. Just don't count on them being water proof after you get past the bottom of the zipper.
03-15-2009, 08:19 PM
RE: I've come a long way
---
I have found them to be plenty waterproof for my hunting.I actually thought my feet were getting wet a couple times but come to find out that since the originals are not insulated.When you step into COLD water,it feels like your feet are getting wet but after closer inspection,my feet were dry,but instead,they were just feeling the cold water.

My feet never actually got wet.

I doubt I will have an issue with the new model because I am not walking through water where I hunt in the extreme cold weather.
03-16-2009, 03:29 AM
RE: I've come a long way
---
TFOX,

I have a pair of those that I got right before the season last year. I wore them all season with no problem. One thing that really stood out about them was the comfort. You could wear them all day and my feet never seemed to get tired or sore in them. One thing though, after the season was over with, I was out retrieving some of my trailcams and I walked through some standing water. All of a sudden I felt some moisture on the top of my foot. When I returned home and took off my boots, there were two wetspots about the size of a fifty cent piece on the top of my sock. So I don't know what is going on there. That was the first time that had happened and I haven't worn them since to see if it happens again. Good luck!!

Blessings.....Pastorjim

03-17-2009, 05:18 AM
RE: I've come a long way
---
TFOX, I gotta say, the new Scent Blocker clothing is starting to appeal to me. I'm not so much worried about that carbon clothing jargon, but the designs seem to be superb. Did you ever see the Dream Season Pro jacket? That thing is amazing.....I want one