Rob/PA Bowyer.....
11-01-2008, 12:21 PM
RE: Rob/PA Bowyer.....
---
ORIGINAL: MGH_PA
ORIGINAL: Ben / PA
Rob/PA Bowyer? Who is this guy you speak of?
Shouldn't you be out hunting? Lol, how did the morning go today?
A friend missed what I call and have tons of pics of The "G2" Buck. And I know he was 75 yards from me as the scrape was tore up and I was told that before the miss, the buck was headed that way. Heading out with ol tagged out cameraman Rob over to the 118 land in a little bit.
Here's a pic of the buck that was missed at 30 yards by my buddy this morning.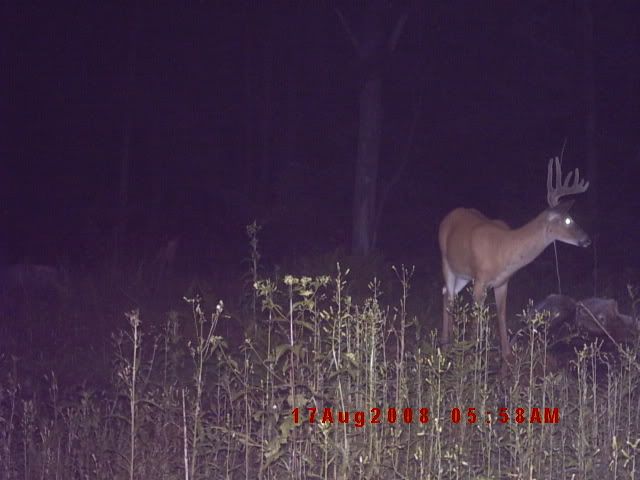 11-01-2008, 02:18 PM
RE: Rob/PA Bowyer.....
---
I have meet this great person in person on the get to together in August.He is just as nice in person as he is on this site. I had brought my 8 year old son to the get together which wassuposeto be an adult get together, it was sugested that i take my son with me that day by the wife. Rob treated him as just one of the guys made sure he was included from the 3 D shoot to the dinner / prizes. Thats all my son talked about the next wk and thenwhen we went to thenext 3-D shoot, is Rob and everyone going to be there.

And as guys do when they get toghter a few cuse words slip out, one was said, i might say a minor one at that he appolized for saying it. No big deal i said i've slipped a few out in the past also.

he is an all around good guy!!!!!!!!!!

11-01-2008, 05:51 PM
RE: Rob/PA Bowyer.....
---
I remember last years contest and Rob had to make some tough decisions and took a little bit of heat. He was almost at the point of dropping the contest but again took on the burden.
Who in their right mind would take so much grief without having to. It must take a great deal of time keeping things sorted out but I guess taking his latest buck will free him up a bit..
Don't know Rob from a hole in the head but some guys just seem to stand out as gentleman. Thanks...
11-01-2008, 06:46 PM
RE: Rob/PA Bowyer.....
---
ORIGINAL: Vabowman

did you decide what mount to get Rob??
No, he was busy and a good friend so I just dropped it off and will head back to pick one out. He had my last years buck's form and antlers laying there and it will be done in a week or so, so I'll pick out a mount when I pick up last years buck.
Thanks again Va, I'm humbled and still giddy over that kill. I laughed in a treestand tonight while filming Ben / PA and he just looked at me and I said, what are the odds of me killing another Rob buck. LOL [8D]