Seems odd that yesterday when I got up at 5:30 and come out of the shower my wife wakes and says, "Tomorrow's the day". I said, huh, what do you mean? She says, "Halloween", "You always say how good Halloween is for bowhunters". I guess I should just have gone back to bed. Yesterday morning I did get to see the spike as well as almost getting shots on a hunting party of coyotes that stepped out of the corn. I doe bleated and called them into an almost shot. I was pumped but it was too dark to video.
Speaking of video, I get a sack punch because I was too nervous to turn it on, even though I looked at it repeatedly and had I turned it on, the buck would have walked into the picture on his own.
So this morning, Halloween when I got up and ready my wife says, today is the day.
I had a doe run into my set up around 7:30 and thought, here we go. Studying her back trail, nothing came so I turned on the camera and filmed her down the hill from me until she ran out of sight. So there I stood, anxious and waiting, waiting and looking around. This is a very open oak hillside and I can see well over 100 yards plus up and down the hills. The tree I chose sits between two valleys/drainage's that I refer to as the "Hollow". This Hollow has always been good to me and I never hunt it until Halloween on. No one else is allowed in there and although I politely told a few people to leave over the years I honestly don't know if it's hunted when I'm not there. Anyway, it's Halloween and I knew I was going to hunt it.
This was a triple tree I climbed up in with my Ol'man. The trunk on the left. What a perfect tree. The buck came up the hill behind the tree.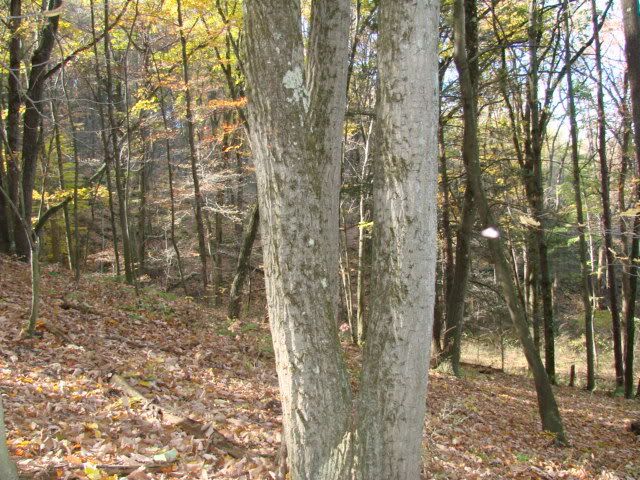 So from that doe sighting, nothing. 9:00 came and went and I looked at my cell time at 9:48 and I have to say I was a little dejected BUT, I also knew I had to stick it out because these deer come from a long way as there are food plots at the top of the mountain. There are times I don't see deer until 10:00 but it's hard to hang in there sometimes.
Around 10:00 I thought about getting down but forced myself to stay. I heard a noise behind me in the picture and I turned to see a squirrel. Okay, I dismissed it and I continued to scan. Suddenly I saw movement, Oh a deer and whoa, it's a good buck. I looked at the video camera which was already pointed that way. No I thought, get his attention first and then turn on the camera. I grabbed my River Valley Deer Flute and grunted at him. He was about 75 yards out but didn't stop, he turned downhill and would angle away from me into the bedding area. I grunted again, he stopped cold but I couldn't see his head. I turned away from him and grunted a third time and he scampered down the hill my direction.
I looked at the camera again and then back at the buck. He hit the trail I walked in on and sniffed around. I said a silent prayer that my scent ritual works. He started stiff legging it right at me and I quickly grabbed my bow. He was walking a line directly at me, facing me the whole time and I knew I wasn't going to have a shot until he either turned down hill or turned up hill and I prayed he would turn down hill. At about 15 yards he was still facing me looking for the other deer that grunted. I thought just keep coming and I again looked at the camera but thought the hell with that!
Against my wishes of course he turned uphill. I knew I should have moved my camera out of the way as now he stood 10 yards at the most staring up at my camera. I thought for sure he was going to blow because mature bucks don't need a second signal to go. I actually was closing my left eye and hiding behind the trunk of the tree hoping to appear invisible.
He took a couple steps and now is 8 yards away and 15' feet down even though I was just over 25' in the tree. He was on the uphill side and I put tension on the string as I positioned my feet and drew. I came to full draw and either he heard me or not but he stopped hard quarter away. I bent at the waist and put my 20 yard pin on his last rib and I felt the trigger go, the bow lunged forward. The next thing my mind comprehended was the Tracer Nock pounding him, the loud thwack and the bucks body being pounded down from the KE of the 82nd.
He tore out of there like a freight train and up the hill he went. I saw my lighted nock sticking out not to mention the huge gash in his back/side. He continued up the hill but slightly turned left. Through my shaking I saw him turn and tear down the hill out of sight. I thought for sure he was going down on the flat above me but when he disappeared I started shaking more. That same time, Brian (BPBowhunter) texted me saying he was getting down and heading for breakfast, through my shaking and quivering I texted then called him. I sent the appropriate texts and got down to look for the buck. I knew I smoked him but had my doubts.
I didn't have blood at the impact site. I took an angle up the hill to the last place I saw him and then my cell vibrated. It was twildasin asking if I saw anything. I informed him I was looking for blood when I saw some and thought wholly moolly look at the blood. For no exit hole there was blood very where. I knew he couldn't be far but I tracked him by blood to look up and tell Tim, there he is, I could see my Tracer blinking out of his huge body at the bottom of the drainage.
Through countless texts and phone calls Brian offered to come up and help drag and to be honest, I don't think I'd be out yet by myself. He was about .75 miles back in the woods over 2 drainages, it would have been uphill, across, down, uphill and then down a long thick trail. I know that going in but the Hollow has been so good to me over the years. We formulated a plan to get my atv and with access the neighbors permission, he agreed to allow me to cross to get the deer.
In a way, he's a unique Rob buck but he's a dandy none the less. His inside spread measures 17 1/8 "s. He's a 4 x 4 but not a main 4 x 4. It appears to me that his main beam splits at his G2 on his left side. It looks like the G2 splits but it's more like his main doubles. Unique and a trophy. I'm heading out the door to deliver the head and cape for mounting.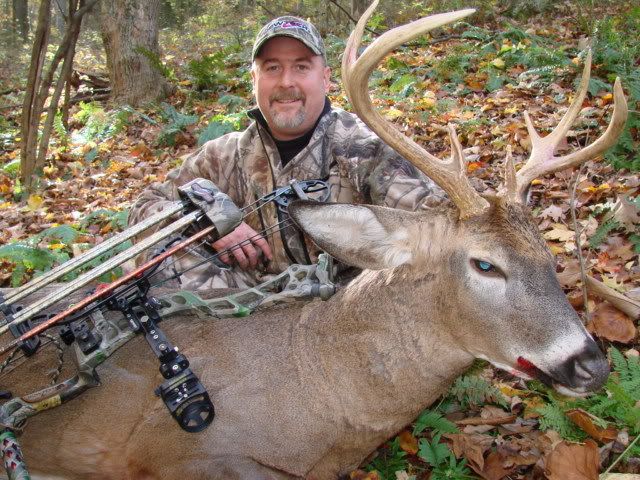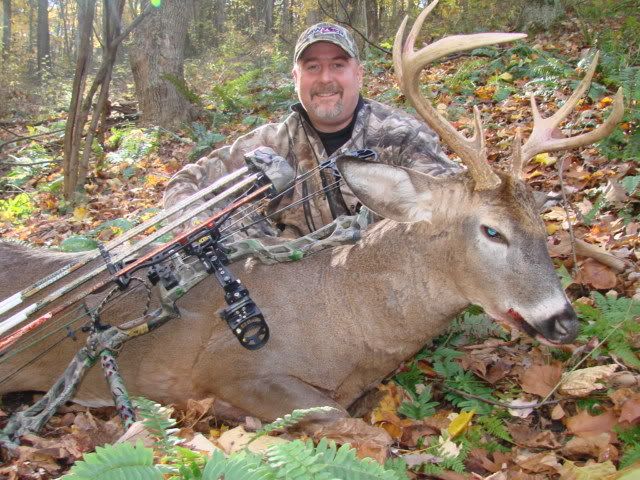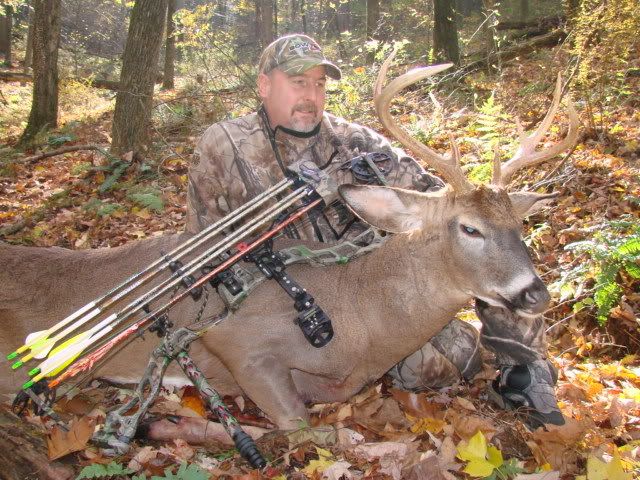 I'd like to take the time to personally thank Brian (BPBowhunter) for taking time and gas out of his day to help me get this pig out of the woods. We both worked our as off as it was and I cannot imagine having done it alone. Brian is a class act, great guy and fantastic friend. Thank you Brian.