First kill on the new property! (2nd pic is really graphic due to Rage)
09-28-2008, 08:19 PM
First kill on the new property! (2nd pic is really graphic due to Rage)
---
Well tonight I wet out to one of the new properties I got permission to hunt. I got out there around 4:30 and went to a stand i hung 2 weeks ago. Well my night started off bad because the owners dog followed me all the way to my stand. After i got up in my stand the dog decided to run around the woods behind me. The next thing I know I hear putting and purring. I look over and there are tons of turkeys on the other side of the fence(Neighbors field). Apparently they werent afraid of the dog because they went under the fence and chased the dog off making the fighting purr sound the whole time. I ranged one of the trees at 30 yards and decided to shoot if they came there. Well they never made it that far so i ranged where they were and they were at 36 yards. I drew while sitting and settled my 40 pin a little low and released. The arrow went over it just barely. I grabbed another arrow knocked it, and ranged them again at they were right at 40 yards now. I drew and took my time and settled in on one that was in the opening. I let my arrow fly and my rage broadhead found its mark, putting her down in seconds. My first turkey that I have recovered with a bow. I am pumped up right now!
Here she is....The toms stayed out of range, but I dont care...she will taste good.
Rage destroyed her....really graphic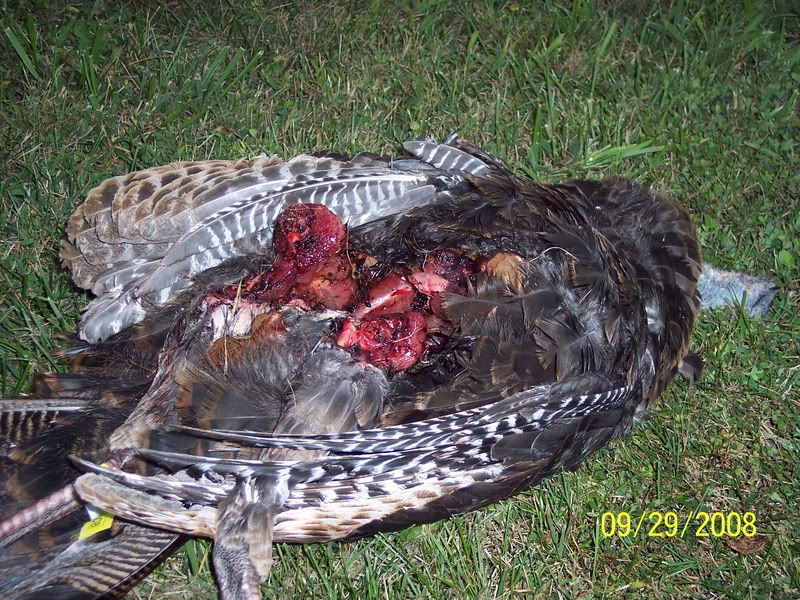 09-28-2008, 08:24 PM
RE: First kill on the new property! (2nd pic is really graphic due to Rage)
---
but I dont care...she will taste good.
LOL...is there anything left? [8D]
Congrats on the bird man! Never heard of turkeys chasing a dog. That had to be a sight.