improved form? maybe?
10-11-2006, 07:59 PM
Giant Nontypical
Join Date: Dec 2005
Location: Northeast Tennessee
Posts: 5,673
improved form? maybe?
---
well here is a pic of about a month ago.....and the second one is after adding 1/2inch of draw.Do you guys seee any improvements? i know my ancho and peep are still high but that is comfortable and repeatable for me and i didnt want to get into changing it during the season.My shooting has actually improved somewhat. I know my bow arm still has alot of bend but once again, its comfortable and I cant seem to shoot well with it straight or hold my bow for long periods of time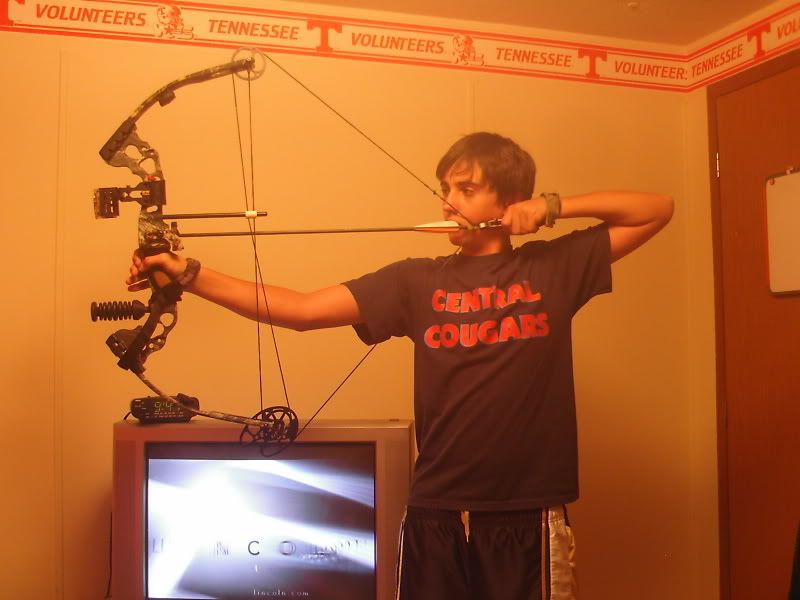 10-11-2006, 08:12 PM
RE: improved form? maybe?
---
ORIGINAL: tazman7

Draw length is to long- you want the string just touching your nose- Try straightening your right arm a tad bit- not much
Straighten your arm out a bit more and that should take care of your draw length problem.
Your arm shuldn't bebent
that
much, just to the point where your elbow isn't locked.
10-11-2006, 08:58 PM
Join Date: Feb 2003
Location: East Yapank NY USA
Posts: 3,457
RE: improved form? maybe?
---
I am not saying this just because I feel like disagreeing[&:]

But IMO you are still 1" to short.

You look way open in your stance and your arm "may" be a little too bent

Your anchor is high as you said, but your peep is low, not high. If you where to raise your peep, your anchor would get lower and the string would hit the tip of your nose.

Add another inch - get a stance that is more closed - get that arm a little straighter and shoot em up

you feel uncomfortable extending your arm because you are still short in the DL

10-12-2006, 05:03 AM
RE: improved form? maybe?
---
I agree with Rack-Attack. Well somewhat I agree you need to straighten out your bow arm some. You just want a slight bend almost straight. Try putting your arm straight out in front of you with your elbow locked, then just relax it a little bit. I would then lower your anchor by adding a kisser button, this should help bring your draw arm down so your elbow is not pointing at the sky ( I refer to this a chicken winging). You want your bow arm and your draw arm to be in a straight line. When you stand at full draw you should look like the letter "T". You may have to adjust your peep a little when lowering your anchor but these things should help. I think your other problem is that Tennessee Boarder!!! There is no way your going to be a good shooter being a Vols fan!!!
Just kidding.