My first Robin Hood
03-20-2006, 04:31 PM
My first Robin Hood
---
I've broken many nocks, dented, bent, cracked many shafts and ruined plenny of vanes...but never did this before: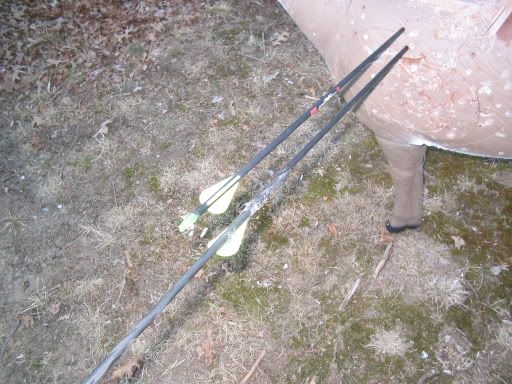 Expensive, but cool.
I guess the 125 grain tips may have done just the trick on tuning these X-weaves eh? Guess I can sight in with them now.
03-20-2006, 06:15 PM
RE: My first Robin Hood
---
About a year ago I bought a new dozen carbon arrows.
I had them less than 48 hours and was down to 10 arrows.
That was my first Robin Hood.
Now I aim at different spots on the target

03-21-2006, 01:33 PM
RE: My first Robin Hood
---
ORIGINAL: MilDotMaster
Shoot a Carbon Tech arrow and they will break at the nock by just having another arrow close to it in the target.
Good shooting!
Don't you think that is stretching it a bit!!!!
03-21-2006, 01:39 PM
RE: My first Robin Hood
---
I was actually just shooting for a group.

My bow is actually sighted in (@ 20 anyhow) for my Axis STs.

The X-Weave's weren't grouping well for me, and they're a bit stiffer than the Axis's so I decided to try a 125 grain head to see if that improved my grouping.

I'm still undecided on which arrow to go with, although I now only have three X-weaves left! I guess I'll just stick to the Axis STs for now till I can afford another half dozen X-weaves.