nap blood runner
08-06-2010, 02:44 PM
---
I like the 2 blade Bloodrunners for a couple reasons. One and most important, they fly straight and true, they leave a huge hole (2 1/16") and they can't fail. Even if they don't 'open', you still have a large entry wound. You can bet I will be using them this fall.
08-08-2010, 02:44 PM
---
08-11-2010, 06:00 PM
---
i love slick tricks but not for deer. i shoot some old ones at ground hogs, as well as thunderheads which are a great budget head.
I'd put a ST up against a Rage or bloodrunner any day of the week in any kind of legitimate broadhead test you could come up with. For that matter I would put them up against most any other broadhead made no matter what price.
---
Last edited by bigbulls; 08-11-2010 at

06:02 PM

.
08-13-2010, 06:30 PM
---
I have to say they CAN fail. I had one completely blow out on me. I shot it at a target around March and the screw that holds the blade to the tip blew out and the blade popped out the side. The arrow didn't go far into the target because the blade was sticking out sideways. I'd hate to do that to a deer. NAP tech support emiail does not work. I tried for months and got no response. I called asking if i could buy the screw to put in the blade to fix it and the guy said he would go out to the shop, grab one and mail it to me. I thought that was pretty cool. The next day he called back and asked if I had the red or the black heads. Last year when I bought these I bought the red. Then I heard there was a problem with screws not staying tight on the red ones and to return them for black. Turns out it wasn't just the red ones but it could easily have been my fault for not checking the tightness of the screws because i didn't. So, because I told the guy that story he said they were just going to send me the 4 pack. The 4 pack is 3 broadheads and a practice head.

In my opinion they did not shoot like field points. one kept shooting low left or low right, I don't remember which. I'd switch the broahead out and put a field point on it and it was straight again. That was out of my crossbow. I'll find out before too long about my new Diamond Air Raid how they shoot out of it when I get the Blast arrows I ordered. If anybody gives a crap about that I'll write up a review on it when I get it shooting since I haven't seen any yet. I have to do some adjusting with it first. I will be sure to check back in though. I'll upload pictures of the broadhead when I get home Monday as well in case anyone is interested in seeing what happened to it.
08-13-2010, 07:18 PM
---
Storm Dog - Aint nothing wrong with using a ST for deer. These BH fly straight and true and will leave a big enough hole in any critter on this continent to bring it down quickly if properly placed.
08-14-2010, 09:39 PM
---
I've got 6 on the shelf right now waiting for opening day!!! NAP customer service is second to none, call them and any problem (however rare it may be) you may encounter will be taken care of. As far as the blades staying fully opened when passing through an animal, they will. If I remember right it only takes about 4-6 pounds of force to keep them deployed. Something about flying like a field point needs to be brought up. Your bow needs to be properly tuned to get the best BH flight possible. Not saying anyone here doesn't have a properly tuned bow but I've seen several over the years that are way out of tune when guys say their BH's don't hit the same as their FP's. All I can say is try them.....you'll love them!!!!
08-16-2010, 07:07 PM
---
I'm not counting out the possibility and probability of that crossbow needing a tune but the hellrazors I was shooting out of it flew beautifully. I would honestly say that I could sight in with field points and put those on the bow and not worry about re-sighting anything. I'm also not counting out the bloodrunners. They will be in my quiver this year.
NAP did send me 3 new broadheads and a practice head that doesn't open so that it doesn't blow out the screws. In my opinion they did more than they had to. I would have paid for the screw that I needed. I'm not knocking the customer service, just the email service. Calling will get whatever you need taken care of immediately. I almost swore them off because the emails never got answered. After calling I have no issues and actually went out and bought the Quiktune Freedom for the Air Raid.
Here is what happened to the broadhead.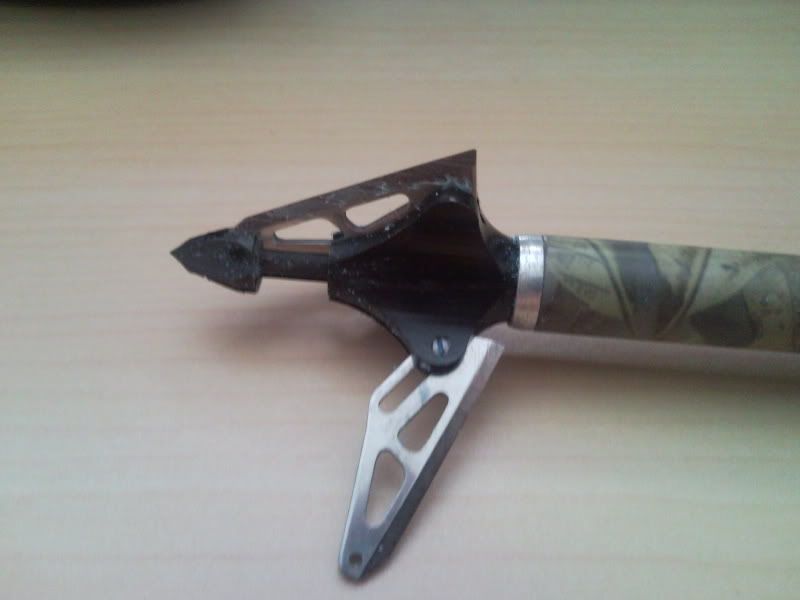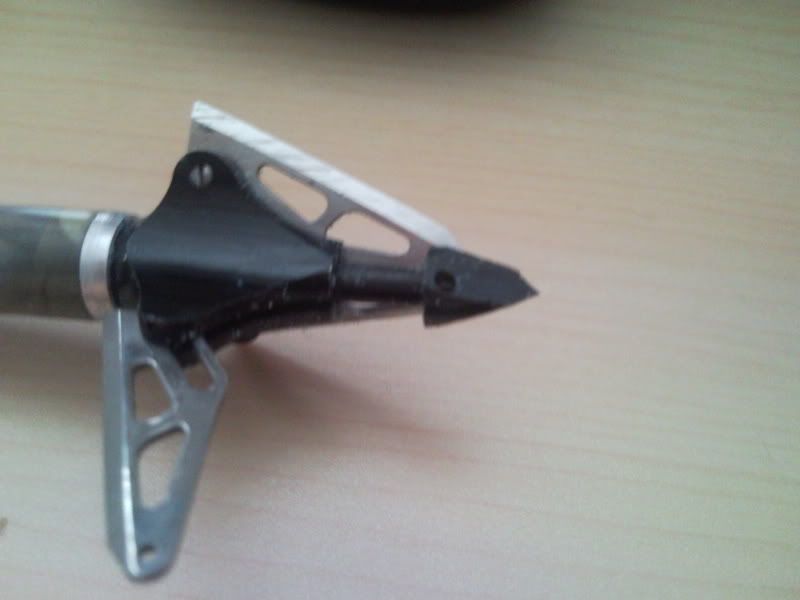 ---
Last edited by RyanATiffany; 08-16-2010 at

07:11 PM

.
08-18-2010, 03:34 PM
---
oh i know ive just never bee a big fan of fixed blades for deer.
oh and ryan, my package says not to shoot them from a Xbow.