slick tricks 4 blade 100s
10-20-2006, 12:08 PM
Nontypical Buck
Join Date: Sep 2003
Location: South Central Wisconsin
Posts: 1,007
RE: slick tricks 4 blade 100s
---
I got mine last week on Tuesday. I only waited about 1 1/2 weeks before they got here. I ordered direct from Gary and he informed me the 100 standards may take longer to get I ordered one pack of magnums and said send me the standards when they were ready. Both packs came the same day.
They did not shoot where my field points did however. After a discription in an email to Gary and a reply I moved my rest a little bit and everything works great now. Can't wait to try them on a deer.

10-20-2006, 10:18 PM
Nontypical Buck
Join Date: Feb 2003
Location: Eastern PA USA
Posts: 1,398
RE: slick tricks 4 blade 100s
---
Just took an 8 pt. with one of the Magnums (100gr. 1 1/8" cut) last Saturday. Complete pass through, lots of damage, good blood trail, and 50 yard recovery. Gotta love a head that shoots as well as these, is that tough, sharp, and does the damage when it hits the target. I am sold and no longer looking for other heads.

Forgot to add that the ferrules are much better machined than the original ones I had before, and the blades are scary sharp. I got mine from Mean V2 over on ArcheryTalk. The heads got here Friday, and we took out the buck on Saturday. (I already had my bows tuned to shoot well with my old Tricks and Muzzys, so I knew they would shoot fine.)
10-29-2006, 04:39 PM
RE: slick tricks 4 blade 100s
---
I took a Blonde Coyote this past thursday with the 100 Gr mag and this is the damage! The blood/meat/hair trail was amazing! Can't wait to use them on a deer! I had the chance the same day but missed a big Doe! I was counting my eggs before they hatched!
[8D]
This is after I cleaned her up, I didn't want the coat to get stained because of the Full body mount I having done!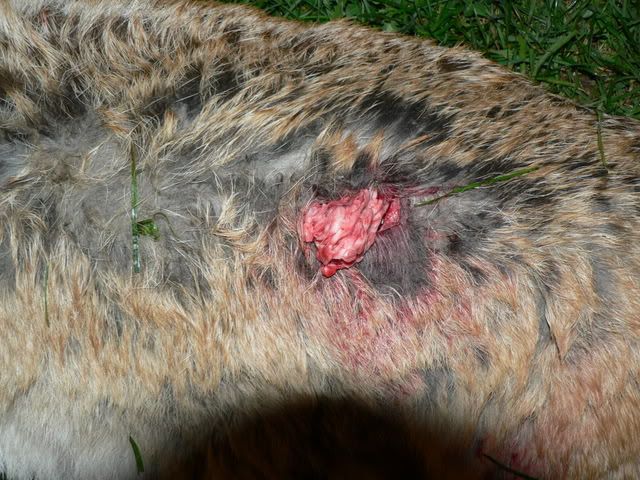 Thread
Thread Starter
Forum
Replies
Last Post
Posting Rules
You may not post new threads
You may not post replies
You may not post attachments
You may not edit your posts
---
HTML code is Off
---