Knight 45 ULite Nitride - In the Rock Pit
03-24-2022, 11:17 AM
Knight 45 ULite Nitride - In the Rock Pit
---
Yesterday was a great day here on the Palouse - so I decided to make a quick run the Rock Pit to get some shooting in.
For the past few weeks I have been dealing online trying to get a Knight 45 Fast Twist 45 to replace my older Knight Super DISC, need to slae that one now to help pay for the two new ones. As it turns out I found two opportunities to trade or purchase what I was after. And as it turns out I ended up getting both of the deals I was working on.
Deal one was a trade for a new Knight ULite SS 45 for a Knight Ulite 50 Western that I had setup with open sights that was expendable. And the second was to purchase a barreled action Knight 45 Ulite Nitride with a Bestill Creations 2 piece bare 209 Breech Plug installed.
The first rifle that I got put together was the Nitride and I decided to take that one for this shooting run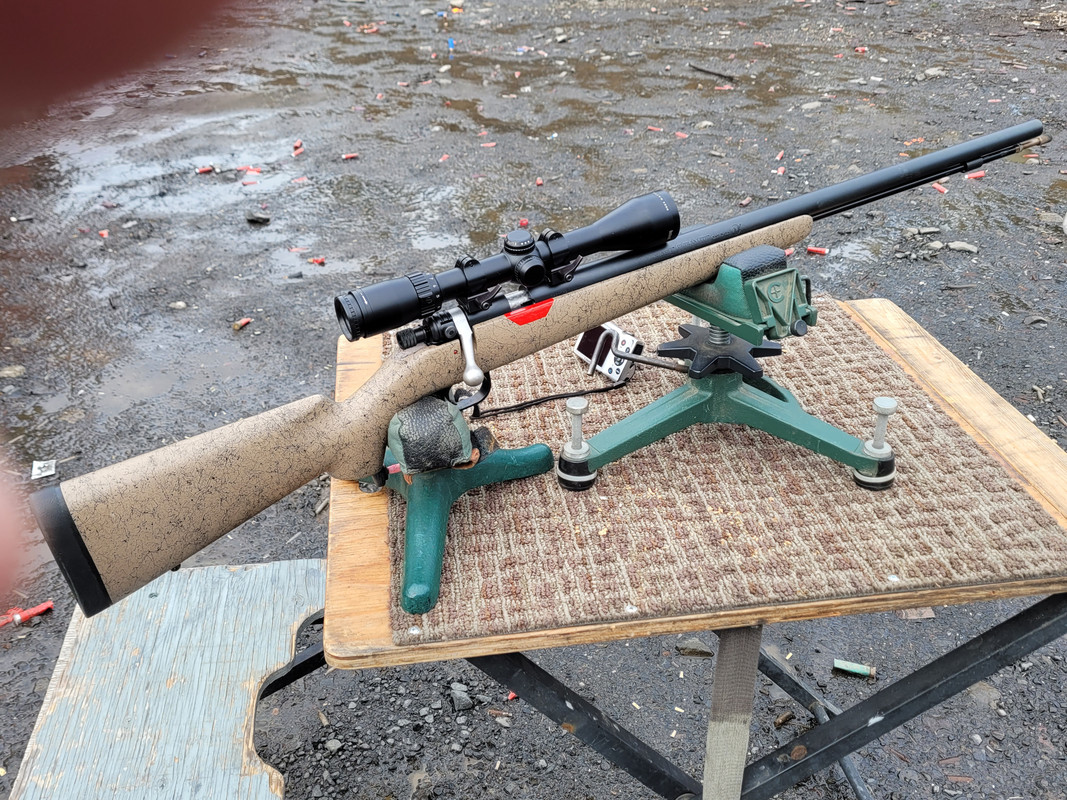 When I got to the Rock Pit I had to wait a bit to do some shooting. There was a guy there working on setting up his AR style rifle. While waiting for him I got all my stuff out of the truck and setup for my shoot.
I had bore sighted the rifle at the house with a laser bore sight so I was sure I would be on paper at 50 yards. Set up the target, loaded up for the first shot. Shot the first shot and was totally surprised how close to the Bull it was. Took 3 more shots at the target to verify what I was seeing. I adjusted the scope 8 clicks right and 4 clicks up. Then made the decision to go to shoot targets on the rock wall. Well the first shot at 100 was a winner. So I completed the shoot with 3 more shots.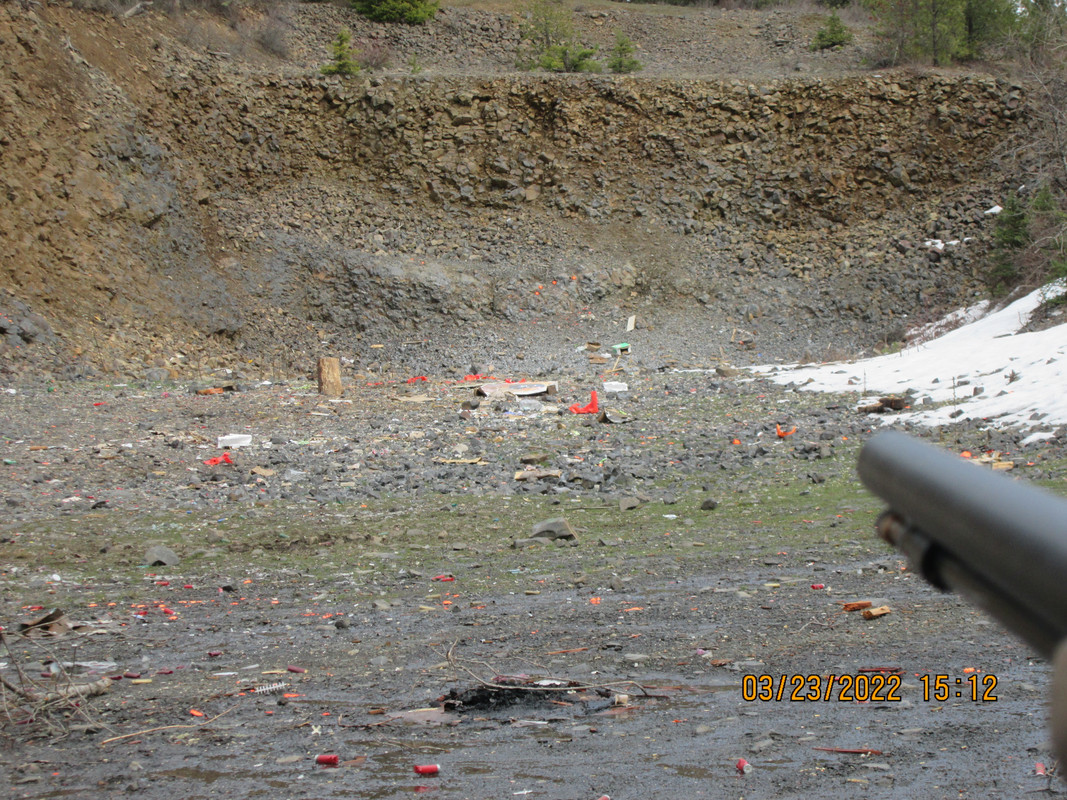 This is a composite pic of the shoot.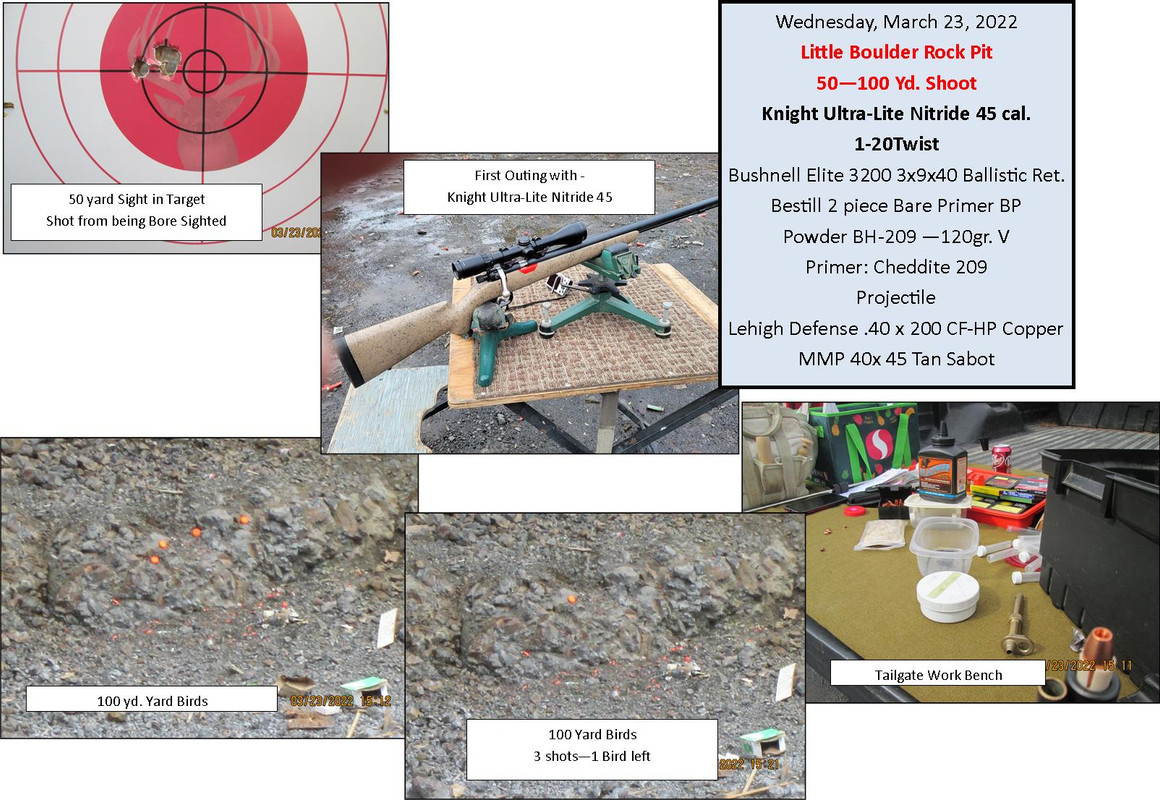 It really was a fun day. Hoping to get out first of next week to shoot the SS 45.
03-25-2022, 07:58 PM
Posting Rules
You may not post new threads
You may not post replies
You may not post attachments
You may not edit your posts
---
HTML code is Off
---