need more knock down
05-16-2017, 06:30 AM
---
Bearbow one thing you have to realize is that most of the time you are not going to have a DRT on a deer with a muzzleloader. And running 30-40 yards is nothing. Even using a rapidly expanding bullet and more powder, unless you disrupt the nervous system (spine) you can expect a deer to run a little. Another thing to consider too is the attitude of the deer. Is it calm, alert or otherwise stressed.
I say put the bullet into the lungs and you'll have a dead deer.
---
Last edited by bronko22000; 05-16-2017 at

06:49 AM

.
05-16-2017, 01:15 PM
Spike
Join Date: Apr 2017
Location: Louisville, KY
Posts: 70
---
I appreciate feed back just got into this networking and computer stuff learning spelling not good I tell everybody if I could spell I wouldnot have been in my plumbing truck 50 yrs lol maybe I need to regroup and try some of info you guys gave me tks
05-16-2017, 01:44 PM
---
Bearbow before you get confused with the talk of BlackHorn 209, our Black Diamonds CAN NOT SAFELY SHOOT THAT POWDER! I know, I tried and I dug the center of a primer out of my forehead just above the eye brow. So just to clarify that point with you.
The 100 grains of powder your shooting is fine for most deer hunting applications. I tried the 3 pellets in my BDXR and while it held a pretty good group, I just could not see the need for it. So I went to loose powder. I like to shoot real Black Powder or Triple Seven 2f in and around 90-115 grains. Depending on the sabot and bullet. One bullet I have discovered very accurate with the rifle is the .40 caliber 200 grain Shockwave in a dark blue sabot. I was told by some people that harvested deer, the bullet devastates deer size animals. I can't prove that as the deer have been most uncooperative in my area. But the accuracy of that bullet is AMAZING!
Another bullet combination I like (But the bullets are expensive) are the 250 grain Barnes MZ Expanders with 115 grains of black powder. Really have a lot of down range punch.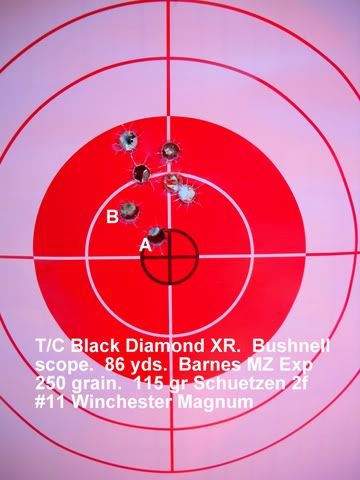 Another bullet that I was turned on to by the group (thanks much) is the 260 grain Scorpion Funnel Nose my by Hornady. Again I push them hard, 115 grains of powder (as was suggested to me) and their accuracy is very good.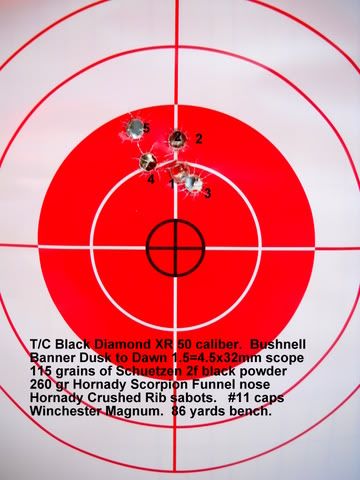 Also with loose powder, this might sound strange, but I removed that 209 primer nipple and I use a #11 nipple instead. With loose powder I get excellent ignition and the blow back which this rifle is so famous for, is much less.
05-17-2017, 05:35 PM
Nontypical Buck
Join Date: Feb 2003
Location: Kerrville, Tx. USA
Posts: 2,722
---
You don't need 150 gr of powder for quicker kills. My elk load is 90 gr of powder with a 350 gr bullet. That is with 777 or BH 209, so that is equivalent to about 105-108 gr of pyrodex/black powder. Bullet selection and placement are the key. I would try some of the bullets listed above with good track records.

Any load in the 100-115 range that is accurate and uses a good bullet will get the job done.
05-17-2017, 06:50 PM
Giant Nontypical
Join Date: Nov 2005
Posts: 6,576
---
There are many variables but the most obvious problem in what you said is a magnum bullet with your load, going to 150 grain is not often a good answer as most guns loose accuracy before you get that far.
I would recommend going up 10 grains at a time until your groups tell you to back off.
As far as that bullet is concerned I did some testing on it and followed some tests other people did and decided not to use it. You might try Lehigh or barns or even XTP for better results
05-18-2017, 07:30 AM
---
I say put the bullet into the lungs and you'll have a dead deer.
Yes!!!!!
Since 2000 nearly all my deer were killed with a muzzleloader, many with the TC Black Diamond. Be prepared for a deer shot through both lungs to run a ways. Sometimes a deer will bang flop but that's not common unless there is CNS involvement.
Last fall i killed a huge buck with my ,50 TC Black Diamond and a 250 grain SST bullet. Deliberately shot the deer in the shoulder because the property line was close by. That did not work so well because the deer hunched, took off and ran 70-80 yards-fast. Watched the deer run off and heard him crash.
Bullet did not exit and lungs were hardly damaged. There was a 2" diameter hole in the chest wall. Bullet fragments tore up some blood vessels. The deers chest cavity was full of blood.
IME: When used against deer and hogs, .50 and .54 caliber muzzleloaders are as deadly as a .30-06 and 150-180 grain bullets. Properly placed .50 and .54 caliber round balls are as deadly as saboted or conical bullets.
---
Last edited by falcon; 05-18-2017 at

07:34 AM

.
05-18-2017, 08:40 AM
Typical Buck
Join Date: Sep 2008
Location: Orange County, Virginia....
Posts: 556
---
I usually have better results shooting a deer behind the shoulder through the ribs rather than trying to shoot directly through the shoulder with a BP. There is a lot less muscle/bone there than in the shoulder. With a rifle I will shoot right through the shoulder and think nothing of it, but with a BP I try a bit farther back.