Rifle Primers Six Month Review
09-26-2014, 11:19 AM
Nontypical Buck
Join Date: Aug 2008
Location: Rapid City, South Dakota
Posts: 3,732
Rifle Primers Six Month Review
---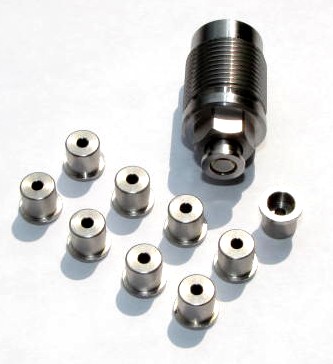 It has been about 6 month since i started using large rifle magnum primers in my rifles. The adapters, and breech plug were purchased from
Precision Rifle
. In the time since the purchase i have shot near 600 rifle primers. A little experimenting was done, and i ended up modifying a TC Omega breech plug so it could utilize the PR adapters. The flash hole was enlarged to 0.032", and the primer socket was made deeper so an o-ring could be utilized. The flame channel was left at 1/8" diameter. About 400 shots were taken through that breech plug.
It surprises me that the flash hole never eroded. Actually the flash hole would only accept a 0.031" gage after about 200 shots. Well..since the flash hole didn't grow, i decided to drill it a bit larger in preparation for the upcoming winter. Today the modified breech plug has about 490 shots through, but the flash hole is now 0.034". The magnum rifle primers don't erode flash holes. It kinda seems the 0.034" flash hole has my rifles shooting a bit more accurate than the 0.031" flash hole.
Three different brand magnum rifle primers were tried. The Federal 215 primer is the one i kinda settled on. It always ignites, and the soot it makes is soft. The flame channel can be cleaned by using a 1/8" drill twisted using just finger tips.
This morning i took my hunting rifle up shooting. The rifle is an Omega X7, and it has a 1X Nikon scope mounted so for to satisfy our muzzle loader regulations. Before the rifle was loaded, the barrel was fouled by firing 5 shotgun primers through a breech plug without a flash hole, into a wad of rags. The shotgun primer plug was replaced with the rifle primer plug, and the rifle loaded with 110g Blackhorn, 300g Deep Curl, crush rib sabot, and Federal 215 primer. The first four shots were taken at 93 yard, and they all hit in the red.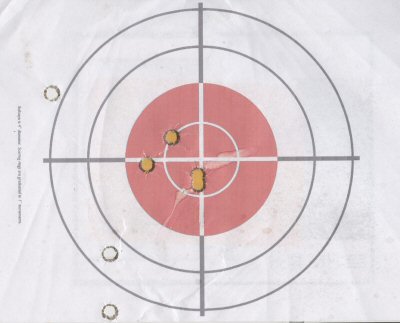 Then a move was made out to 202 yard, the elevation dial turned up 6 moa, and three shots taken in a breeze blowing from right to left.
09-28-2014, 03:45 AM
Spike
Join Date: Jan 2012
Location: upstate NY
Posts: 46
---
Ron,
What is the diameter of the pr adapters. From your post I gathered it is the same as a shotgun primer(c drill). I kind of assumed they where a lot larger,but its hard to tell never having handled one. Thanks for all your help and testing!
09-28-2014, 08:10 AM
Nontypical Buck
Join Date: Aug 2008
Location: Rapid City, South Dakota
Posts: 3,732
---
The adapters are larger than a letter C drill. One needs about a 9/32" drill to allow them to fit. The adapters measure about 0.0279", and PR Bullets makes the socket in their breech plug about 0.0283".

Sorry for the confusion.. a letter C drill is much too small.
09-28-2014, 12:24 PM
Spike
Join Date: Jan 2012
Location: upstate NY
Posts: 46
---
Ron,
Did you use a 9/32" flattened out drill to deepen the pocket,or is more sophisticated equipment required.Did the PR plug use an o ring as it was sent to you? Is this modification something which could be performed in a home shop,or would most have to send their plug to PR? I thought I saw on their sight where they would modify your plug,but cannot find it on there now,
09-28-2014, 01:39 PM
Nontypical Buck
Join Date: Aug 2008
Location: Rapid City, South Dakota
Posts: 3,732
---
The plug i purchased from
PR Bullet
was not made to be used with an o-ring. They will modify your plug to use the large rifle primer adapters. It didn't seem to me i could do a nice clean job converting the PR plug to use an o-ring, nor did i wish to modify the plug, so i didn't.
What i did was take a brand new TC plug, and enlarge the flash hole to 0.032", and then i used a 7mm end mill to enlarge the primer socket so to receive the PR adapters. Using good machinery the 7mm end mill would make a hole 0.276" in diameter. However, my hobby machine has so much run out, the socket ended up at 0.281" diameter. The primer socket was also made deeper than the PR socket, so that i could use an o-ring. Recently i had a notion to enlarge the flash hole, so it is now 0.034", which i believe will work better in sub-freezing conditions.
Posting Rules
You may not post new threads
You may not post replies
You may not post attachments
You may not edit your posts
---
HTML code is Off
---