my hot rod hawken kills a buck
10-11-2013, 02:16 PM
Nontypical Buck
Join Date: Mar 2008
Posts: 1,169
my hot rod hawken kills a buck
---
This deer tag this year about killed me. I have put in countless hours scouting and hunting with little to show. On opening day I had three good bucks pushed out of the country by elk hunters. Then I went on a 7 day dry spell where I didn't see a buck I wanted to shoot, and I walked 38 miles. I headed up last night for the last couple days of the hunt. This Morning I headed into an area I have had some luck in before. I stopped to glass and saw a small bunch of deer. I saw that one was a branch antlered buck. With literally only hours left to hunt I decided to take him if I had the chance. I watched them go over a ridge and I took off as fast as I could. When I got there he was 117 yards. My sight was set and I put the Hot Rod on the shooting sticks. I knew that my sight was set for 100 so I was going to hold a pinch high. I don't normally like to do this but I felt like I didn't have time to set the sight for the shot. So I held for a high shoulder shot since the lungs were blocked by brush. As the rifle cracked the smoke blocked my sight but I heard a solid WHOP!!! I put the binoculars up and saw the deer running away, minus the buck. I reloaded and headed for the spot I last saw him. I got there and I didn't need the follow up shot. The buck was DOA. The bullet hit the shoulder and crushed it. What was left of the bullet was under the hide in the neck. It was the fastest kill shot I have ever had with a muzzleloader. The Rifle was my 45 cal fast twist Hot Rod Hawken. The load was a 409 gr paper patched RCBS 11mm rifle bullet. I used 80 gr of Pyrodex P and an over powder wad.
This combination will shoot sub 2" groups at 100 yards. If I do my part I have shot sub 1" groups with it. This was my fist animal with a 45 cal. It was great to be able to get an animal with this rifle. Ron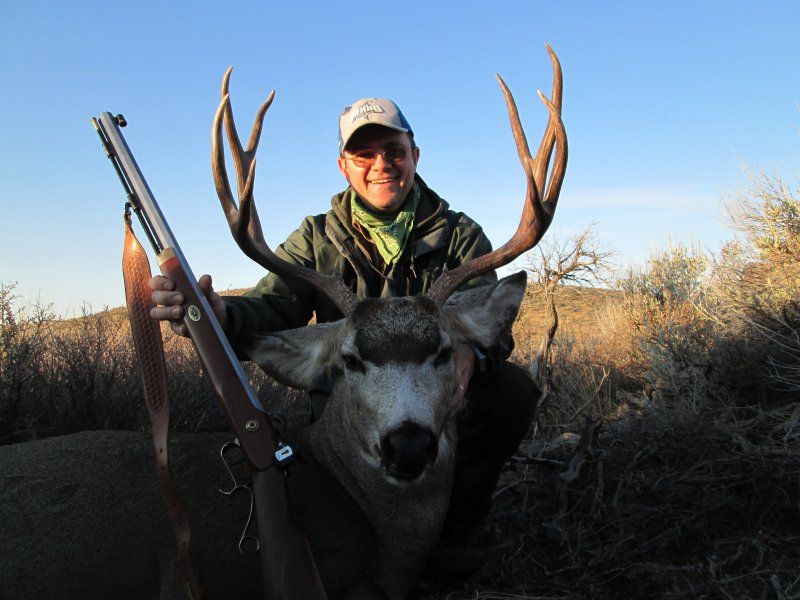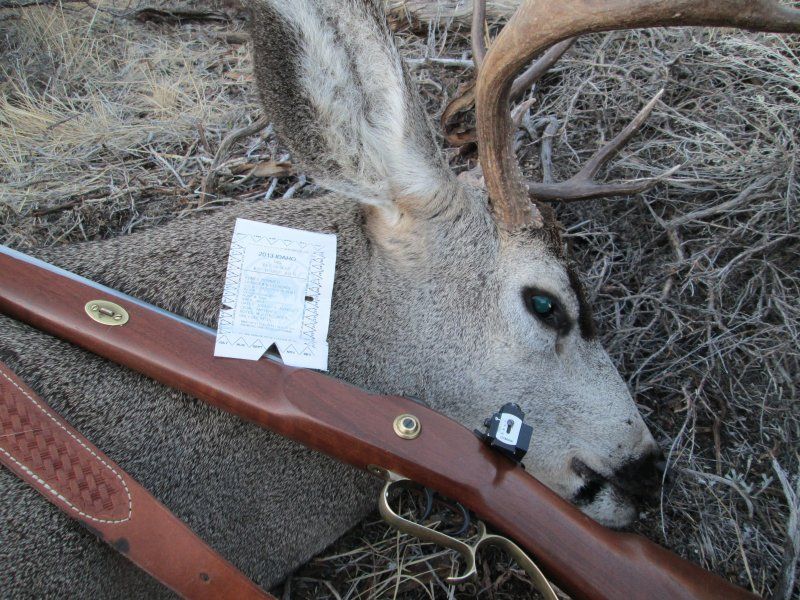 10-11-2013, 04:23 PM
Boone & Crockett
Join Date: Apr 2007
Location: River Ridge, LA (Suburb of New Orleans)
Posts: 10,890
---
Nice buck Ron. Congratulations. You're making me want to spend some time with pure lead in my 1:30 Green Mountain Renegade. I've never had success in my very limited attempts at paper patching.
10-11-2013, 06:58 PM
Fork Horn
Join Date: Sep 2012
Location: idaho falls idaho
Posts: 131
---
Nice work Ron youve bout worn out your season already!!!Took the grand kids out thursday they got a three point and a two point muleys.Beee cutting up deer all day and grinding burger.Amazing as it might seem no grand kids around?? those big ol paper patch bullets make me smile!!!!
10-11-2013, 07:13 PM
Fork Horn
Join Date: Jan 2007
Location: Arizona
Posts: 202
---
Nice muley there, Ron. I wish we had that kind of population here in Arizona like we use to. I've pretty much stopped hunting deer and concentrate on elk. I suppose I would have been one of those elk hunters scaring away your bucks
. That looks like a high desert area--is it? Was it a ML limited hunt?