Flintlock Doe...
11-01-2012, 11:41 AM
Giant Nontypical
Join Date: Nov 2004
Posts: 5,425
Flintlock Doe...
---
Well, it's been a few years since I've felt comfortable shooting open sights...I had cararact surgery last summer and spent this summer getting my sights set on my flintlocks where I could see through the rear sight again...This was one situation where a long barrel on a gun was a bonus...The front sights on this and my .40 are clear as a bell...
I took my first trip to the Uwharries this season and set up on a spot I had found during turkey season...At 8:15 this doe came by...I was able to get her stopped with a passive grunt call and then got her turned around and had her come toward me with a
few doe bleats...At 50 yards she was quartering to me, I set my trigger and took the shot...She whirled around and ran down hill toward a creek...She made it 50 yards and crashed...
This is a gun I made in the 80s when I was shooting in competition, it took me 2 years to complete it...I shoot 80grs FFF Goex and a home cast .530 ball, wrapped in greased pillow ticking...The ball hit just in front of the left shoulder and exited about 4 inches behind
the right...The exit hole was about an inch and a half...
I always carry a rachet pulley when hunting gamelands...I called her in, got her up between two trees and boned her out...By the time I hiked out 2 miles with her in my backback, I was glad she wasn't bigger...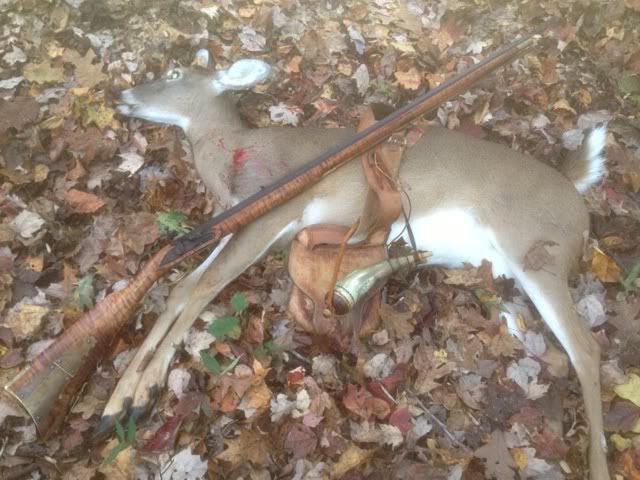 ---
Last edited by nchawkeye; 11-01-2012 at

11:44 AM

.